Backend
Green Gathering promo party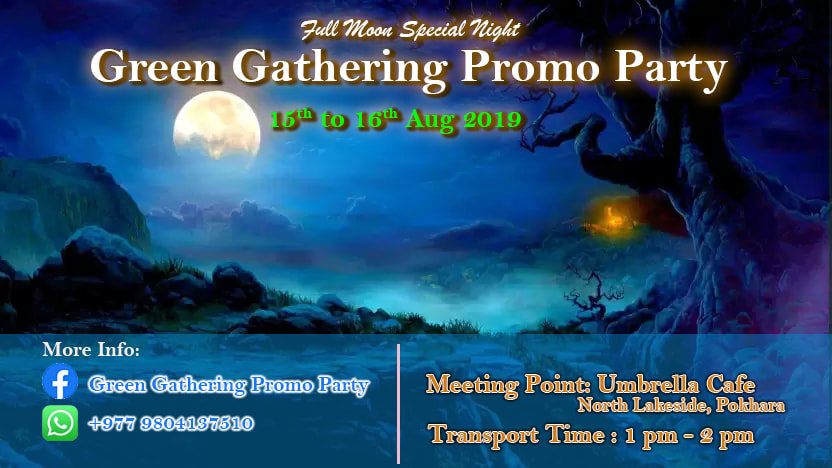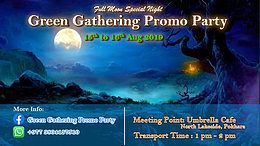 Line Up
Russkodelica / Napas Nakur Svami on #SoundCloud
soundcloud
#ShivaTandav Bluelights Records /NPL
soundcloud
#ArtSamadhi Unity Eco Village Records #SKOR
soundcloud
[click here]
#Babadelic (AcidManiaC_Rec) #NPL
Baba Delic
#Ghising Unity Eco Village Records#NPL
Jay Ghising
#BrokenSeeker Unity Eco Village Records #NPL
soundcloud
Info
Green Gathering promo event in pokhara
A loud Shout Out to all the beautiful souls around the globe. Green Gathering is back
again with the full moon to celebrate our yearly celebration of conservation and protection of environment by dancing and letting go.. During the gathering you can interact with the peoples, friends, artists, teachers thus virtually everyone as our aim is to get into One single consciousness on helping and healing each other with the high energy of the full moon. Our gathering aims to foster a creative and collaborative atmosphere of caring, sharing, openness and kindness. For that reason, it can be magical, trans formative and often life-changing experiences for many of those who attend.
Our gathering provides access to incredible nature, music, visionary art installation, performances, spiritual education, relaxation and healing and performances. Many different lectures & workshops are available where you can learn from various experts and leading alternative thinkers or share your own knowledge.
Creating Oneness, Rainbows, and Re connection to the nature.
20% of net profit from the gathering will be donated to The Unity Eco village non profitable organization for the conservation and preservation of Environment.
Genre from Ambient, Chill out/ psychill, fusion, techno, world, rock, Progressive, Minimal, Trance, Prog Forest, Dark forest, Hitech, and more will be played.
Workshops on varieties of field and disciplines will also be organized.
-Gathering includes
#NATURAL_LOCATION
#Entrance_Zone
#Kid_Zone
#CAMPING_and_CARAVAN_AREA
#Workshop_Zone
#Forest_Zone
#Camp_Fire_Zone
#Food_Zone
#Bar_Zone
#Two_Stages [#Main_Psy_Stage #Chill_Out_Stage]
-Workshops
#Art_and_Craft #Tattoo
#Shamanism_Plant_based_medicine_Ethnobotany
#Environmental (#Recycling #Eductional
#Holistic_Healing
Our gathering doesn't promotes any brand and is solely dependent upon donations and gatherers so with due respect we hope to see you with tickets as a return of gratitude for our hard work, passion and future. love n' light.
Things not allowed:
Pets
Outside food and drinks
Weapons or any sort of Violent things
Limited room available
Camp tent under roof: 100 Rs
Dorm Bed On floor: 200 Rs
Dorm Bed: 500 Rs
Pvt. room: 1000 Rs
-Camping in camping area is free of cost.
-YOU WILL HAVE TO BRING YOUR OWN CAMPING GEARS. Camping Gears are available for rent in Swissa Travel Agency in Lakeside, HallanChowk. Phone: 977 61 465339 / 61 463839
[swissanepal.com]
-Meeting Point place .
Umbrella cafe Nepal
[facebook.com]
-Tickets:15$
A Shuttle Bus leaves from Umbrella Cafe
#Someone interested on keeping their shop please contact Green Gathering Movements unity team
#Organizers are not responsible for any theft/ loss of any things so please leave your valuables at the safe deposit at your hotel and you are solely responsible for taking care of your own belongings.
#We don't promote any brands or system and is solely dependent on your support and love for the art so we hope to see you with ticket on the gate.
Join us in the journey of Awakening towards oneness.
-The transportation will be available at Umbrella cafe Nepal on following schedule:
A Shuttle Bus leaves from Umbrella Cafe
First bus: 11 am-12 pm.
Second bus: 3-5 pm.
Fees: 500 Rs only.
-Things to remember
Water resistant cloth
Water bottle.
Camping gear
Organizer
Organizer
Chapakot ,Pokhara Nepal
Unity Eco Village Chapakot Pokhara