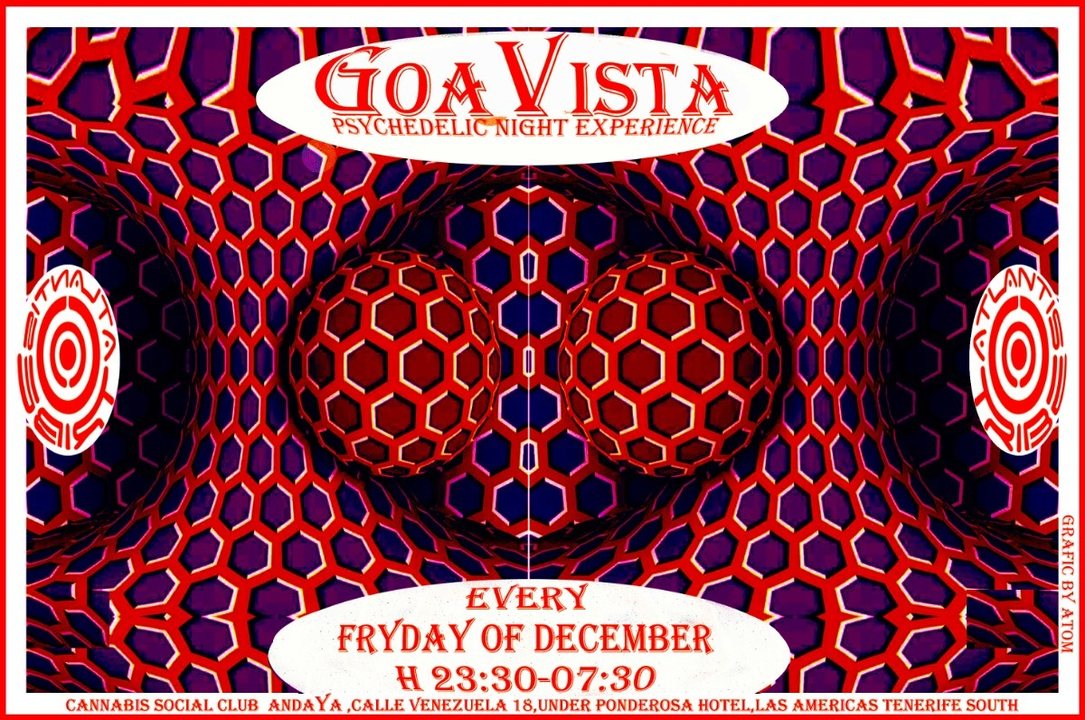 Line Up
Line Up
START AT 22.30

ATOM ( Atlantis Tribe) 22.30_01.30
.
DALLONJI (Atlantis Tribe)01.30 02.30
.
MAGIC BULLET (Atlantis Tribe/USA) 02.30 04.00
.
ATOM (Atlantis Tribe) 04.00 -To End Closing SEt
Deco
Deco
ATLANTIS TRIBE,HEMPOWER, ATLANTIS TRIBE PROYECTIONS
Info
Info
APARACAR COCHE ZONA MAGMA E SEGUIR CAMINANDO UNOS 5 MINUDOS
PARADA GUAGUA :estacion Costa Adeje
TAXI: calle venezuela 18.

ESTA NOCHE REGALAMOS LAS TARJETAS DEL CLUB A TODOS!! PODRAN ENTRAR EN ANDAYA CLUB GRATIS TODO EL ANO!! LLEVARSE DNI !
Location
Location
CLUB SOCIAL DE CONSUMIDOR DE CANNABIS " ANDAYA" , CALLE VENEZUELA 18,ABAJO HOTEL PONDEROSA, LAS AMERICAS, TENERIFE SOUTH
.
CANNABIS SOCIAL CLUB "ANDAYA" ,18 VENEZUELA STREET , UNDER PONDEROSA HOTEL, LAS AMERICAS,TENERIFE SOUTH.

LA ENTRADA NO SE VE DESDE LA CALLE, HAY QUE ENTRAR DESDE LA TERRAZA DEL BAR CALIPSO A LADO DEL RESTAURANTE TITO.

ENTRY IS NOT VISIBLE FROM THE STREET, YOU MUST TO BE ENTRY FROM THE TERRACE TO THE CALIPSO BAR , CLOSE TO TITOìS RESTAURANT.
Entry fee
Entry fee
FREE ENTRY , ENTRADA GRATUITA
Organizer
Organizer
ATLANTIS TRIBE, CLUB SOCIAL ANDAYA
Web
FACEBOOK= ATLANTIS TRIBE