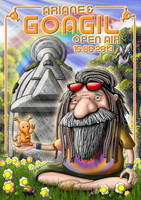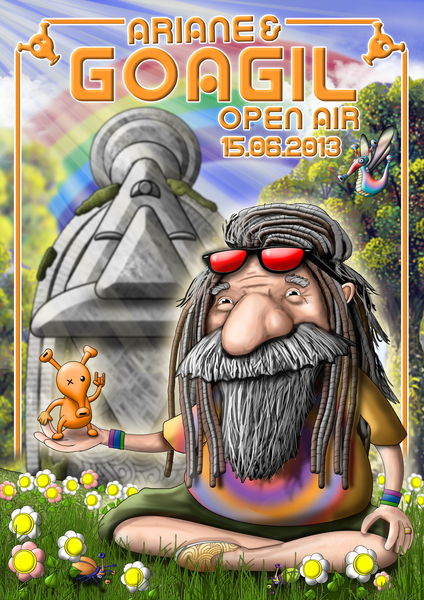 DJs
Nimba & Nommos (Avatar Records)
(Ariane & Goa Gil)
Deco
Looney Moon Deco powered by Freetranceform - IT/RU
Subliquida - Looney Moon Team - IT/DE
Daniel-Bandke Visual Art & Production
Visuvision
Soundviecher
and friends

PA by Audiorama
Info
We're proud to present the "Ariane & Goa Gil Open Air" for the 8th time here in Germany!
We hope you'll enjoy this "24hours - spiritual peeling" like we did the last 7 years!!!

Gates open : Saturday 6pm
Camping for free from Saturday 15th - Monday 17th of June.
No dogs, no children!!!
Please, don´t leave your waste!!!
Don´t fuck the forest!!!
No Fire!!!

Das Event findet nun schon das achte Mal statt.Wir, die Soundviecher Crew Berlin, veranstalten seit 2007 regelmäßig Parties in Berlin und übernehmen ab diesem Jahr nun Organisation komplett.Wir möchten uns an dieser Stelle bei der B.P.M Crew für die vergangenen sieben Male bedanken!Ihr mit dieser Veranstaltung habt unser Verständnis für und von der eigentlichen Bedeutung unseres Partybezogenen Tun und Handelns geprägt! Auf daß wir uns immer wieder neu erinnern, weshalb wir das machen! Spätestens alle Jahre wieder , Mitte Juni , wenn es für uns alle heißt "Happy New Year! And welcome back,summer!" auf dem"Ariane & Goa Gil Open Air Germany"!
Location
Creativ-Center-Göritz
Göritz 5
03116 Drebkau
Anfahrt Zug von Berlin:
[bahn.de]
Anfahrt Zug von Hamburg:
[bahn.de]
Von Altdöbern fahren Shuttles..
Tel:0174 642 624 5
Anfahrt mit dem Auto
von Hamburg:
-> A24 Richtung Schwerin/ Berlin bis Ausfahrt Autobahndreieck Wittstock/Dosse
-> Auffahrt rechts auf die E26 / E55 / A24 bis Kreuz Oranienburg
->rechts auf A111 in Richtung Berlin-Reinickendorf / Berlin-Zentrum (Zoo) / Flughafen Tegel.
-> dem Straußenverlauf in Richtung A111 folgen & weiter in Richtung A100 fahren
-> links halten in Richtung A113
->weiter geht's unten…
von Berlin:
-> A113 Richtung Dresden bis Ausfahrt Autobahndreieck Spreewald
-> A13 Richtung Chemnitz/ Dresden bis Ausfahrt Calau
-> an Anschlussstelle Calau rechts abbiegen
-> nach 326 m links auf L52 abbiegen
-> auf L52 ca. 20km weiter fahren (Straßenverlauf: Karl-Marx-Straße >>> Calauer Str.)
-> rechts abbiegen auf Greifenhainer Straße und nach ca. 2km nochmal rechts abbiegen
-> dem Straußenverlauf noch ca. 1km folgen
-> Ziel erreicht
Entry fee
Entry fee
Presale: 20€ : Please send us the number of tickets you wanna order, your full name and the full name of every person who gets one of the tickets to:
tickets@goagil-party.de
We´ll send you the bank details and the informations you´ll need.
At the gate: 25€
Added

10y 4m

· Update

9y 11m

·

/ 248