GOA TRIP (Since 2005) 2014 THE RETURN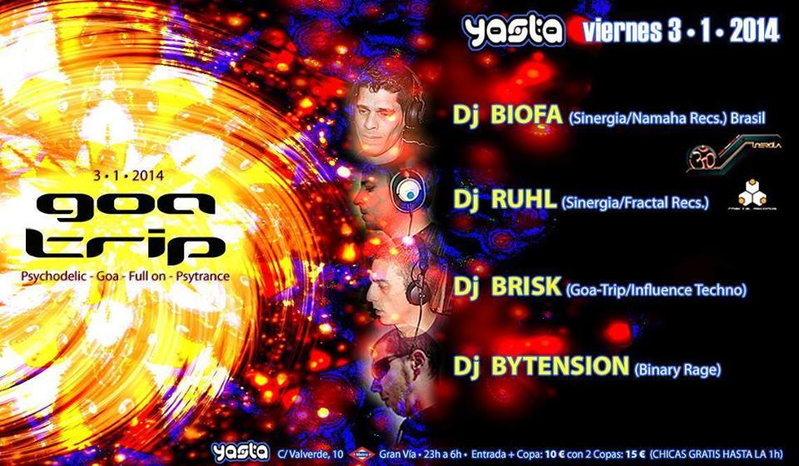 Info
Info
GOA TRIP (Since 2005) 2014 THE RETURN##Goa trip fue creado en el año 2005 con la intencion de dar a conocer a muchos una cultura diferente tanto musical como visual,fueron muchos los eventos q disfrutamos,reimos y creamos una gran atmosfera en nuestros eventos NO MASIFICADOS pero siempre con una esencia unica, en Goa Trip solo apostamos 100% por la musica trance "jamas comercial" en todas sus ramas mas psicodelicas,progresive trance ,darkpsy,full on,psytrance,goa trance,morning trance,goa...volvemos con toda la ilusion,ganas y seguro q volveremos pronto a recuperar esta...nuestra esencia...

Desde GOA TRIP estamos trabajando muy duro todos los dias para ofreceros este comienzo de año todo lo mejor por que os lo merecéis, el pasado que fue maravilloso, el presente esta ante nosotros y el futuro con vuestro apoyo será largo y único, no vamos a escatimar en nada por que esto...es para vosotros!!!! gracias por todo los mensajes de apoyo que son muchos y será una gran noche...y no os perdáis el entorno mágico que creara nuestra amiga WENDY TRIP COLOURS con su Deco,será mágico,,,mil gracias a todos y deseando veros a todos, FELIZ AÑO Y LARGA VIDA!!!!!

Para los amantes del trance, progressive trance, psytrance, Full On, Darkpsy, goa and more...tenemos una cita todos el próximo Viernes 3 de enero en la Sala YASTA, C/Valverde,10 (Metro- Gran Via), será una noche llena de Luz, magia, color y sobre todo....MUSICA DIVINA!!!!!!!!!!!!!!!!!!! Os esperamos a tod@s para crear esa...nuestra esencia GOA TRIP.....
Location
Location
Ya´sta Club, Madrid (Metro- Gran Via),
Entry fee
Entry fee
Chicas entran Gratis hasta la 01:00
Entrada + Copa 10 Euros
Entrada + 2 Copas 15 Euros