Backend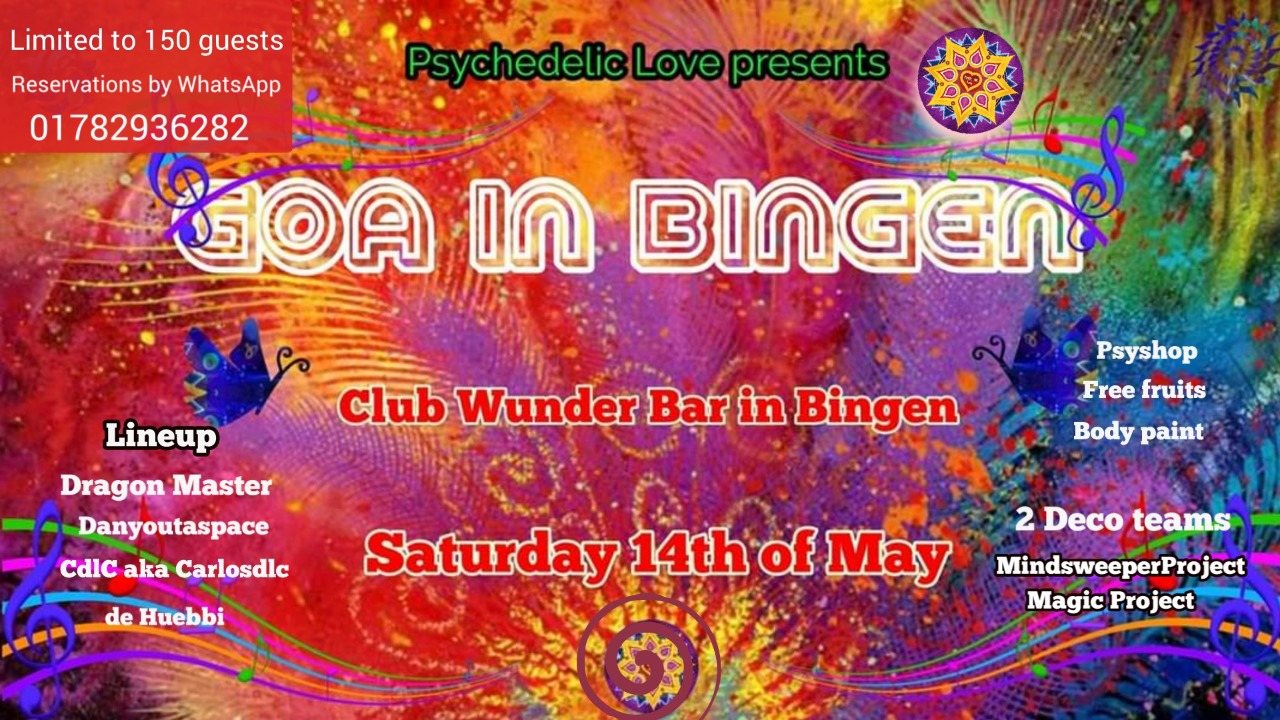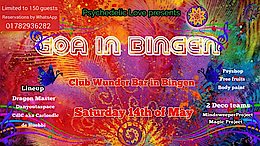 Info
GOA IN BINGEN
The number of guests admitted will be only 150 .
Reservations
WhatsApp- 01782936282
In May we return to Bingen for a high quality and very exclusive event.
The wunder bar is a completely renovated venue that also serves cocktail bar shisha bar and pizzeria during the week. It really is of the highest level of quality and conditions. It has a great ventilation system that allows us to smoke inside and not have any smoke in the air. To be at the event you will have to make an advance reservation. It can be by WhatsApp - SMS - message to our page.
We will have a good lineup with great artists, the psyshop by psyshopmaria has a beautiful psychedelic decor and the club has all kinds of drinks and cocktails. You can also smoke shisha and even order pizza.
RESERVATIONS :
WhatsApp - 01782936282
2 deco teams
MindsweeperProject
[facebook.com]
MAGIC PROJECT
[facebook.com]
PSYSHOP
PSYSHOPMARIA ॐ
[facebook.com]
WE OFFER YOU ॐ
Fresh Fruits
OPEN DOOR - 21:30
EVENT - 22:00 - 06:00
Direction
Wunderbar Bingen
Vorstadt 20-22 55411 Bingen am Rhein, Germany
ॐ Facebook page ॐ
[facebook.com]
Instagram
[instagram.com]
WhatsApp
01782936282
---GROUP---
ॐ Psychedelic Love events in Bingen and Mainz ॐ
[facebook.com]
---GROUP---
ॐ Psychedelic Love ॐ international group ॐ
[facebook.com]
FUTURE EVENTS
Power of Psychedelics 2
21/05/22
Wiesbaden / Kontext
[facebook.com]
Psychedelic Fridays #15 / ZOOMORFOS live First time in Germany
[facebook.com]
Please respect the place and everyone present at the event.
See you on the dance floor
ॐ WE ARE ONE ॐ
PSYCHEDELIC LOVE
Location
Wunderbar Bingen
Vorstadt 20-22 55411 Bingen am Rhein, Germany
Organizer
Organizer
psychedelic love