Backend
ॐ GOA GIL, NIMBA & THE NOMMOS ॐ NEW FIRE TRIBAL CEREMONY ॐ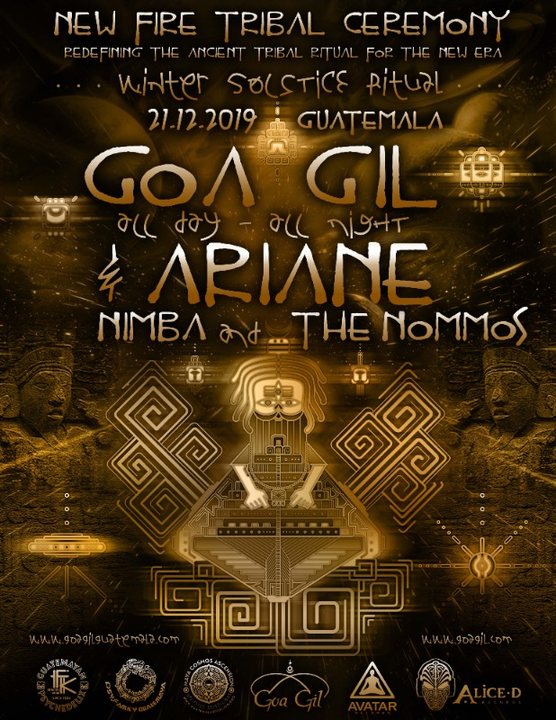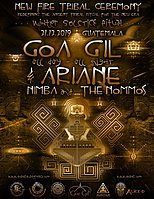 Line Up
.. !!! ॐ Redefining the Ancient Tribal Ritual for the NEW ERA ॐ !!! ...

And making a strong call we summon everyone and the different races and species of inhabitants of planet earth; and especially to all the warriors of MesoAmerica in this unique opportunity to receive the blessings of the Cosmos through the channel of the master GIL!

The dance of the new fire was carried out every 2, 8 and 52 years according to the ancient Mesoamerican tribes; although for the Mayans, the celebration was annual during the reception of the new year.

To dance a circle is formed surrounding by the offering and any type of people with the intention of opening their mind and heart are welcome. You start by asking permission to the 6 cardinal directions (east, west, north, south, earth and cosmos) And following the rhythm of the drum, the dance is guided by the person who keeps the rhythm and is imitated by the other members. The center of the circle is a sacred space where the censer is placed with copal and other offerings.

While we dance with our feet, we call Mother Earth greeting her and each movement has the main objective to heal, harmonize, create health and abundance to finally raise our arms to heaven as a symbol of detachment from the spirit towards God and connecting with the cosmos.

!!! GOA GIL !!! all night and all day ...

The doors of the Ritual will open on Saturday, December 21st. from noon (12:00 pm) to begin approximately at 2:00 pm with our Sacred Mayan Fire Ceremony and continue during the afternoon with the incredible tribal ethnic sounds by Ariane aka NIMBA and then continue with Goa Gil & Ariane aka THE NOMMOS

and in the evening GOA GIL with an average of about 26 hours.

.. !!! ॐ There is PsyTrance and there is GOA GIL ॐ !!! ...

Our Ritual will end on Sunday 22nd. at night (and only Gil knows when) and you are more than welcome to spend this night with us too. But everyone should clean their camping area and leave during the morning of Monday 23rd.
Info
ॐ GOA BUS / Oficial International tours:
And more to be announced !!! …
México:
More info soon ...
Costa Rica:
More info soon ...
El Salvador:
-By Tosh Esc
[facebook.com]
Honduras:
More info soon …
ॐ GOA BUS / Goatemala:
Guatemala city:
More info soon ...
Antigua Guatemala:
More info soon …
Lake Atitlan (San Pedro La Laguna):
More info soon …
SERVICES:
ॐ Professional sound.
ॐ International decoration.
ॐ Bioconstruction.
ॐ First Aid.
ॐ Parking.
ॐ Professional security.
ॐ Camping area.
ॐ Campfire area.
ॐ Sanitary services and showers.
ॐ Chill Out and Kakaw / Chai Bar.
ॐ Elixir Bar.
ॐ Food area.
ॐ Craft market.
ॐ Garbage dumps.
* This is a "Leave no trace" event, so please be aware and take absolutely everything you bring with you (trash).
** Love and take care of yourself; Be responsible and very aware of your actions, everything in this life has its consequences ...
*** The entry of:
- Food and drinks.
- Any kind of weapons
- Any type of drugs and / or narcotics (since you run the risk of being consigned by the authorities that will be supporting us).
Location
Magic location located between mountains and volcanoes, Guatemala ...

To be announced days before the event.
Entry
ॐ PRE SALES:
Acquire them as soon as possible; since these are limited according to their phases !!! *** And support us by spreading this event among your contacts and family.
ॐ Online credit card and / or paypal:
[guatemalascension.org]
ॐ Phase 1:
From August 12th, to August 31st. or while supplies last:
For all Central America and Mexico at Q400.00 / $ 55.00
International at Q500.00 / $ 65.00
ॐ Phase 2: From September 1st. to October 21st. or while supplies last: For all Central America and Mexico at Q500.00 / $ 65.00
International at Q600.00 / $ 80.00
ॐ Phase 3: From October 22nd. to November 21st. or while supplies last:
For all of Central America and Mexico at Q550.00 $ 75.00
International at Q650.00 / $ 85.00
ॐ Phase 4: From November 22nd. to December 15th. or while supplies last:
For all Central America and Mexico at Q600.00 / $ 85.00
International at Q700.00 / $ 95.00
ॐ Gates: For all Central America and Mexico at Q750.00 / $ 95.00
International at Q.850.00 / $ 115.00