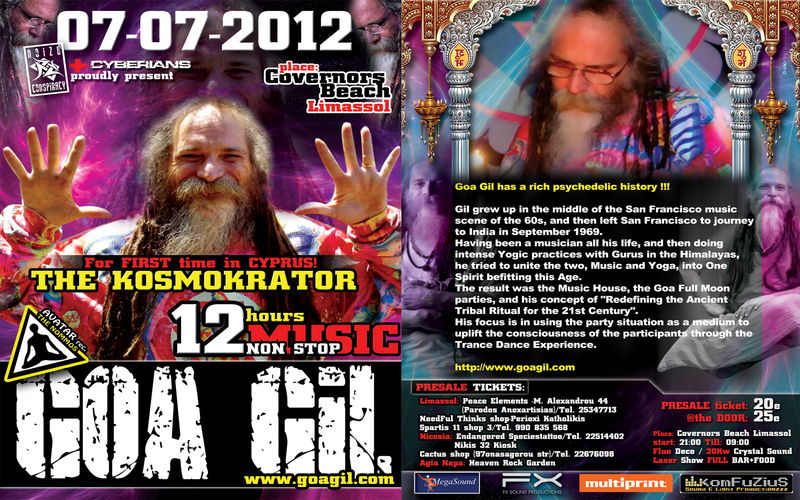 Deco
Deco
20 kw Crystal Clear Sound + lazer show supported from KOMFUZIUS

amazing uv DECO by CYBERIANS TEAM
Info
ૐ Noize Conspiracy & Cyberians proudly present the Kosmokrator Goa Gil of psychedelic trance scene for first time in Cyprus for 12hrs non stop on 07.07.12
ૐ Goa Gil has a rich psychedelic history !!!
Gil grew up in the middle of the San Francisco music scene of the 60s,
and then left San Francisco to journey to ॐ in September 1969.
Having been a musician all his life, ॐand then doing intense Yogic practices with Gurus in the Himalayas,
he tried to unite the two, Music and Yoga, into One Spirit befitting this Age.
The result was the Music House, the Goa Full Moon parties,
and his concept of "Redefining the Ancient Tribal Ritual for the 21st Century".
His focus is in using the party situation as a medium to uplift the consciousness
of the participants through the Trance Dance Experience.
[goagil.com]
[goagil.com]
ૐ Dance is active meditation, when we dance we go beyond thought, mind, and beyond our own individuality - to become one in the divine ecstasy of union with the cosmic spirit. This is the essence of the trance dance experience...'' Goa Gil
OM NAMAH SHIVAYA!!!!! HARA HARA MAHADEV!!!!!
Tickets:
20e presale
25e @ door
ૐ LIMASSOL :
Peace Elements - M.Alexandrou 44
(parodos anexartisias) Tel :25347713
[facebook.com]
Needful things -Perioxi katholikis
(Spartis 11- shop 3) -99083568
ૐ NICOSIA :
Endangered Species Tattoo Tel : 22514402
[facebook.com]
Cactus Shop (97 Onasagorou str) Tel. 22676098
[facebook.com]
Nikis 32 Kiosk
ૐ AGIA NAPA :
Heaven Rock Garden
[facebook.com]
Location
Location
GOVERNORS BEACH _LIMASSOL_CYPRUS
Entry fee
Entry fee
20e presale - 25 at the door
Organizer
Organizer
NOIZE CONSPIRACY & CYBERIANS