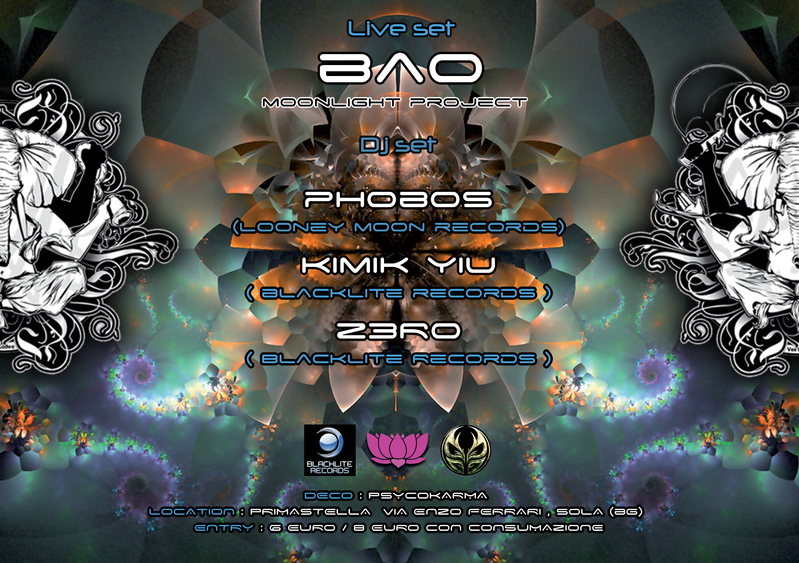 Line Up
- B.A.O. -
MOONLIGHT PROJECT
soundcloud
BAO is the MORNING FULL ON project of Nicola Filippini 1983, Brescia, Italy.
At the age of eight, he started to learn some musical instruments, taking lessons in guitar and drums.
At 15 he began playing in a punk / hardcore band until the age 'of 19.
In 2002, for the first time took part in his first psytrance party and immediately falls in love.
Start to play Goa trance mixing tracks until, by chance, knows Z3ro, Argentine DJbased in Cremona, which began to organize small parties with friends. In 2007 they decided to form MOONLIGHT PROJECT and start to get serious. Organizing parties with international guests and collaborating with bands and labels in northern Italy.
(LOONEY MOON / BLACKLITE / PSYTRONIC /AYAHUASCA).
Over the past two years are able to organize two festivals: "NEW ERA" which continues the philosophy of good vibrations and collective rebirth. Principles on which it is founded MOONLIGHT PROJECT PSYTRANCE FAMILY .
In 2010, increases the passion and decides to make their own music the project is now ready.
B.A.O. "Behind Alien Odyssey" is a liveset with lots of bouncy melodies and bouncing bass lines that characterize the 'MOONLIGHT SOUND
-PHOBOS- LOONEY MOON RECORDS
soundcloud
[looney-moon.com]
Since always into electronic music, in 1997 dj Phobos started listening to psy-trance, going to parties and festivals all around Europe. As a dj he has played in many parties in Italy, German, Austria, Spain, Swiss, Uk, France, Belgium, Slovenia, Russia, Czech Republic, Croatia and Thailand together with lots of artists of international fame in the world of trance. From the point of view of his musical choice, he doesn't like sticking to just one style of psy-trance, but he prefers to adapt his set to the hour, the people and the situation he finds himself in, taking always special care of the mixing. When playing during the night hours, he usually offers a Psychedelic Trance oriented style, with very psychedelic sounds which try not to degenerate into maddening noise or too dark influences; in the morning hour he will more likely choose to play more full-on underground stuff, trying to remain within the borders of psychedelics but with softer sounds, more suited for the light. Anyway he would rather play at dawn, according to him the most suitable moment of the day to enjoy his best sets. His djset is full of unreleased stuff .
A few years ago he founded Looney Moon records with a group of friends, and from 2008 he are managing the label with dj Fog .Today Looney Moon Records is weel know with 4 killer compilations , 1 album and lots of digital EP which bombed the dancefloors around the world
-KIMIK YIU- BLACKLITE RECORDS
soundcloud
[blackliterecords.com]
-Z3RO- MOONLIGHT PROJECT / BLACKLITE RECORDS
soundcloud
[blackliterecords.com]
Info
***************25 KW SOUND SYSTEM****************

NEW ERA FAMILY

ORGANIZER:

MOONLIGHT PROJECT

NEW ERA FAMILY

thanks to : BLACKLITE RECORDS LOONEY MOON RECORDS
Location
Location
PRIMASTELLA
Il Primastella si trova sulla Statale 11
Milano-Brescia in Località SOLA (BG), in via Enzo Ferrari.
Entry fee
Entry fee
8 CON CONSUMAZIONE
Organizer
Organizer
MOONLIGHT PROJECT