Backend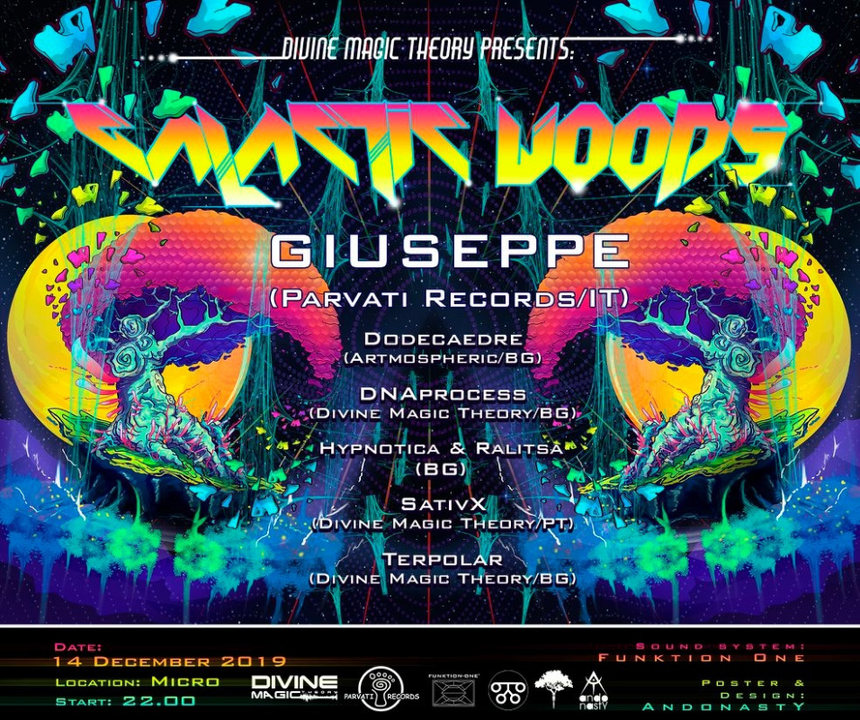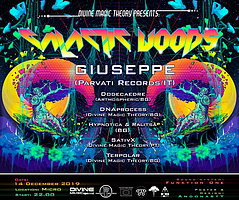 Info
Divine Magic Theory presents:
⚛ GALACTIC WOODS ⚛
▲14.12.2019▼
BREAKING NEWS:
👣 An ancient footprint was found by a small NGO in the Intergalactic Psychedelic Forests. Its origin is from Planet Earth!
Check it!
[orbmag.com]
After some researches from our side we found the entity responsible for the prints all around the Galaxy. We decided to invite him to tell us his version of the story ...
On the 14th of December the center of Sofia will be vibrating on the waves of the finest forest psychedelic music worldwide. The Divine Magic Theory crew will present their next vivid event -GALACTIC WOODS- in the marvelous club MICRO - Records & Culture shop, Bar & Multifunctional event space. For the organizers this is a perfect location - equipped with Funktion-One sound system, modern lightning technology and an acoustic isolated hall.
Dj guest this night is Giuseppe Capopepito - founder of Parvati Records Denmark, established in the year 2000. "This label represents the birth of a platform, which is manifested as a bridge, unifying people through the values of community, love, responsibility for the self, others, and Mother Earth." Giuseppe explains the Parvati Records concept "The main idea behind the label was to create a platform for psychedelic trance producers around the world and publish quality sounds. The label reflects my own personal taste, and now has a wide spectrum of music, from intense and strong, to more light and groovy, with some common elements: the twisted and the surprise element." Since 2012 Giuseppe has been collaborating as a stage manager with different music festivals, such as Ozora, Sonica, MoDem, BlackMoon and Free Earth.
In this musical voyage you will be accompanied also by sound magicians from the Bulgarian trance scene. They will unwrap their sack of treasures for you!
Feel more than welcome to celebrate this evening, enjoying crystal clear sound, delightful beats and friendly bar. You will revitalize!
:) :) :) :) :) :) :) :) :) :) :) :) :) :) :) :) :) :) :) :) :) :) :) :)
Entry
Entry
20 BGN presale
25 BGN on the gate
presale of the tickets for the next event Divine Magic Theory presents: Galactic Woods 🍂
Online:
[bilet.bg]
At cash desks:
[bilet.bg]