Galactic Fest with Space Tribe and Friends.Live at Bunkier, Gdansk. Poland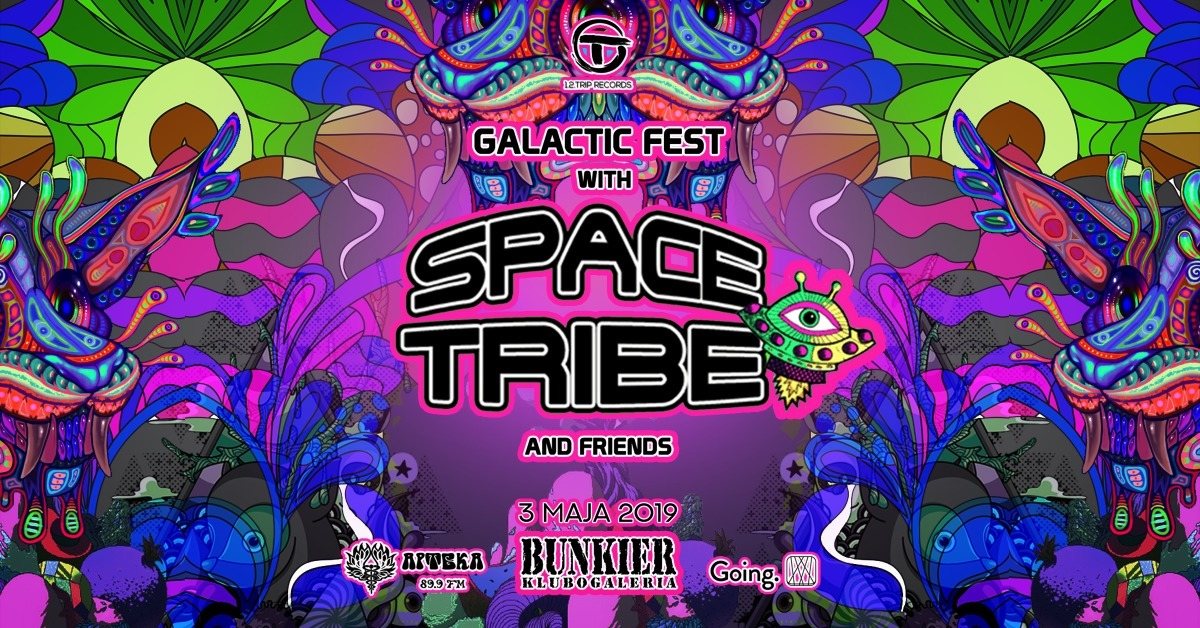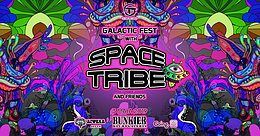 Line Up
Po raz pierwszy w Polsce, mamy zaszczyt gościć legendę i jednego z prekursorów światowej sceny psytrance, Space Tribe
Olli Wisdom gości na najwiekszych scenach juz od końca lat 80 tych. Jego muzyczna kariera zaczęła się na początku lat 80 tych od punkowej kapeli Specimen. Po jej rozpadzie Olli wyruszył w podróż po Azji gdzie pierwszy raz zetknął się w Koh Phangan z psychodelicznymi imprezami na plaży, założył studio i zaczął grać. Potem Goa w Indiach i tak juz zostało ,aż do dzisiaj... :)
Space Tribe uraczy nas, specjalnie przygotowanym, 2 godzinnym live setem, okraszonym audiowizualną ucztą od 2Deko i Kryszk (Architipi). Na głównej scenie zagrają również nasi czołowi Polscy Artyści, Jaraluca z mocnym, melodycznym Goa, Crawfisher z ciemnym fullon i po raz pierwszy na scenie, Main Ape ze swoja interpretacja Europejskiego fulla.Do pląsów wkręci was Van der Trip z 1.5h DJ setem.
Na Chill, również będziemy gościć przodowników gatunku. Zagrają, na żywo, Red Sun Rising i Netsu...
Więcej info i pełny skład wkrótce...
LINEUP
Main 🕉
✺ Space Tribe (live)
✺ JaraLuca (live)
✺ ABU (DJ set)
✺ Crawfisher (live)
✺ Main Ape (live)
✺ Van der Trip (Dj set)
Chill 🕉
✺ Red Sun Rising / altar records
✺ Netsu
✺ Rita Raga / Ragini
TBA
DEKO 🕉
2Deko
Przemek Kryszk (Architipi)
TBA
TBA
Organizator 🕉
@1.2.Trip Records
Klub 🕉
Bunkier
Olejarna 3
80-843 Gdansk
5 poziomów, 3 sceny i klimat jakiego nigdy nie doświadczyłeś!!!
[facebook.com]
BILETY 🕉
Going.
[going.pl]
Media 🕉
Apteka
Covery i grafika Kamila DjSati
Pełne info niebawem...
BIO:
ABU :
ABU to współzałożyciel kolektywu PsyWest Crew oraz organizator Szczecińskiego cyklu imprez "Pure Psychedelic".
Miłośnik kwaśnego brzemienia. Kolekcjoner rozmaitych płyt, zwłaszca dzwięków etniczno-mistycznych.
Najczęściej sięga po klasyki GOA, "neogoa" lub brzmienia eksperymentalne. Na scenach chilloutowych przeplata chillgressive z psydub'em lub world music.
wraz ze swym dj'skim przyjacielem NullPeterem, od 2019 stał się współzałożycielem, Szczecińskiego klubu Pokój, o szerokim spektrum muzyki elektronicznej.
Również w 2019 odpala własny cykl imprez pt. ODRAGOA, a zarazem label który będzie tłoczył winyle z muzyką goa/neogoa/psydub.
Najbliższy release planowany jest na jesień tego roku.
Pasjonat podróży, słońca i open-airów.
[click here]
[youtube.com]
[click here]
Netsu:
Wrocławski producent i performer wibrujący w klimatach downtempo. Jego muzyka przesiąknięta jest psychodelią, tajemnicą i marzycielstwem a podszyta transowym, basowym pulsem. Traktuje ją jako przedłużenie swojej osobowości i chce nią nakłaniać ludzi nie tylko do łączenia się ze sobą w tańcu ale też do głębszej refleksji.
W 2018 miał miejsce jego wydawniczy debiut w postaci EP Voidgazing wypuszczonej przez Mamomam Records, a w 2019 światło dzienne ujrzy kolejna płyta.
Chat conversation end
Type a message...
Red Sun Rising / altar records:
Red Sun Rising czyli Michał Niecikowski ze Szczecina, specjalizujący się w brzmieniach Chillout okraszonymi szczyptą folku oraz słowiańskim sznytem.
Michał ostatecznie wyklarował swój styl wydając w 2017 roku nakładem Mamomam Records EPkę "Four Different Walks", łączącą słowiańskie motywy z brzmieniami chillgressive. 1 maja 2018 wydał swój debiutancki album "Campfire" w znanej wszystkim miłosnikom psychillu wytwórni Altar Records. Niebawem w tej samej wytwórni ukaże się jego najnowsza EPka nagrana wspólnie z Olicą -połączenie psychillowej elektroniki, liry korbowej oraz wokali - inspirowanych obrzędowością słowiańska i pieśniami tradycyjnymi z Lubelszczyzny i Kurpiów
Obecnie w produkcjach Michała można usłyszeć elementy takich gatunków jak folk/psybient/chillgressive/downtempo/witch house, a także wpływy takich artystów jak Aes Dana, Asura, Suduaya. Z kolei jego live act będzie w stanie uderzyć w wasze najczulsze punkty i poruszyć najgłębiej ukryte emocje!
Rita Raga / Ragini:
Rita Raga - wokalistka, kompozytor, producent muzyczny i DJ. Wykonuje LIVE ACT'y oraz LIVE DJ sety w stylach psychill/downtempo/chillgressive, wykorzystując wokal, instrumenty klawiszowe oraz elektronikę, a czasem również instrumenty perkusyjne lub gitarę.
W swojej twórczości Rita koncentruje się na sprawach metafizycznych, duchowych czy na głebokich emocjach. Grywa w całej Polsce (m.in. Serotonina, Egodrop, Behind the LAS NYE, Pure Psychedelic), w Czechach (Mysterio Teslarum, Feiplatz), a jako wokalistka występowała także w Japonii. Jej produkcje i kolaboracje ukazują się na licznych kompilacjach, grywane są przez DJ z całego świata oraz notowane były na liście Beatport Top 100, a także w plebiscycie radiowej Czwórki.
Ponadto Rita organizuje eventy łaczące muzykę etno i elektroniczną pod nazwą Raga Rytmy.
facebook.com/RitaRagaMusic
mixcloud.com/RitaRaga
youtube.com/c/RitaRaga
Deco
Deco
2Deko, Kryszk (Architipi)
Location
Location
3, Olejarna, Gdańsk, Poland
Organizer
Organizer
1.2.Trip Records. Norwich, UK