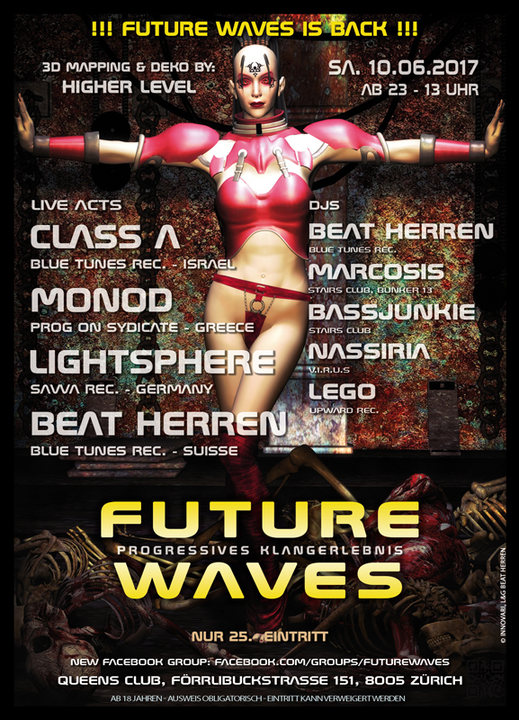 Line Up
WICHTIGE MITTEILUNG – FUTURE WAVES NEU IM QUEENS
Liebe Freunde am letzten Freitag haben wir erfahren, dass wir die Future Waves nicht im Babette durchführen können. Grund dafür ist ein Patentproblem. Natürlich haben wir uns sofort auf die Suche nach einer neuen Location gemacht. Mit dem Queens haben wir nun einen super Club mit fetter Anlage gefunden. In diesem Sinne allen einen guten Vibe und freuen uns euch am 10.06.2017 im Queens begrüssen zu dürfen.
Queens Zürich, Förrlibuckstrasse 151, 8005 Zürich
(Eingang bei der Parkhauseinfahrt, rechts vom Q Club Zürich)
Future Waves
Eine Ära ging im Februar 2017 im Stairs Club zu Ende! Future Waves war das Headlabel mit jahrelanger Tradition. 19. September 2009 war der Startschuss zur ersten Future Waves Party. Viele Jahre war Future Waves ein Garant für durchwegs gute Musik und wunderschönen Dekos. Mit dem Babette Club hat Future Waves neu einen coolen Underground Club, mit zwei Dancefloors und mit satter Musikanlage gefunden.
Ride the waves!
In der Schweiz ja nicht gerade ein einfaches Unterfangen: Die Wellen auf dem Zürichsee eignen sich ja nicht wirklich für den nassen Bretterritt. Wellenreiten geht bisweilen aber auch gänzlich ohne die Anwesenheit von H2O und zwar im Club Babette an der Langstrasse. Dort wird nämlich nicht auf Wasserwellen gesurft sondern auf Schallwellen. Future Waves heisst's, für Geniesser ist's. Und auch dieses Mal haben sich die Labelmacher etwas ganz Besonderes ausgedacht, wobei mit "Besonderes" vor allem eines gemeint ist: Musikalische Konstanz auf höchstem Niveau, garantiert von Artisten, die wissen wie man eine Club-Crowd beim Schopfe packt. Wir verzaubern euch zudem mit schönem Deko und 3D Mapping.
…der Kenner weiss nun was ansteht: Erstklassiges Proggietum für Leute, die nicht zu Ware von der Stange feiern mögen.
Let`s do it - Future Waves is back
Teaser on Facebook:
[facebook.com]
Teaser on Youtube:
youtu
★ LIVE ACTS ★
Class A (Blue Tunes Records – Israel)
[facebook.com]
soundcloud
Monod (Pro on Syndicate – Greece)
[facebook.com]
soundcloud
Beat Herren (Blue Tunes Records – Suisse)
[facebook.com]
soundcloud
Lightsphere (Savva Records – Germany)
[facebook.com]
soundcloud
★ DJS ★
Beat Herren (Blue Tunes Records – Suisse)
[facebook.com]
[click here]
Marcosis (Stairs, Buker 13 – Suisse)
[facebook.com]
Bassjunkie (Stairs – Suisse)
[facebook.com]
Nassiria (V.I.R.U.S, WOOZ – Suisse)
[facebook.com]
Lego (Upward Records – Suisse)
[facebook.com]
★ DEKO & 3D MAPPING ★
Higher Level
[facebook.com]
★ INFORMATIONEN ★
Event on 2 Floors
Grosser Outdoor Fumoir
Massive Soundsystem
Musik Stile: Progressive, Psy Trance
Eintritt: 25.-
Alter: 18+ (Ausweiskontrolle)
★ NEUE FUTURE WAVES FACEBOOK GRUPPE ★
[facebook.com]
★ GEWINNSPIEL ★
Wir verlosen 2 x 2 Gästelistelisteplätze und je ein Getränke Bon pro Person!!!
Alles, was ihr dafür tun müsst, ist
1. LIKE diesen Post / Event (Teilnehmen)
2. MARKIERE 5 deiner Freunde, mit denen du auf der Future Waves im Babette Zürich feiern möchtest im Kommentarfeld!
VIEL GLÜCK!♥
P.S.: Die Gewinner werden einen Tag vor der Party bekanntgegeben.
★ FACEBOOK FREUNDE EINLADEN ★
Bitte ladet eure Freunde ein da Facebook die Anzahl zulässiger Einladungen pro Account und Event limitiert hat!
Please invite your friends. Facebook has limited the number of invitation per account and event!
DANKE / THANK YOU
Info
Future Waves

Eine Ära ging im Februar 2017 im Stairs Club zu Ende! Future Waves war das Headlabel mit jahrelanger Tradition. 19. September 2009 war der Startschuss zur ersten Future Waves Party. Viele Jahre war Future Waves ein Garant für durchwegs gute Musik und wunderschönen Dekos. Mit dem Babette Club hat Future Waves neu einen coolen Underground Club, mit zwei Dancefloors und mit satter Musikanlage gefunden.

Ride the waves!

In der Schweiz ja nicht gerade ein einfaches Unterfangen: Die Wellen auf dem Zürichsee eignen sich ja nicht wirklich für den nassen Bretterritt. Wellenreiten geht bisweilen aber auch gänzlich ohne die Anwesenheit von H2O und zwar im Club Babette an der Langstrasse. Dort wird nämlich nicht auf Wasserwellen gesurft sondern auf Schallwellen. Future Waves heisst's, für Geniesser ist's. Und auch dieses Mal haben sich die Labelmacher etwas ganz Besonderes ausgedacht, wobei mit "Besonderes" vor allem eines gemeint ist: Musikalische Konstanz auf höchstem Niveau, garantiert von Artisten, die wissen wie man eine Club-Crowd beim Schopfe packt. Wir verzaubern euch zudem mit schönem Deko und 3D Mapping.

…der Kenner weiss nun was ansteht: Erstklassiges Proggietum für Leute, die nicht zu Ware von der Stange feiern mögen.

Let`s do it - Future Waves is back ♥
Location
Location
Queens Club
Förrlibuckstrasse 151
8005 Zürich