Future Monkeys Psytrance Live Band and other great DJs ॐ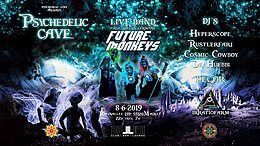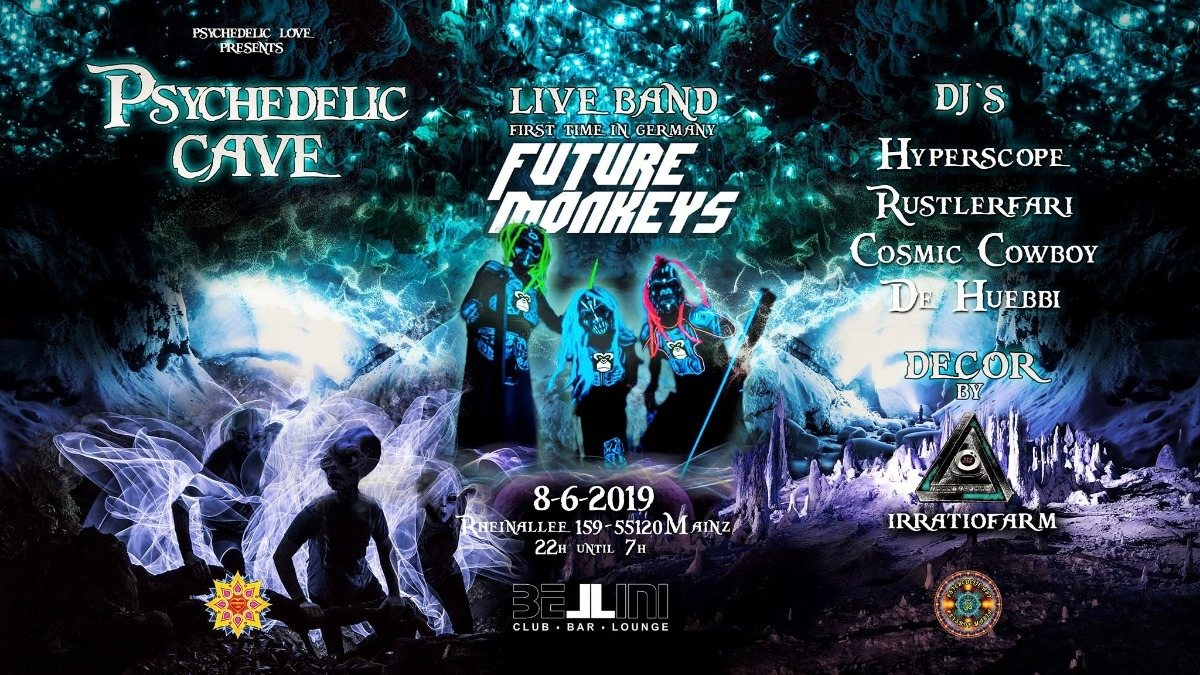 Info
❤ॐ----------ॐ PSYCHEDELIC CAVE ॐ------------ॐ❤
ॐ❤ॐ It is with great joy that we announce this event. ॐ❤ॐ
FUTUTE MONKEYS from PORTUGAL will play for the first time in GERMANY , the lineup counts on OTHERS GREAT DJs and together they will take us to the PSYCHEDELIC CAVE ❤ॐ
❤ॐ----------ॐ❤ॐ------------ॐ❤
ॐ❤ॐ🎵 FUTURE MONKEYS LIVE BAND 🎵ॐ❤ॐ
Future Monkeys are a Psytrance band from Portugal that redefines the psychedelic spirit.
This project started back in 2007 with a concept that joins live performance music with astounding visuals performed by 3 musicians and a VJ.
Their influences gather the best from the psytrance scene from the last ten years as well as influences from heavy-metal, acid rock and experimental with an astonishing digital power.
With an incredible and unmistakable image and sound this project has been growing throw the years counting with many colaborators such as RAF ART STUDIOS and TORUS VISUALS that created the masks and costumes as well as all the visuals during the live performances.
Since their live debut, the Future Monkeys have been seeding their magical message with contagious live acts throughout the country, be it in small parties, underground events, festivals, discos and outdoor raves with artists like Skazi, Bliss, LOUD, Shivax, Cosmo, Indra, Prozac, SUN Project, Super Evil, Broken Toy, Brain Hunters, Zinx, Phanatic, Alienn, D-Maniac, Anestetic, Juggler, Khopat, Star Alliance, Psilocybe Project, Blazing Noise, Abomination...and many many more...
With 3 EPs already released and a couple of VA. contributions this project now goes for fresh tunes with a new formation and the full support from Kaos Crew Records promising new releases for 2019!
❤ॐ----------ॐ❤ॐ------------ॐ❤ॐ
ॐ❤ॐ🎵 Hyperscope 🎵ॐ❤ॐ
The Hyperscope opens a window on another world of heightened three-dimensional experience!
Spontaneous Dj - Sets! enjoy....or not ;)
Marvin Hofmann is the name behind the DJ solo project "HyperScope". Born 01.08.93 in a small city called "Pforzheim" in Germany , his first experience with psytrance events was at the age of 17 and began his career as a DJ in 2014. He is now owning RadicalFrequency Events together with his austrian friend Matthias aka Flamyyy! Besides he represents Masters Of Puppets, BLACK OUT Records, No Time for Silence & a few Resident Organizations around the globe! Promoting and organizing event's is his passion besides Djing! Psychedelic is his LIFE. His DjSets are full of Twist's, Break'z and crazy mixed Rhytm's, which will take you on an Never ending journey through time n space!
He has shared stages in Germany and all over Europe with many well known Underground Dark artists such as Psykovsky , Yaminahua , Zigurat , Megalopsy , Alpha , Junx Punx , Metahuman , Paralocks , Antagon , Mad Scientist , Fright Rate, Organoise, Tekaeh and many more !
ॐ❤ॐ----------ॐ❤ॐ------------ॐ❤ॐ
ॐ❤ॐ🎵 Rustlerfari 🎵ॐ❤ॐ
In 2015, Manu decided that he was no longer able to live his joy in music only on the dance floor and he put on his first own equipment. After some long, lonely nights, he was allowed to flaunt his skills for the first time and knew how to convince. Growing up with greats like Daksinamurti, Sick Noise or Mico X, Rustlerfari made the dancefloors in the Giessen district quake, then became part of the "Laws Of Nature" crew and secured a place in the line-up in renowned sheds like the MuK or Till Dawn , In early 2018, he made the international entry and has been a DJ on the English label "Woo-Dog Records." With his dark, impulsive sets he manages to thrill the audience from the first to the last second and we can all look forward to the future
ॐ❤ॐ----------ॐ❤ॐ------------ॐ❤ॐ
ॐ❤ॐ🎵 Cosmic Cowboy 🎵ॐ❤ॐ
Cosmic Cowboy -veteran of psytrance, born exactly 20 years after A. Hofmanns first psychedelic experience and grown up with the Sgt. Pepper-Album by the Beatles. Since his youth he is passionate about psychedelic music of the American West Coast, especially the Grateful Dead. (Of course he is still a Deadhead.) This is proven by his enormous music collection which he started in his teens. In 1996 he was infected by the GOA-Virus and gained first experiences behind the turn tables of the legendary nightclub U.N.T.N. in Saarbruecken and numerous Nada-Brahma-Parties in Mainz and surroundings. Hundreds of gigs followed, within Germany and around europe. The call of black gold (nowadays silver), brought him to Bulgaria (Tangra_Festival 2011, 2012, 2013), Turkey (Tree of life, Psy-files, Pakawala Festival, Shanti Mind...), Austria, Amsterdam (Solstice Festival, 2006 & 2012), Shefield, UK, Istanbul, Brussels... On the dance floor or in the chillout, Cosmic Cowboy acts always on his maxime.
ॐ❤ॐ----------ॐ❤ॐ------------ॐ❤ॐ
ॐ❤ॐ🎵 de Huebbi 🎵ॐ❤ॐ
The music project "de Huebbi"
Fractal Factory Resident DJ
has its real origin in 2009
since 2015 as "de Huebbi" intense and with the utmost joy, as well as enthusiasm in attracting the people with the most diverse genre and sub-genre of electronic music in his spell.
What started out as pure enthusiasm for "hard-techno", "Schranz" or "minimal-techno" developed rapidly in the last 8 years and is now one of his great passions.
"Sensitive melodies merge with the thunderous beat to a vibrant composition of
Fervor. In other words, "Pure dynamite on the dance floor!"
He had his first appearances in the "Rheingau" and soon became part of the RauteMusik.FM Online Radio, where he regularly brought the listeners with his Tech-House, Techno and later also with Progressive Psy-Trance and Goa broadcasts, weekly in his ban moved.
As of 2016, his first "Progressive Psy-Trance" Gig's also took place in the Wiesbaden undergrowth. And since the summer of 2016, he is part of the "PsyArmy" and has since experimented successfully with fast psy-trance such as. B. Dark-Psy, Hi-Tech or sometimes Psycore and brought in the "context Wiesbaden" the dance floor properly to shake!
ॐ❤ॐ----------ॐ❤ॐ------------ॐ❤ॐ
ॐ❤ॐ Psyshop ॐ❤ॐ
PSYSHOP MARIA
❤ ॐ ----------ॐ Information ॐ ----------ॐ ❤
The event will be inside and outside.
The Bellini club is well-known ,
this club is part of the nightlife of Mainz.
Has plenty of space inside but also has a wonderful outdoor space.
ॐ❤ॐ----------ॐ❤ॐ------------ॐ❤ॐ
TICKETS
First phase of tickets went online on March 1
ॐ❤ॐ----------ॐ❤ॐ------------ॐ❤ॐ
travel
Anfahrt via S-Bahn (S8), der Bahnhof Mainz Nord ist nur 2 Min. Fußweg entfernt,
Für Autofahrer sind ausreichend Parkplätze vorhanden.
BELLINI CLUB
Rheinallee 159
55120 Mainz
ॐॐ Facebook page ॐॐ
[facebook.com]
ॐॐ Psychedelic Love events in Bingen and Mainz ॐॐ
[facebook.com]
ॐॐ Psychedelic Love ॐ international group ॐॐ
[facebook.com]
Entry fee
Entry fee
EARLY MONKEY TICKET PHASE 1-14€
EARLY MONKEY TICKET PHASE 2- 16€
GATE - 18€
Organizer
Organizer
Psychedelic Love
Added

3y 11m

· Update

3y 11m

·