FUSI ॐ XL: Tommy Libera / Chorea Lux / Tekknomatikker uvm.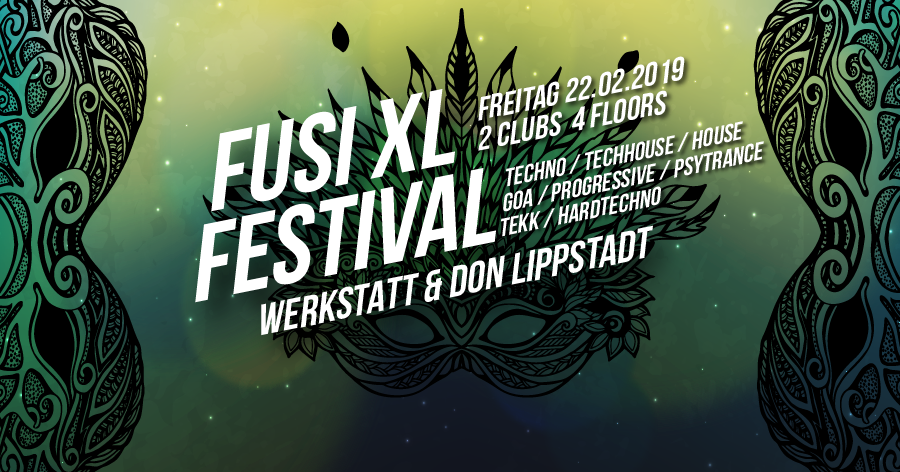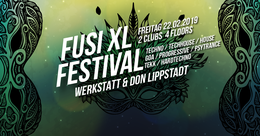 Line Up
The word is out - zum heiß ersehnten Auftakt der FUSI XL bieten wir euch ein elektronisches Highlight, die Lippstädter Kult Locations Don & Werkstatt bitten zum Club Hopping Rave auf 4 Floors!

▄▄▄▄▄▄▄▄▄▄▄▄▄▄▄▄▄▄▄▄▄
▸ 2 Clubs, 4 Floors, 1 Preis.
▸ Genres: Techno, Tech/House, Goa, Progressive,
Psytrance, Hardtekk, Hardtechno.
▸ Deko by ParraConstructa
▸ Sound & Light by LSL
▸ Abendkasse: 10€
▄▄▄▄▄▄▄▄▄▄▄▄▄▄▄▄▄▄▄▄▄

Das Programm der Nacht:

Werkstatt: Goa // Progressive // Psytrance
ॐ Chorea Lux live (Anubis Rec)
ॐ OpteriX (Trancemitter Events)
ॐ StalagmiT (Fusi)
ॐ Cosmic Playground (Out of Space)
ॐ Reality Rift (Fusi)

Toiletfloor: Hardtekk // Hardtechno
✘ Der Tekknomatikker (T.O.N Events/WKR)
✘ Frau C. Bass (Definiton of Hardtechno)
✘ Herr Grandios (Hellweg Bunker)

Don: Techno
▪️ Tommy Libera (Affenkäfig/Rheinaudio)
▪️ Kyle Pe (Triebwerk 5)
▪️ Bollerbuddys (Versteck)
▪️ Franek (Kleinstadt Techno)

Bar: Techno/House
✘ Solink (Nightvision)
✘ AndGreen (Dotcave)
▄▄▄▄▄▄▄▄▄▄▄▄▄▄▄▄▄▄▄▄▄

Gemeinsam feiern wir in diesen Spots:

● Werkstatt
Adresse: Blumenstaße.16-19, 59555 Lippstadt
● Don
Adresse: Bahnhofstr.20, 59555 Lippstadt
▄▄▄▄▄▄▄▄▄▄▄▄▄▄▄▄▄▄▄▄▄

FAQ:

● Wo bekomme ich mein FUSI XL Bändchen?

Du bekommst dein Einlassbändchen in allen teilnehmenden Clubs an der Abendkasse. Mit dem Bändchen bekommst du dann in beiden Clubs Einlass.

● Was ist, wenn ein Club voll ist?

Es kann natürlich unter Umständen vorkommen, dass zu einem gewissen Zeitpunkt viele Gäste in den selben Club möchten, dieser jedoch schon voll ist und somit, auf Grund von Sicherheitsbestimmungen, kein Einlass mehr gewährt werden kann.

Wir bitten in dieser Situation um dein Verständnis, gerade im Hinblick auf die Sicherheit! Niemand möchte, dass an einem so schönen Abend jemand verletzt wird und zu Schaden kommt.

● Nachtruhe und Anwohner in Lippstadt?

Wir bitten euch die Nachtruhe der Bewohner in Lippstadt zu respektieren. Verhaltet euch möglichst ruhig auf euren Wegen zwischen den beiden Clubs, damit wir noch viele weitere Jahre zusammen feiern können.

● Ab wie viel Jahren ist Einlass?

Einlass ist ab 18 Jahren, ohne Ausnahme.

Wir freuen uns aus auf Dich ♥

#goa #progressive #psytrance #house #techno #techhouse #hardtechno #tekk
Info
Info
facebook Link:
[facebook.com]
!!ZUSAGEN bei Facebook lohnt sich!!
░ Unter allen Event-Zusagen
verlosen wir 10 x freien Eintritt!
Location
Location
Bahnhofstr.20
59555 Lippstadt