FUNKY PSY VIBRATION with SPECIAL DJ-GUESTS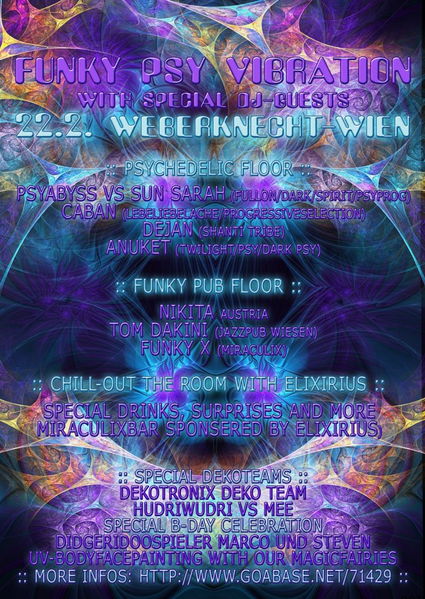 Chill
Chill-Out the RooM with Elixirius
special drinks and more

MiraculixBar sponsered by ELIXIRIUS
Info
°o0 FUNKY PSY VIBRATION 0o°
SPECIAL B-DAY CELEBRATION
for 2202 beings FREE ENTRY!!!
WIR feiern Geburtstag und laden alle am 2202-Geborenen ein mit uns in die Nacht hineinzuzelebrieren.
AUSWEIS bitte nicht vergessen!!
"Heute war Gestern schon Morgen"
und somit lautet das Motto am 22.02.2013
"tanz dich ins hier und jetzt hinein und Sei als würde es kein Morgen geben"
und dabei werden Euch faszinierende DJ´s in eine akustische Klangwelt hineinbegleiten.
Mit spirituell-orientalisch angehauchten Melodien und düsteren
Bass-Elementen bieten wir 2 FLOORS, die sich in dieser Nacht
zu einem "Tanzbaren WUNDERLAND" umformen werden.
Lasst Euch von den DJ-Künstlern in eine musikalische Ebene treiben,
die das Zusammenspiel zwischen Mystischen Psytrance bis hin zum
basslastigen, düsteren Psychedelic in Form und Optik komplett vervollständigen.
DJ´s die sich schon lange einen Namen gemacht haben, wie
NIKITA :: TOM DAKINI :: FUNKY X (JazzPub Wiesen
[wiesen.at]
)
werden Euch in die Vergangenheit der Urvölker spirituell-funkiger Musik treiben und
gleichzeitig sorgen PSYABYSS Vs SUN SARAH :: CABAN für schöne mystische
Psytrance Klänge. DEJAN :: ANUKET bespielen Euch mit gigantischen düsteren
Bass- und KlangElementen, sodass endlostanzende Körper die Floors gar nicht
mehr verlassen werden wollen.
Sowohl akustisch als auch visualistisch werden wir euch in eine Welt hineingleiten
lassen, die Zeit auflöst und die unendlich wirkende Spannung zwischen mystischer
Musik und tanzbaren Beats zusammenführen lassen.
CHILLOUT with CHAI :: die köstlichen ELIXIRIUS-Schnäpse und Liköre haben sich schon längst
einen guten Namen gemacht, ZU RECHT und diesmal präsentiert er uns neue
wundersame GeschmacksElixierKöstlichkeiten!!
Lasst Euch dieses GeschmacksElixier nicht entgehen.
MiraculixBar sponsered by ELIXIRIUS
Für eine atemberaubende Atmosphäre, die den Einklang mit DIR und den Floors
wiederspiegelt, sorgen DEKOTRONIX DEKO TEAM und HUDRIWUDRI Vs MEE.
Für die richtige Intuition sorgen DidgeridooSpieler Marco und Steven!!!
UV-BodyFacePainting with our magicfairies!!!
Für etwas Farbenpracht sorgen unsere fabelhaften Feen!!!
Lasst uns gemeinsam 22022013 feiern und zu einem unvergesslichen psysammensein werden lassen!!!
be a part of this special night!!!
Fühlt euch wohl und lasst euch treiben !!!
Wir freuen uns auf euer kommen :-)
flyer coming soon...
more infos:
[facebook.com]
Organizer
Organizer
Anuket/SunSarah/Miraculix
MiraculixBar sponsered by ELIXIRIUS
Added

7y 20d

· Update

7y 6d

· 1 ·