Fullmoongui - Sparkling Jupiter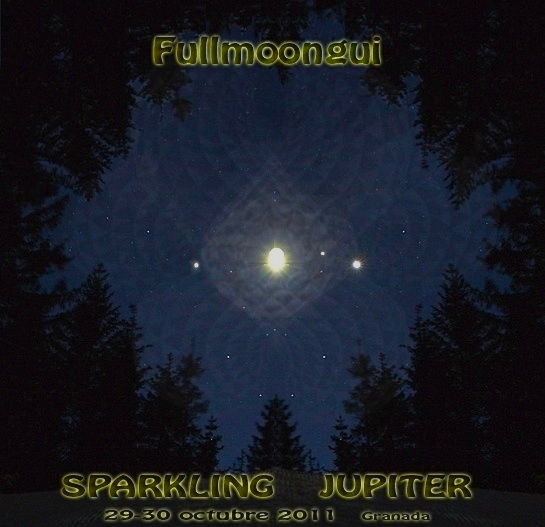 Live
Line Up
Dancers make the party...
DJs
The most sparkling stars of the sky...
Info
Fullmoongui arranca motores. Aunque en esta ocasión nuestra hija Luna
no alumbrará el geometrizado y watiorizado despliegue de medios, el
relevo es tomado por el gigante gaseoso del sistema solar, el Planeta Rey. Con
una magnitud de -2.9, el mismo sábado a las 3.00 de la
madrugada alcanzará la oposición con el sol y esa brillante perla
blanca que desde hace varios de meses gobierna nuestras noches
brillará más que nunca. Quién sabe si
con la pequeña ayuda de nuestros telescopios químicos no podremos
vislumbrar sus manchas, sus 16 lunas y sus milkilométricas y abstractas tormentas.

Nosotros estaremos ahí para comprobarlo... ¿y tú?

Este es nuestro pequeño homenaje a nuestra hija Luna, de qué mejor
manera que danzando bajo su luz y su magia en los fines de semana que
más brille. Intentad respetar el lugar, tirando las colillas en latas
vacías por ejemplo. Jugad bonito con las sustancias mágicas. Y sobre
todo sed felices.

Y de regalo por acudir al evento: 1 hora más, que podreis empezar a disfrutar el sábado noche a las 3.00 (justo en el momento de la oposición solar de Júpiter) que se convertirán en las 2.00...

La fiesta dará comienzo el sábado durante el atardecer del último día largo hasta la llegada de la primavera. ¿Os lo vais a perder?

Recordamos que aunque las noches granainas son bastante frías, está prohibido acampar y hacer fuego.

El bosque es el paraíso natural donde discurrirá la celebración, respétalo y cuídalo. Recuerda que fue donde vivieron y evolucionaron nuestros ancestros en un tiempo donde el paraíso y sus habitantes eran una misma cosa...


.................______Taller de deco a cargo de Lagartriposillas______............

Viernes 28 de Octubre

Lugar: Villa Girasol, Urbanización Los Cármenes, Alfacar

Desde las 12 del mediodia hasta medianoche.


Sábado 29 de Octubre

Lugar: Pinar Mágico

A partir de las 12 del mediodia

String Art, Pintura flúor, Papel maché, y todo lo que se te ocurra para crear entre todos centelleantes patrones y mágicos bichitos.
Location
Location
En un pinar a 30 km de Granada. Lo mejor que podeis hacer es pinchar el enlace de google maps. Estos son los pasos a seguir:

- Autovía dirección motril, salida 144 OTIVAR
- Hay 2 rotondas (o 1, depende de donde se venga), coger siempre la carretera dirección Almuñecar (A-4050)
- En el km 13 de la A-4050, a unos 50metros más adelante coger la carretera que hay a mano derecha. A partir de aquí seguir las indicaciones para la CANTERA LOS LINOS (habrá un cruce que es a derecha, vereis el cartel de la cantera)
- A unos 500 metros después de pasar la puerta de la cantera (mirad el cuantakilómetros) hay un camino de tierra a mano derecha, !!seguir todo RECTO hasta la fiesta!! (no os desvieis por ningún camino, la vereis a mano izquierda cuando tengais que frenar por rocas "rompebajos" en el camino)