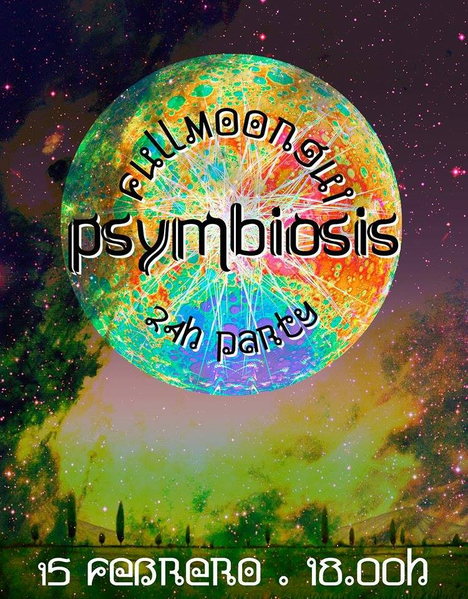 Info
Desde Fullmoongui este es nuestro pequeño homenaje a la madre luna, qué mejor manera de agradecer que danzar bajo su luz y su magia los fines de semana que más brilla.

En febrero Fullmoongui vuelve buscando un poco de abrigo, por lo que haremos una Simbiosis Psychodelica en la sala Sambiosis.

De la relación entre organismos de distintas especies nace la simbiosis. Por extensión se refiere a sociedades basadas en la colectividad y la solidaridad.

La unión en la diversidad va a ser el espíritu de Psymbiosis. Se comenzará con una ceremonia de apertura en el patio, donde nos uniremos con los elementos, especialmente con el abuelo fuego, al que entregaremos nuestra intención y nos protegerá y acompañará durante la psymbiosis.

Horario: 18h-18h 24 horas non stop

Horario de puerta: a las 6h de la mañana se cierra la puerta, solo podrán entrar las personas que estén apuntadas en la lista y salir quien se vaya a marchar de la fiesta. Habrá una persona encargada de las llaves.

Habrá barra con precios populares.

Intentad respetar el lugar y mantenedlo limpio. Jugad bonito con las sustancias mágicas.Y sobre todo sed felices.
Location
Location
Sala Sambiosis (Carretera de Malaga, 194 - Granada)
Entry fee
Entry fee
3 euros

IMPORTANTE!!! AFORO COMPLETO!!
Sentimos informaros que ya están todas las reservas agotadas. No será posible entrar en la sala si no dejasteis vuestros datos a tiempo... esperemos que no sea vuestro caso...

IMPORTANT INFORMATION!!!
Doors closed, not allow to enter the party if you didn´t gave your name and details allready... sorry...