Fullmoongui •Once upon a time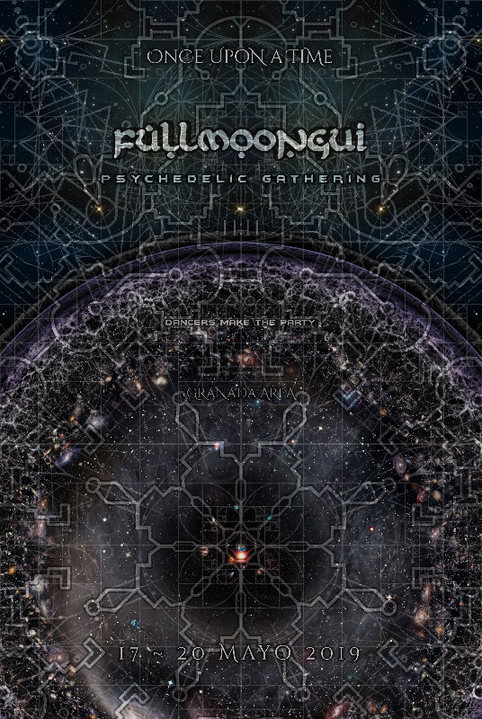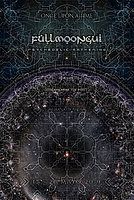 Line Up
Line Up
💜 Dancers make the party 💜
Info
FINALIZA EL PLAZO DE INSCRIPCIÓN.
Bienvenid@s tripulantes!
💜Gracias por vuestras aportaciones💜, con ellas hemos podido elaborar todo lo necesario para zarpar.
Recordamos no se aceptarán inscripciones en puerta ni reducción de cuota por días.
Agradecemos vuestra comprensión.
Nos vemos danzando💃🏿✨🚀
ONCE UPON A TIME
Érase una vez, y dos y tres, y cada una diferente, complementaria, cada una sentando las bases hacia un nuevo desarrollo con la capacidad intrínseca de adaptación y sinergía hasta completar ciclos, y ciclos dentro ciclos, etapas, eras...
Aún cuando la planicie de la tierra atesore dudas sobre su eje, ésta seguirá rotando, oscilando entre 21.1 y 24.5 grados, en ciclos de 41,000 años, y seguirá el ciclo oscilatorio junto a su satélite, el cual en la cara más oscura de mayo nos abrirá el telón a fragmentos del cometa Halley que nos dejara fugaces brillos de su viaje alrededor del sol, destellos que calculan ser cada 76 años.
Compartimos ruta, oscilamos y cuando lo exterior y lo interior, la expansión y la contracción se hacen uno, el tiempo desaparece y vislumbramos el infinito. Los discursos quedan incoherentes formas sonoras ante la visión experiencial de cada ser, cada átomo, cada vibración, danzando junto a la rotación de la tierra, el adaptativo hogar con el cual compartimos información genética, primera forma de lenguaje.
Jugad bonito con las sustancias mágicas, respetad el entorno y los seres que habitan en él, y sobre todo, sed felices.
- Ceremonia de apertura, Viernes 20h
- Cierre, Lunes 9h
Line up: ♥♥♥ DANCERS MAKE THE PARTY ♥♥♥
INFOS
§ English below §
INSCRIPCIÓN
Para participar en el encuentro hay que inscribirse con antelación y realizar la aportación económica que nos permite cubrir los gastos previos al encuentro.
Para hacer vuestra inscripción debéis ingresar una cuota de 25€ por persona y mandar el justificante de pago por correo electrónico indicando nombre, apellidos y DNI de las personas para las que se haya pagado la cuota.
Se hará una lista con todas las personas participantes que tendréis que firmar a vuestra llegada.
Lxs menores de edad no pagan cuota pero también deben inscribirse. Lxs menores tienen que ir acompañadxs de alguno de sus padres o tutor legal con autorización firmada por estos.
Las personas que necesiten atención especial tendrán que ir acompañadas de un o una acompañante que se haga responsable de ella.
*El plazo de inscripción comienza hoy hasta el viernes 10 de mayo o hasta que no queden plazas.
A partir del 10 de mayo las personas que todavía no se hayan inscrito y quieran participar tendrán que mandar un mail a
inscripciones.fullmoongui@protonmail.com
y entraréis en una lista de espera.
*La fecha límite para cancelar la inscripción es el lunes 13 de mayo. Se os devolvería la cuota y vuestra plaza la ocuparían las personas que estuvieran en la lista de espera.
• CUOTA DE INSCRIPCIÓN
25€/persona
• TRANSFERENCIA BANCARIA
Asociación cultural Fullmoongui
IBAN
ES6414910001253000093909
SWIFT
TRIOESMMXXX
• NOMBRES, APELLIDOS Y DNI + JUSTIFICANTE TRANSFERENCIA A:
inscripciones.fullmoongui@protonmail.com
Para cualquier información o pregunta email a:
fullmoongui@gmail.com
:)
CAMPING FAMILIAR
En esta ocasión queremos adaptar un espacio para el descanso y tranquilidad de niñas, niños y familias, además de ofrecer un lugar para el desarrollo de actividades y juegos.
En el espacio del camping familiar está planteado montar una yurta como lugar de descanso por la noche para peques, padres y madres y como zona de juego relajado por el día.
En el exterior se quiere preparar una zona con materiales para experimentar, pintar y crear.
También habrá lugar donde montar algunas tiendas para las familias que quieran tener allí su campamento base.
Hacednos llegar vuestras ideas y propuestas! Los materiales para la creatividad y el juego, y los que puedan servir para que el espacio resulte confortable también serán bienvenidos.
Tened en cuenta que el camping familiar no está aislado de la música ya que no se dispone de un lugar lo suficientemente apartado.
Y recordad que los medicamentos deben mantenerse fuera del alcance de lxs niñxs.
ENERGY CONTROL
Volvemos a tener la suerte de contar con Energy control.
Utiliza sus servicios antes de comenzar tu fiesta! Es más provechoso!
[energycontrol.org]
[facebook.com]
APARCAMIENTO
Se podrá aparcar desde el viernes 17 por la mañana hasta el martes 21 por la mañana.
El aparcamiento está reservado a las furgos y caravanas! Es limitado, procurad aparcar ordenadamente y aprovechando bien el espacio para que quepamos todxs, e intentad aprovechad vuestras plazas libres en los vehículos.
Los coches deberán aparcar en los huecos del camino sin obstaculizar el paso.
No se pueden montar tiendas en el aparcamiento. Es un campo prestado para ser utilizado como aparcamiento. El camping para tiendas está dentro de la finca.
Respetad las zonas de maniobras.
Está prohibido hacer fuego.
No es recomendable el acceso para camiones de más de 3500kg.
CAMPING
Se podrá acampar desde el viernes 17 a las 14h, hasta el martes 21 por la mañana.
No acampar en el aparcamiento ni en las propiedades vecinas.
Está prohibido hacer fuego.
ECO TOILETS
Usarlos es esencial para el bienestar de todxs.
Para que funcionen y no desprendan olores hay que cubrir siempre la caca y no verter en ellos líquidos en exceso.
¿Qué podemos echar al baño seco? Papel, tampones y serrín.
¿Qué NO podemos echar al baño seco? Compresas, plásticos, líquidos en exceso.
Pasados 1 ó 2 años nuestra caca se habrá transformado en compost que se utilizará para abonar árboles frutales.
AGUA
El río no es apto para el baño. Los pueblos por donde pasa no disponen de depuradora.
El agua del manantial se puede usar y beber sin problema. Respetad los seres que habitan en sus aguas. No utilizar jabones ni cremas en el agua del manantial ni en su riachuelo.
PERROS
En la finca hay gallinas, danzantes y niñxs, y en los alrededores hay fincas con gallinas, caballos, ovejas, etc. Por ello, si los traes tienen que estar controlados en todo momento. Son tu responsabilidad.
**ENGLISH**
Opening ceremony, Friday 8pm
Closing, Monday 9am
INSCRIPTION
To take part of the gathering you must do your inscription before it and make your economic contribution which will be spend to build and prepare the meeting.
You must wire 25€ each person to the association and send the proof of payment by mail with the names, surnames and ID card number for each participant.
We will include all registered people in a list that you must sing at your arrival.
Under 18 years persons doesn't pay the fee, but they must be registered and be accompanied by their parents or legal tutor (in that case a signed authorization will be required)
People with special attention and needs, must be accompanied by a person in charge .
*Inscription dates starting today until 10th may or until sold out. Out of date, you can request your sending a mail to
inscripciones.fullmoongui@protonmail.com
and we will make a waiting list.
*In case you wish cancel your registration you have until 13th may, sending a mail at same address. Vacant places will be assigned to the waiting list.
• INSCRIPTION FEE
25€/person
• BANK TRANSFER TO
Asociacion cultural Fullmoongui
IBAN
ES6414910001253000093909
SWIFT
TRIOESMMXXX
• NAME, SURNAME, ID CARD/PASSPORT NUMBER + PROOF OF PAYMENT TO:
inscripciones.fullmoongui@protonmail.com
INFO and questions:
fullmoongui@gmail.com
:)
PARKING
Parking is allowed from Friday morning until Tuesday at morning.
Parking is limited and reserved for vans and caravans. Try to park in an orderly manner and making good use of the space so that we can fit all. Advise to complete the places in your vehicle.
Do not camp with tents in the parking. Camping is inside.
Cars should park in the gaps of the road without obstructing the passage.
Access for trucks over 3500kg is not recommended.
Respect the zone to manoeuvres.
No fire.
CAMPING
Camping will open from Friday 17th at 2:00 pm to Tuesday 21 at morning.
Do not camp in the parking or in the neighboring properties.
No fire.
ECO TOILETS
Using them is essential for everyone's well-being.
Dry toilets will be installed, only to shit. So that they work and do not give off odors, always cover the poop and do not pour excess liquids into them.
What can we throw into the dry toilet? Paper, tampons and sawdust.
What can NOT we throw into the bathroom dry? Compresses, plastics, excess liquids.
WATER
The river is not suitable for bathing. The villages where it passes do not have a sewage treatment plant.
The spring water can be used and drink without problem. Respect the beings that live in its waters. Do not use soaps or creams in the water of the spring and its little river.
DOGS
On the farm there are chickens, dancers and children, and in the surroundings there are farms with chickens, horses, sheep, etc. Therefore, if you bring them, they must be controlled at all times. They are your responsibility.
Location
Location
A little paradise 25 km from Granada
Entry
Entry
Leer la info-Read the info
Organizer
Organizer
Asociación Cultural Fullmoongui