Fullmoongui - Hello Future (Goodbye past II)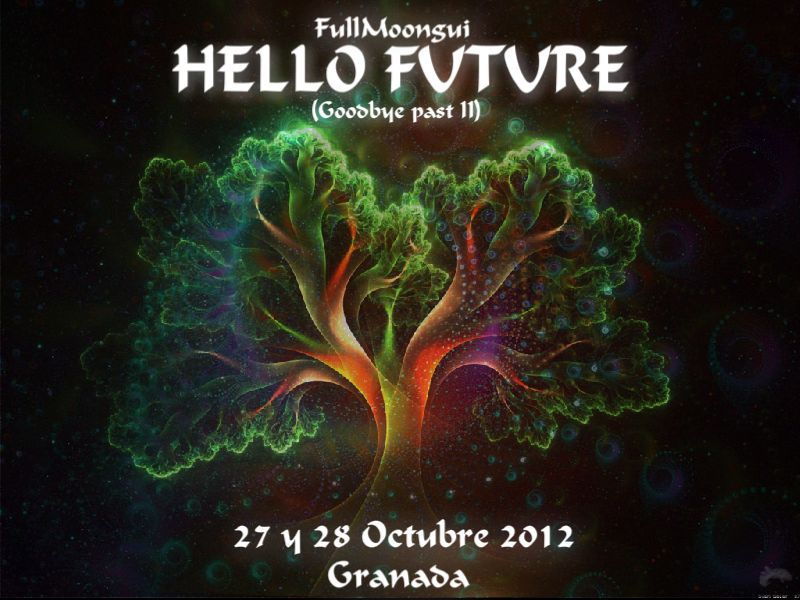 DJs
Dancers make the party...
Info
Todavía quedan tres meses para el año dosmiltrance y el futuro es ya una realidad: el primer espacio-puerto comercial para lanzar ciudadanos al espacio durante un ratito recién abrió sus puertas (además, en el futuro ¿quién no dispone de 200.000 dólares?), el 3D hace más espectaculares los guiones espectacularmente mediocres, el tan ansiado sistema democrático del s.XX se revela como un invento infumable del pasado, la policía española ya forma parte del mundo del espectáculo haciendo grandes actuaciones para películas de Tarantino, las fiestas de trance ahora se anuncian en facebook y los artistas aman tanto el arte que son capaces de alimentarse sólo de aplausos.

Además dosmiltrance será un año de numerosas ausencias pues son muchos los que nos abandonan, esperemos que no para siempre. Son muchos los que, a caballo entre las inquietudes y la necesidad, han decidido valientemente cambiar sus micro-aquiahoras, expandir la localidad de su localidad, avanzar en el camino, absorbiendo pasito a pasito, visión a visión, palabra foránea a palabra foránea la riqueza de las experiencias que las tierras extra-pirenaicas guardan en sus exóticos recovecos.

Esta ceremonia, segunda parte de la moscosa Goodbye Past allá por el 2009, pretende celebrar el futuro y sus acelerados cambios, tanto los buenos como los malos. Los buenos porque son buenos y los malos porque aprendemos.


Este es nuestro pequeño homenaje a nuestra hija Luna, de qué mejor manera que danzando bajo su luz y su magia en los fines de semana que más brille. Intentad respetar el lugar, tirando las colillas en latas vacías por ejemplo. Jugad bonito con las sustancias mágicas.
Y sobre todo sed felices


No se puede acampar, asi que si decides dormir en tienda hazlo en un lugar apartado y discreto.
Aparca en el lugar indicado.

Esta PROHIBiDO HACER FUEGO. Trae abrigo,la noche es fria.

NO OS CORTÉIS CON EL ABRIGO, PUES LA NOCHE NO SE CORTARÁ CON VOSOTROS. Welcome to Granada...
Location
Desde Granada:
- Autovía dirección motril, salida 144 OTIVAR
- Hay 2 rotondas (o 1, depende de donde se venga), coger siempre la carretera dirección Almuñecar (A-4050)
- En el km 13 de la A-4050, a unos 50metros más adelante coger la carretera que hay a mano derecha (hay unos carteles que indican "EL CHAPARRAL" y "LOS LINOS") A partir de aquí seguir las indicaciones para la CANTERA LOS LINOS (habrá una bifurcación que es a derecha, vereis el cartel de la CANTERA LOS LINOS)
- A unos 500 metros después de pasar la puerta de la cantera (mirad el cuantakilómetros) hay un camino de tierra a mano derecha, !!seguir todo RECTO hasta la fiesta!!
El aparcamiento queda a la derecha. No aparcar en el camino ni en los cultivos.

AUTOBÚS
Desde la Estación de Autobuses de Granada, hacia Almuñecar por Otívar.
Sale el Miércoles a las 17:30. Es el único autobus que sigue esta ruta. Hay que decirle al conductor que pare en la "Venta del Fraile". Buscar los carteles de las canteras. Desde allí hay unos 3 km.