Fullmoongui - 5º Aniversario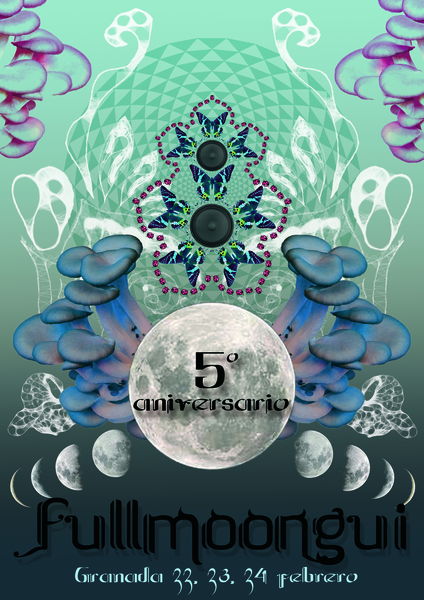 DJs
Dancers make the party...
Info
Fullmoongui nace en tiempos y espacios diferentes pero con un mismo espíritu: el deseo de promover la cultura Psytrance en sus distintas manifestaciones. Diferentes ceremonias de baile celebradas en Barcelona y Perú durante los años 2006 y 2007 se convierten en las semillas donde germinarán los encuentros necesarios para el nacimiento del colectivo, semillas que darán sus primeros frutos un 23F de 2008 con nuestro primer golpe de estado a la hyper-industrializada realidad gris e individualista de nuestros tiempos modernos. Han pasado ya 5 traslaciones solares y seguimos disfrutando de la música, el baile, las risas, los colores y de la pacha-mama como aquella primera vez, por lo que no queremos dejar pasar la oportunidad de daros nuestros más sinceros agradecimientos a vosotros y vosotras, los danzantes, sin ti nuestras celebraciones no tendrían razón de ser.

Este es nuestro pequeño homenaje a nuestra hija Luna, de qué mejor manera que danzando bajo su luz y su magia en los fines de semana que más brille. Intentad respetar el lugar, tirando las colillas en latas vacías por ejemplo. Jugad bonito con las sustancias mágicas.Y sobre todo sed felices.


INFOS:

La celebración tendrá lugar en una enorme y bonita finca con espacio de sobra para acampar y perderse, en el campo y a tan solo 20 minutos de Granada.

Además no pasaremos frio ni nos vamos a mojar porque dispone de dos espacios cubiertos:

-DanceFloor cueva. Entra la luz del dia! :)
-Haima ChillOut

Aparcamiento
Camping
WC y duchas de agua caliente

Celebration will take place in a huge and beautiful place in nature, for camping and lose your self only 20 minuts from Granada.

There are two places under cover from the rain and cold:

-Cave DanceFloor. Daylight enters! :)
-Haima ChillOut

Parking
Camping
WC and hot showers

Perros / Dogs
En la finca hay animales por lo que hay que tener a los perros vigilados en todo momento y recoger las cacas si no lo hacen en el campo. Si un perro es problematico con los animales de granja mejor no llevarlo.
There are animals in the place, so dogs must to be under your control and clean their things if they do it in the house sorroundings. If it may cause some trouble whith the farm animals it's better not to come whith.
Location
Location
La celebración tendrá lugar en una bonita finca privada a 20 minutos de Granada. No se va a hacer pública la localización exacta, contactad con nosotros en la dirección de correo de abajo para los detalles.
Celebration will take place in a beautiful place 20 minuts from Granada. The exactly location will not be public, please contact with us to the bottom email for details.
Entry fee
10 euros, para pagar el alquiler del lugar
10 euros, to rent the place.
IMPORTANTE
El número total de asistentes se tiene que saber con antelación, por lo que la colaboración de 10 euros deberá abonarse antes del dia 18 de febrero. Si estas interesado en asistir ponte en contacto a través del correo electrónico.
IMPORTANT
The number of participants must to be know before the party, so the entry must to be payed before 18 february. If you want to come contact by email please.
fullmoongui@gmail.com
***********************************************************