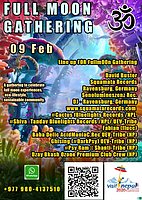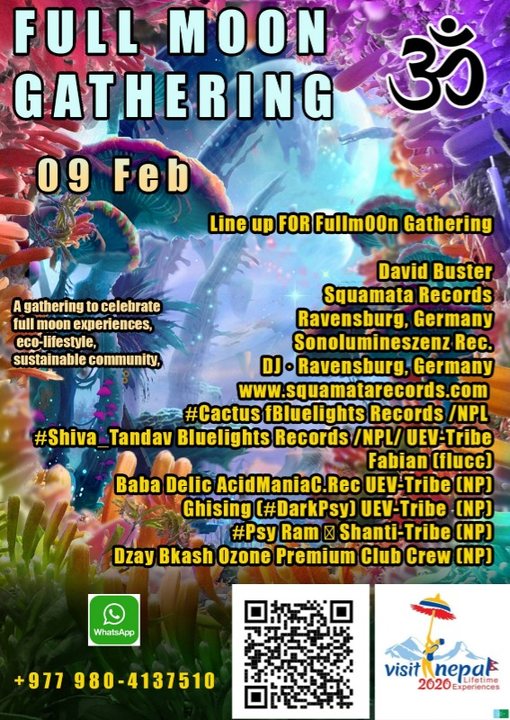 Info
A gathering to celebrate full moon experiences, eco-lifestyle, sustainable community, learn and educate Eco-farming, meditation, helping local communities, organic farming sessions, eco-products, inner discovery journeys, swings under the shade, healing sounds & much more...Live it to Believe it !!
Free #camping and #chillout area
Accommodation available at the venue
About the venue:
Pokhara, "The Lake City" a paradise in Nepal is situated on the lap of the majestic high mountains and the panoramic range of Himalayan peaks of the Annapurna that has been on the backpacker's bucket-list list since the early sixties constantly, This Himalayan bound mystic nation is a dream destination for all kinds of travelers, boasting a rich heritage and colorful lively culture, snow capped peaks, spiritual history and vibrant people..
Standing on top of the Hill, the venue adds beauty to the Pokhara Valley. It is a perfect holiday place providing a clear view of the Himalayan range (Annapurna Mountains range, including Fishtail, Dhaulagiri, Annapurna South, and Annapurna III), Fewa Lake and Pokhara city. The hilltop provides a splendid view of sunrise and sunset. The place is about 7-10 kilometers from lakeside, the major business spot in Pokhara. There are several ways to reach the venue. There are hiking trails, cycling tracks and the road to the place. One popular and adventurous hiking trail is the crossing of Fewa Lake by a local boat and then climbing uphill through local villages which takes about an hour and half to two. The partial black-topped road takes about 45 minutes to an hour and half , which can be reached by taxi or private car. Public transportation too is available to the place.
entry: 20 Euro
Ticketpoint
Yesmi Guest House
[facebook.com]
[goo.gl]
Entry fee
Entry fee
Entry fee, advance booking 1 week Before the Event.
Entry: 20 Euro
For Any Information Related To The /Booking / Tickets / Booking Tents / Booking Stall Chai Shops And Space Please Contact
Ticketpoint
Yesmi Guest House
[facebook.com]
[goo.gl]