FULL MOON - Tr@nce Ritual
Tra Terra E Cielo ·
Italy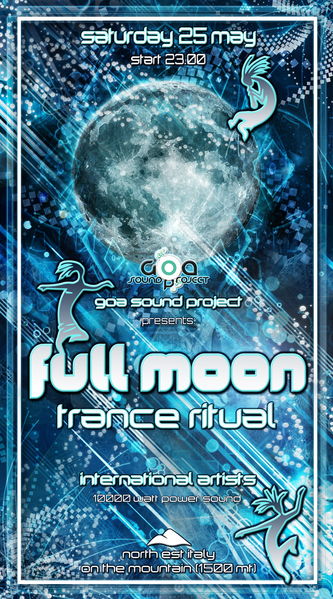 Line Up
....:::: GSP Organization Presents FULL MOON PARTY ::::........
.................Trance Ritual Whit The Magic Moonlight...................
INTERNATIONAL ARTISTS:
Special Guest From Swittzzerland And Italy:
Syntethix [GOA - Sound Project] CH.
soundcloud
Gotama [GOA - Sound Project] CH.
soundcloud
Hookers [Biomechanix Rec./GOA - Sound Project/Creative jungle] IT.
soundcloud
Itakam [Veleno Music Rec] IT.
soundcloud
Mental Flow [Ovnimoon Rec./Cosmic Tools Tm/Monkeysexplosion] IT.
soundcloud
N.e.s [Synaestatics Rec./Dream Project Tribe/Hydrosphere Family] IT.
soundcloud
Dynamic Synthetic [Fish'n Trips Rec.] IT
soundcloud
Solaris Phase [Solaris Phase Music Prod./GOA - Sound Project] IT.
soundcloud
Mauri [GOA - Sound Project] IT.
soundcloud
Crazy Tunes [GOA - Sound Project] IT.
soundcloud
Double Shock [Monkeysexplosion/Cosmic Tools/GOA - Sound Project] IT.
[facebook.com]
Krisma & Astral [GOA - Sound Project] IT.
[facebook.com]
.
Deco
...::: FULL MOON CONCEPT :::...
...............DECO TEAM...............
ALTERAVISTA.
HYDROSPHERE
GSP Organization.
Special Fire and Light Show By:
GUSTAVO OLLITA
Equipe Performatica
B I O L U M I N I (Brazil).
youtube
Area Shop Offerta Da:
COSMIC TOOLS SHOP
Bigiotteria,scarpe, borse, gonne in pelle; foulard, magliette... teli fluo, incensi e molto molto altro... tutta merce importata direttamente dall India.
Body therapy: Massaggi thailandesi con reiki fatti da personale qualificato al secondo livello.
GSP SHOP
Nuova collezzione abbigliamento con i marchi della family ;)
[facebook.com]
THAI SURE
Abbigliamento Etnico Uomo Donna T-Shirt e Cannottiere
[facebook.com]
PZR PSYSHOP
Collane Bracciali Dilatazioni Orecchini Ciondoli Abbigliamento
[facebook.com]
TRIBAL GYPSIES
Gioielli in macramè e oggettistica psychedelica
[facebook.com]
FATAMAN AUTOPRO
[facebook.com]
.
Info
Sound:
10 KW (JBL)


ARTISTS BIOGRAPHY:


Syntethix
I'm julien Voyame and my artist name is Synthétix. I discovered psytrance in 2007, I started to mix in late 2008 and early 2009 trying to compose my own songs in the same year. My staff are experimental compositions ranging from prog until dark. I'm not locked up in a musical style and likes to explore igh sound.

Gotama
I began to get interested in the nineties to the phenomenon of electronic music and had already chosen the name of Gotama, from the book by Hermann Hesse. At the beginning, I did kindly provide the material to train (well taken care of that material provided to me, and this without breaking it) and then, buy for myself the first gadgets to enhance playing. My first steps in music, I took them slowly, and then arrive at good levels. For me, music means, knowing escape in all directions, and lighten the burdens of life, but also the knowledge and creativity to express itself in many other people dream.
Antoine (Anthony) Tortora aka Dj Gotama, born 30 May, 1975 in Switzerland.

Hookers
Are the new stunning live act formed by Kanyon ( Andrea Girotto ) and Spiru ( Andrea Bonetti ) . The project is based in Trento downtown . The
duo are friends since long time , but start making music together in 2011 and this year they join their forces to make this project real . They have the same taste for the psychedelic music : fat bass lines , dynamic grooves , acid sound fx , cutting edge synthesizers . All these elements are mixed and the result is powerful music for nights tales . Hookers joined Biomechanix Records , a label based in Mexico . Born with a single purpose, to present new talent who are forgotten and hidden in darkness and total abandonment . At firts the foundation of Biomechanix were two minds who who shared the same ideal, "Shadai" was a solid and clearly strong group who shared the same dream, but only a member decided to follow the path that the two had plotted in their hearts...And now in this present the mind that is behind this project is Avizz, who devoted much of his life listening and looking for these new proposals seeking support and come to light with only one thing to show the world...his talent.

Itakam
This is a project born in 2009 from the union of 2 Italian djs: Alessandro Caminati (dj Kam) and Nicolo Gallinucci (dj Itak). They have been keen on electronic equipment and music since the late '90s and a few years later they got to know the psy-trance world. Then they spent some years to knowing the scene better around parties and they decided to organize small parties with Illegal Noise crew, where they started playing their own music. In 2012 they became part of Veleno Music.

Mental Flow
Is the new progressive trance project founded by the collaboration between two italian psy-trance artists:
Zat (Acid Prophecy) and Sisma, that combine their two progressive projects Signal Flow and Mental Event.
The project started in early 2012 and explores every nuance of modern progressive trance through amazing atmosphere and psychedelic rhythms.
Zat and Sisma use Ableton Live for many years and we will be glad if contact us for collaborations and remix.

N.e.s
Born in Venice in 1985, started his passion for music in the early 90's, listening from the classic rock'n'roll band to the heavy metal, from the grunge till first electronic artist like "prodigy" & "chemical brothers".
After playing with a several hard rock bands, N.e.S. discovered the psychedelic scene in 2006 and in 2007 started his journey in the psy trance music, playing like a DJ ( full-on morning ).
in 2008 after an incredible year of playing he start to produce his own music with the project "take the beat", a mix of full-on and progressive sounds. Later on he started to mix more underground grooves which are influenced by the rising italian underground psychedelic music scene.

Dynamic Syntethic
Is Michele Zancato, a psytrance producer from Padua, Italy. Debut releases were his two tracks "Unreal Reality" and "Copyright Violation " which both appeared on the Twisted Mysteries 1.5 compilation released in April 2011 via Fish 'n Trips Records. The Dynamic Syntetic style represents the borderline between full on and darkpsy, always powerful, laden with pounding kick and basslines often with some melody, then all bought together into balance with gnarly break downs and re-entry's. With only 2 years production behind him, Michele is set to make a strong mark on the global psytrance community with his relentless beats and dedication. He pushes listeners towards a state of delirium where his boundaries are beyond the edge of the universe, in the space between spaces.

Solaris Phase
Luca Nicoletto – cRoMaTiC ! – soLaRis pHaSE
(born 1992 in Italy) is an Italian sound artist with austrian origins who lives and works between Bologna and Padua.
He started to create music in 2008, after an excellent drummer carrier in Music Accademy.
Now Solaris music is concerned primarily with sounds in a variety of "soul" states, such as melody tones and noisy sounds, often using frequencies equalized on 432hz (the soul's key) . His last album –MecHaN!keR- is full of "key sounds" for the people's consciousness. Solaris says " the 432 Hz frequency sound is used to open the listeners minds and have a positively melodic music, but simultaneously psychedelic !".
Rhythmically, Solaris music is highly imaginative, exploiting beat patterns and, at times, using a variety of amaizing tones and noise to create a lovely psy groove. His work is also encroaches on the world of ambient music, many tracks on his albums are slowly evolving soundscapes concerned with and with no sense of negative energy.
He can create each type of music with a special personal style..


PleAsE OnLy PoSItIvE PeOpLE !!!


GSP Staff.
Location
Location
Nord-Est Italy

PRIVATE PARTY - PRIVATE LOCATION 100% LEGAL.
.
Organizer
Organizer
˙·٠•●ૐ GSP Organization ૐ●•٠·˙