Full Moon Party in the Sierras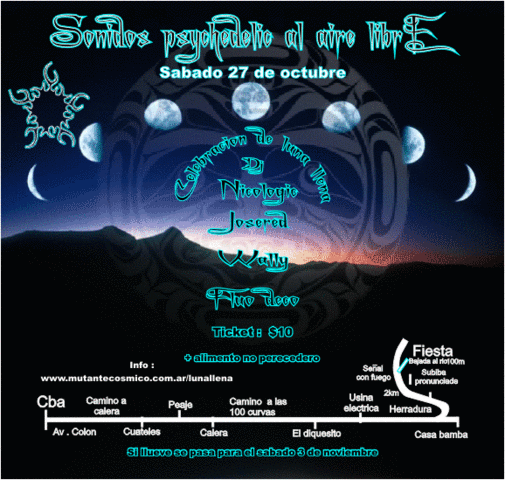 DJs
Dj Nicologic
Dj Wally
Dj Josered
Deco
Deco
Sinesthesic Fluo Decoration by Kilili and the Galactic Crew
Info
Info
all the details of the party will be released in the next weeks, to receive all of this information in your mail inbox, visit our website, fill the form and submit it .
click here:
[com.ar]
we will email you back soon.
Location
The party can be reachd by bus (the bus that takes you from Cordoba city to Cosquin passes in front of the party spot. you´ve to get down the bus where the fire signal is. The party spot is exaclty 2 km after "Casa Bamba" on the right side of the road, down.
La fiesta es en un lugar en el medio de la montaña, sobre el camino que une la ciudad de La Calera con Carlos Paz. La fiesta será 2km después de Casa Bamba del lado derecho del camino, habrá una señal de fuego / bandera.
MAP TO GET TO THE PARTY
[photobucket.com]
GOOGLE EARTH link (KMZ)
[com.ar]
WEBSITE (with last party photos and MOre Information)
[com.ar]
CONTACT FORM
[com.ar]
--- TICKET
10 $ (Argentinian pesos) + FOOD donation for the local people
10 $ + alimento no pedecero para la gente local
**** THE MOUNTAINS REMEMBER THE LAST PARTY.... WE DO TOO!!!
Entry
Entry
10 pesos + food donation for our friends the local family