Backend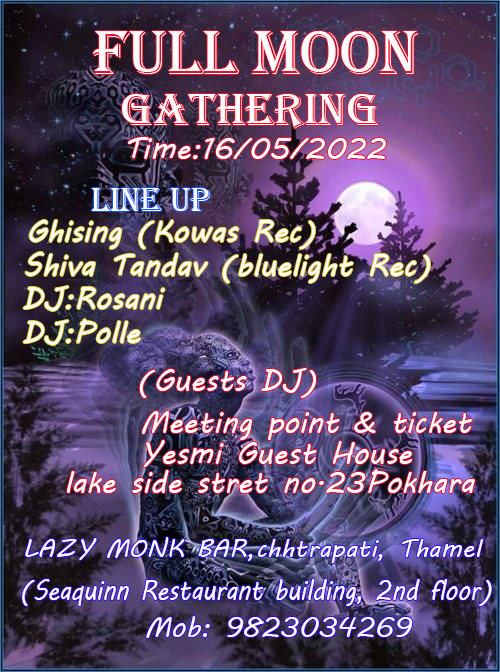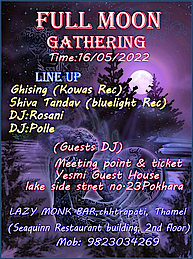 Line Up
*********Line Up********
#Shiva_Tandav #Bluelight_Rec/UEV_Tribe #NP
soundcloud
#Ghising #UEV_Tribe #NP
soundcloud
#Psy Ram #ShantiTribe #NP
soundcloud
#Dzay_Bkash #UEV_Tribe #NP
[facebook.com]
#Ghornath #BabajiEntertaintment #UEV_Tribe #NP
#Palley #UEVTribe #NP
#Roshni #UEV_Tribe #NP
Info
*********Line Up********
#Shiva_Tandav #Bluelight_Rec/UEV_Tribe #NP
soundcloud
#BomPom #DigitalNomadRecords #NP
[bandcamp.com]
#Ghising #UEV_Tribe #NP
soundcloud
#Psy Ram #ShantiTribe #NP
soundcloud
#Dzay_Bkash #UEV_Tribe #NP
[facebook.com]
#Ghornath #BabajiEntertaintment #UEV_Tribe #NP
#Natural_location
#Entrance_Zone
#Kid_Zone
#Camping_and_caravan_area
#Workshop_Zone
#Forest_Zone
#Camp_Fire_Zone
#Food_Zone
#Bar_Zone
#Main_Stage
-Workshops
#Art_and_Craft
#Shamanism_plant_medicine_Ethnobotany
#Environmental #Recycling #Educational
#Holistic_Healing
:Programs.
*Organic food, vegetables and drinks.
*Local Food workshop
*Green Walk (Cleaning and recycling)
*Discussions and experiments with Entheogenic botanic.
*Chill out music, electronic-DJ Music, Jam up.
*Free Camping area.
*And many more....
Great place to be here in awesomeness of nature....lots of activities for everyone...just an amazing place. Most importantly it's worth of your money....amazing food and services. Very humble people and every time available for your help.
Few days of learning, teaching, research and retreat.
-About the venue:
Pokhara, "The Lake City" a paradise in Nepal is situated on the lap of the majestic high mountains and the panoramic range of Himalayan peaks of the Annapurna that has been on the backpacker's bucket-list list since the early sixties constantly, This Himalayan bound mystic nation is a dream destination for all kinds of travelers, boasting a rich heritage and colorful lively culture, snow capped peaks, spiritual history and vibrant people.
-Things to remember
Warm cloths
Camping gear ( MUST)
Flash light
A lot of love.
-Things not allowed:
Pets
Outside food and drinks
Entry fee, advance booking 1 week Before the Event.
Entry: 10$
#Note: Please keep your valuables at yout place before coming. Organizers will not be responsible for any theft loss or damage of any materials.
meeting Point
Yesmi Guest House
[facebook.com]