Backend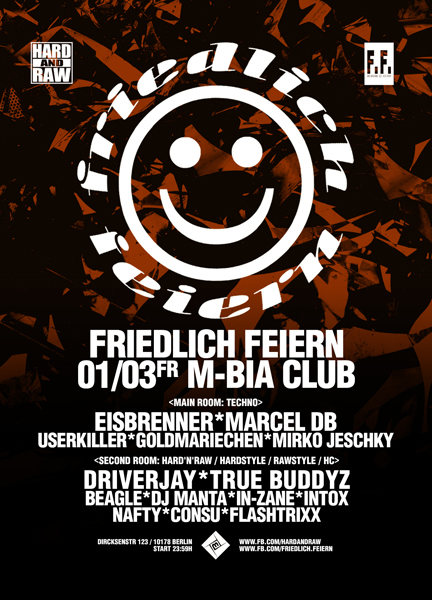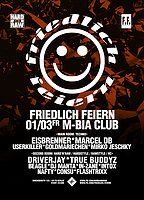 Line Up
•٠• Techno•٠•

►Eisbrenner (djeisbrenner.net)

►Marcel DB (KitKat Club)

► Dj Prodomo (Messy Household)

►Userkiller (FF)

►Mirko Jeschky (FF)

►Goldmariechen (Berlin)


•٠• Hardstyle • Rawstyle • Hardcore •٠•

►DriverJay (Dresden, HardwithFriends, PowerPlant)

►True Buddyz (Dresden, Power Plant, Hard With Friends)

►Beagle (Berlin, Gabba Nation)

►DJ Manta (Berlin, Hard and Raw)

►Nafty (Berlin, Hard and Raw)

►Intox (Berlin, Hard and Raw)

►In-Zane (Berlin, Hard and Raw)

►Consu (Berlin)

►FlashTrixX (Berlin)
Info
Info
FF Floor
Userkiller und Faby feiern ihren B-day, dafür haben sie unter anderem Eisbrenner , Marcel DB, Prodomo, Goldmariechen und Mirko Jeschky eingeladen. Ihr seid herzlich Willkommen.

HARD and RAW Floor
Der Frühling steht vor der Tür. Doch wir werden nicht leiser - ganz im Gegenteil. Der Bass muss wummern! Zur Verstärkung laden wir DriverJay & True Buddyz aus Dresden zu uns ein. Hard Music goes Underground. Be there!
Location
Location
M-BIA Club Berlin
Dircksenstrasse 123, 10178 Berlin
S-Bahnhof Alexanderplatz

S-Linien zum Alex: S5, S7, S75
U-Bahn Linien zum Alex: U2, U5, U8

Der Club liegt in dem Gewölbe unter den S-Bahngleisen!
Entry
Entry
★Eintritt★:
Ab 18 Jahren


★Preise★:
Abendkasse
► 23.59-08.00 Uhr: 10 €
► 08.00-10.00 Uhr: 6 €