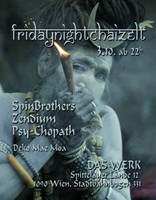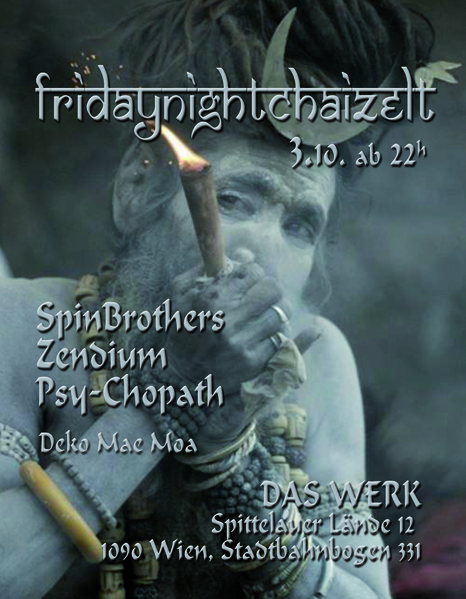 Line Up
Line Up
SpinBrothers (music for professionals)
Zendium (music for the goodmooddancers)
ॐ Psy-Chopathॐ (music for our youngsters and the people with a lot of power in the morning)
Info
Line up for young and old GoaTrance People in order of appearance:
SpinBrothers (music for professionals)
Zendium (music for the goodmooddancers)
ॐ Psy-Chopathॐ (music for our youngsters and the people with a lot of power in the morning)
Eintritt: 8 Euro
Dekoration by MAE MOE
[facebook.com]
Homemade Chai and Cake served by Miss Summer!
Übrirgnends wers noch nicht weiss, Das WERK hat umgebaut, dazugebaut...seht euch die seite von ihnen an...
Wir haben uns für diese Location entschieden, weils einfach ein guter undergroundclub ist, zentral liegt und auch die drinks preiswert sind, ich fands letztens am
[facebook.com]
echt "ravig" - loved it!
Im Fluc haben wir uns gefreut unser Stammpublikum, viele alte Freunde und Bekannte wieder zu sehen, die Vibes waren gut und ich denk aber diese Location wird uns alle noch ein wenig besser gefallen! Auch das Rundumadum is a bissl besser als der Praterstern - und ebenfalls easy erreichbar mit U6/U4 Spittelau - und wer nicht gern Stufen geht, nimmt den Aufzug .... Parkplätze für die Autofahrer vor der Tür!
Flyer soon .... Invitations per Facebook soon ! ... so this for the gossip...
BOOM !
YOUR Sundaychaizelt
GoaTranceClub in Vienna since 2000
Organizer
Organizer
SundayChaizelt and Peter Schachinger
Added

8y 7m

· Update

8y 5m

·

/ 170