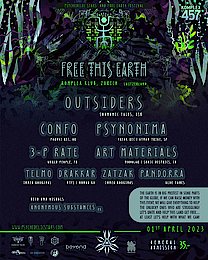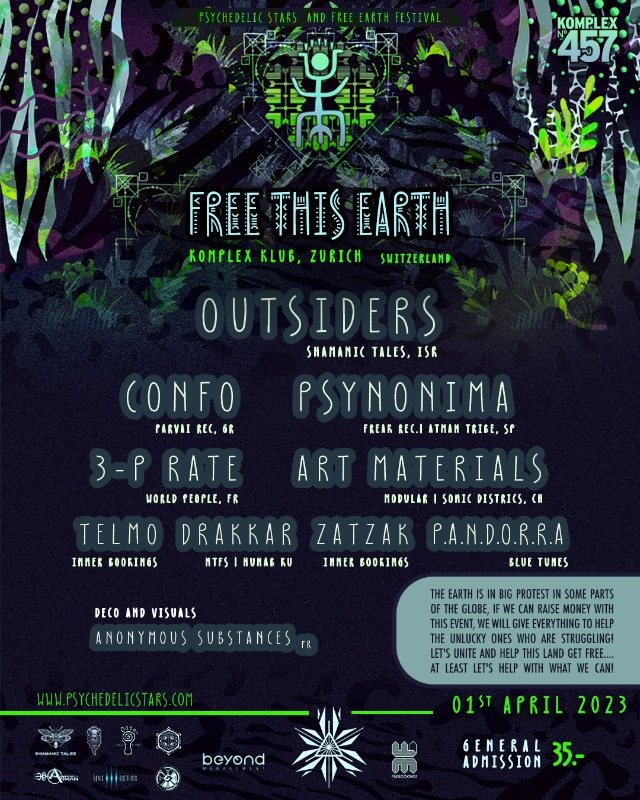 Line Up
⦿ LINEUP ⦿
⋆ Outsiders, ISR
⋆ Confo, GR
⋆ Psynonima, SP
⋆ 3-p Rate, FR
⋆ Art Materials, CH
⋆ Drakkar, CH
⋆ Zatzak, PT
⋆ P.A.D.O.R.R.A, CH
⦿ DECO & VISUALS ⦿
⋆ Anonymous Substances, Fr
Info
Info
FREE THIS EARTH It's a collaboration project, between Psychedelic Stars and Free Earth Festival.
We will open the doors of our magical world, for 13h non-stop!
Free Earth Festival happens in Greece, on the beach of Halkidiki, a magical place, that has the pleasure of being the main stage of this iconic festival. Because we can't bring the ocean, we will definitely get all the magic from this festival and on top, we will put all our innovative spirit and love into creating a mind-blowing experience for you to enjoy.
Location
Komplex 457
Hohlstrasse 457
8048 Zürich
Organizer
Organizer
Psychedelic Stars & Free Earth Festival