Free-Spirit Records Label Night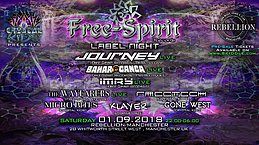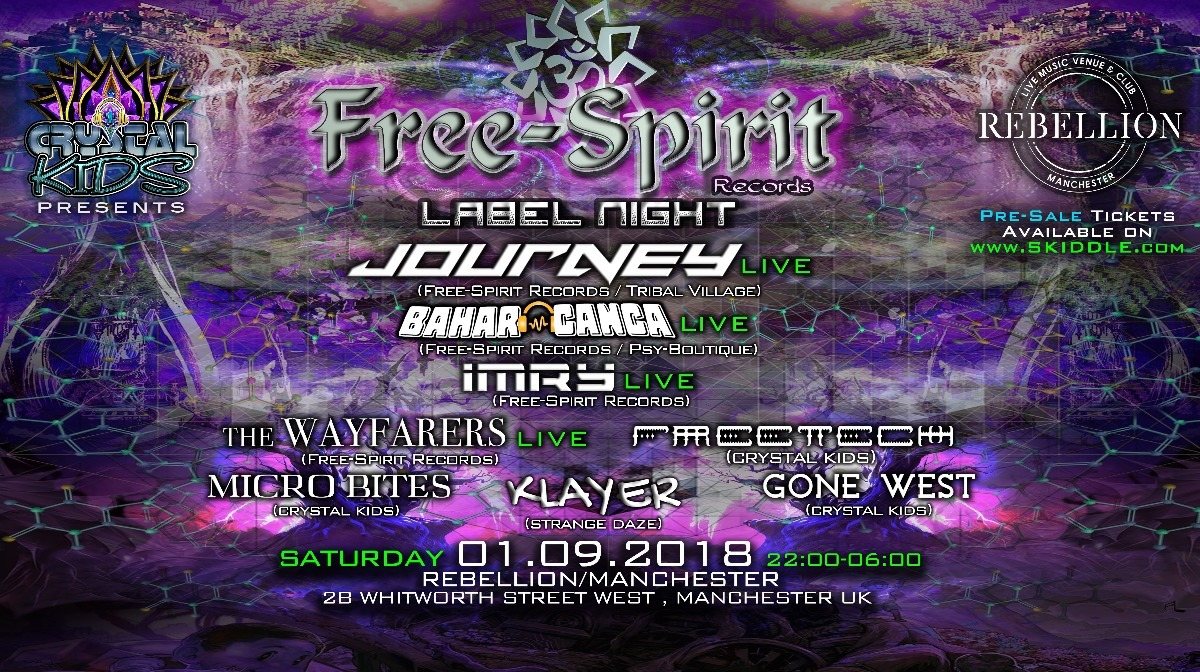 Line Up
❂ JOURNEY aka Jay OM (Live) 🇮🇹
( Free-Spirit Records / Tribal Village )
soundcloud
❂ Bahar Canca (Live) 🇬🇧
( Free-Spirit Records / Psy-Boutique Festival )
soundcloud
❂ Imry (Live) 🇮🇹
( Free-Spirit Records )
soundcloud
❂ The Wayfarers (Live) 🇮🇹
( Free-Spirit Records )
[facebook.com]
❂ Freetech 🇹🇷
( Crystal Kids )
soundcloud
❂ Micro Bites 🇮🇹
( Crystal Kids )
soundcloud
❂ Gone West 🇬🇧
( Crystal Kids )
soundcloud
❂ Klayer 🇬🇧
( STRANGE DAZE )
soundcloud
Info
This time we are hosting UK`s one of the most well-known psytrance label; Free-Spirit Records with another amazing psychedelic production and awesome line up !!! Looking forward to reunite... 💜
[free-spiritrecords.com]
[facebook.com]
--- • ART GALLERY • ---
✫ Jeffrie Jackson Art
[facebook.com]
--- • STALLS • ---
✫ Bonnie Stitch
( UV Face Painting, Jewelry & Hippy Clothing )
[facebook.com]
✫ The Tarot Thing
( Tarot )
[facebook.com]
✫ Energetic Flow Massage
( Massage )
[facebook.com]
✫ The Fairy Milliner
( Unique Festival Hats )
[facebook.com]
★•••• B I O G R A P H I E S ••••★
❂ JOURNEY ❂
Jay OM aka Journey, Omsphere, Sonic Wave Control, The Wayfarers, Keewl and Scratch & Blast are all or in part Milan-born, London-based DJ and producer Giampiero 'Jay' Mastino. Label manager of Free-Spirit Records, Jay forged his earliest psychedelic-rock influences playing guitar in local bars in Milan in his younger days. His romance with the decks beginning in the late '80s working for a local radio station, where he was given the opportunity to spin his first records.
With that love firmly in place the move to London followed in 1998. Soon thereafter he started DJing professionally as Jay OM and in 2003 he studied Sound Engineering and Music Technology before beginning a solo production project under the name Journey.
In 2004, Jay conceived the vision of a network of like-minded artists in the psy trance, progressive and ambient genres all working together to promote themselves, and each other, under the one banner. Thus, the Free-Spirit label was born. Originally intending to focus on artist management, the label's skyrocketing success combined with the enthusiasm of Jay, the artists and their fans enabled Free-Spirit to outgrow its horizons, becoming one of the strongest and healthiest multi-genre electronic record labels around.
All the while Jay was expanding his production spheres. In 2009 he started a psychedelic progressive side-project called Omsphere; a tribal progressive trance act called Sonic Wave Control followed in 2011; then in 2015 a collaboration with Imry called The Wayfarers. In January 2017 he started another two collaborative projects: Keewl with Cylon; and Scratch & Blast with Tron, with EPs from both projects. Keewl's Activated Souls EP is went out at the 4th of September and reached rank 24 on Beatport, Scratch & Blast's EP at the beginning of January 2018.
Jay has played all over the world in more then 30 countries across five continents and released four solo albums: two as Journey – The Man Who Sold The Time in 2007 and Through The Mirror in 2011; Sixth Sense under his Sonic Wave Control moniker; and K'ag Bak'tun as Omsphere in 2013.
Since February 2016 he has been hunkered down in the studio working on the third Journey album, Limitless, due for release at the 21st of November 2017.
Additionally, under his plethora of recording guises Jay has produced multiple EPs plus tracks for various record labels and been responsible for compiling the compilations Free-Spirit Volumes 1, 2, 3, 5, 6 and 7 and Reawakening Volumes 2 and 3. In March 2017 he released the Ten Years as Free-Spirit compilation, which reached No. 5 on the Top 100 releases on Beatport.
Jay also runs Killah Mastering, arranging, mixing and mastering for multiple artists across various genres as well as mastering almost all the 64 Free-Spirit Records releases from 2005 until the present day.
As a final string to his bow, Jay is a successful party promoter, holding Free-Spirit Records label parties around the world and running Implosion events in London for eight years. Since 2012, he has been responsible for promoting one of London's most acclaimed fiestas, Tribal Village – A Psychedelic Adventure…
[journeysounds.com]
[beatport.com]
[co.uk]
[facebook.com]
❂ BAHAR CANCA ❂
Bahar Canca is a colourful personality, a crowd pleaser, and life and soul of the party whether she is behind the decks or the dance floor. Bahar either play prog-spy or old school techno it will always be with a real funky attitude, the measure of the music and the girl.
Originally from Turkey, Bahar Canca is now one of London's most exiting female DJs leaving a lasting impression on the world of dance music. Arriving in London to study film in the mid-nineties, she was soon fascinated by the kaleidoscopic dance scene, the number of genres of electronic music, and the extraordinary manner in which the music removes boundaries between a diversity of people. Inspired in this environment, and by the power that positive energy has in bringing people together, Bahar Canca was born out of the simple need to share the music she loved with others.
Driven by this philosophy, Bahar worked her way into the London scene, soon finding herself resident DJ at underground night 'Rude Not 2', well-known as trend-setters and for their totally off-the-hook parties.
Now an established force on the circuit, Bahar's 16 years as a DJ has seen her play many of London's most prestigious clubs and rated events. The Fridge nightclub, Egg Club, the Shake Down parties, Brixton's Telegraph, Ministry of Sound, the iconic Heaven club, and the legendary Turnmills club and their boat party, Inspiral Lounge, Alchemy parties, Elixir of life, Astral Circus events, Tribal Village parties, Baby Party are all on the list. Her credentials as a global DJ have taken her via many of the major clubs and festivals in her homeland Turkey, Budapest and Ozora Festival in Hungry, the Universo Paralello festival in Brazil, Sonica festival in Montenegro as well as Italy and the idyllic shores of Quilalea Island, Mozambique.
The talents of Bahar Canca are not exclusive to the DJ booth. She is similarly proving her capability as a producer, and managing her own record label Sub Bubble since 2010. She is also the founder and organiser for "Psy-boutique Festival" in Turkey, which hosted many amazing artist such as Shane Gobi, Gaudi, and System 7.
Bahar's lively personality is always evident in the music she plays and the energy she creates on the dancefloor. Her creative musical endeavours are constantly evolving and her party spirit and personality behind the decks makes her a must-have DJ at every party.
[beatport.com]
[psy-boutique.com]
[facebook.com]
❂ IMRY ❂
Imry is a progressive trance producer originally from Italy but now resident in the UK .
His musical journey started at early age hitting the dance floors across Europe in the early 90 when trance, hardcore and techno were changing the way music was listened and followed
After going behind the desks around the year 2000 playing Hardcore for parties in and around Italy the game change came around 2004 when he started going to psytrance parties in Europe.
After moving to London in 2006, his love for psy trance continued to increase and in 2010 Imry project was born.
2012 was the year when all the work done started to take shape. After performing at Shattered Barrier and a couple of smaller parties in London Imry started performing internationally at cK Festival in Tenerife, Spain and straight after Sundance Boutique Festival in Antalya, Turkey.
By the end of 2012 he was signed on by Free-Spirit Records .
Since then Imry has performed at 3 editions of Life Celebration Festival in Croatia , Psy boutique in Turkey , Underground Wave in Milan , Free-Spirit Records Label Party in Rome and many more parties around Europe.
Closing himself in his studio to perfection his style Imry played his first Live set at Tribal Village one of the most sought party in London showing his unique concept of progressive trance.
The debute as a producer came in 2014 with the release of his first remix of Omsphere track "A World Without End" following a VA " Reawakening vol 4", which were both released on Free-Spirit Records and both releases entered on the charts.
Imry made his name on the progressive scene due to his music selection and the sequence the tracks are played. You can understand his concept listening to his production where the grooves and melodies melt to create a deep sentimental progression .
"Progression is a fundamental element in nature which cannot be missed while producing music"
[beatport.com]
[residentadvisor.net]
❂ THE WAYFARERS ❂
The Wayfarers is a new Psychedelic Duo project concentrated on creating a new wave of sounds directly from the mind of Jay OM and Imry....
[beatport.com]
❂ FREETECH ❂
Ozzy Cetin aka Mysticism, Ramizes & Freetech was born in 1984 in Istanbul and discovered psy-trance at the age of 18 through the artists Kox Box, Cosmosis, Hallucinogen, Goa Gil, Astral Projection etc. Since then he has been gathering a psy-trance archive, which still continues. Whilst studying towards a BA, Ozzy organized various indoor parties and performed under the alias 'Ramizes' between 2004 – 2007. Meanwhile, he helped out his producer friends by giving them ideas and loops for their new tracks.
Since 2006 Ozzy has been involved in some of the most well respected international festivals such as Ozora (Hungary), Psy-Fi (Holland), Sonica (Italy), Earthcore (Australia), Free Earth (Greece), IllumiNaughty (UK).
Within Turkey he performed at, and worked with many festival organizations including Tree of Life, Mind Manifest Project, Neon, Ayata, Freaks in Love and Soulclipse Festivals.
He now dedicates himself to his Istanbul & Manchester based psy-trance events organizer community; CRYSTAL KIDS; to spread to word through the minds & souls which are ready to UNITE with RESPECT, PEACE & LOVE.
As a freelancer, Ozzy is also doing artist liaison and music management at Ayata Festival (Turkey); production management at Free Earth Festival (Greece); general coordination at Psy-Boutique Festival (Turkey); ambassadorship of Shankra (Switzerland) & Tree of Life (Greece) Festivals to the UK.
Along with outdoor festivals, Ozzy performed over 150 gigs including indoor events since 2004 around the globe.
Ozzy, as a resident DJ at Crystal Kids mixes; Psychill, Psybient, Chillgressive as MYSTICISM; Progressive, Dark Progressive, Fullon, Psytrance as RAMIZES and Twilight, Forest, Hitech styles as FREETECH.
ALL FOR ONE ♥
[facebook.com]
❂ MICRO BITES ❂
Micro Bites is the name of the Deep Melodic Techno project from Juri Ceresato, who has started in the earliest 2010 when Juri decided to make psy-trance music. Music has always played a big part of his life, as from a young age he performed as a guitarist in metal bands, until he found a big interest and passionate attraction to electronic dance music.
His debut album "Gateways of the Mind" was released in 2014 on Talismat Records, and in 2015 "High Voltage" was released on Synergetic Records, gaining him instant international recognition and securing him performances at some clubs and festivals at Italy, Germany, France, Swiss…
At the end of the 2016 Juri decided to convert his style of music in Deep Melodic Techno. Always assuring fans that the best is yet to come…
[facebook.com]
❂ GONE WEST ❂
Influenced by a wide variety of artists, labels, club nights and festivals GoneWest searches for deep, melodic, psychedelic and progressive sounds and tailors his genre-defiant sets to take the listener on an avant-garde sensatory journey.
[facebook.com]
❂ KLAYER ❂
Klayer is the psychedlic trance project of Emma Clair.
Pushing the boundaries of the underground, with full on psychedlic sounds, remixes of classic dance tracks and happy uplifiting melodies.
[facebook.com]
[facebook.com]
Location
Rebellion Manchester
2B Whitworth Street West
M1 5WZ Manchester
Entry fee
--- • TICKETS • ---
✫ Phase 1: £8 + BF (Very Limited)
✫ Phase 2: £10 + BF (Limited)
✫ At the door: £15
Pre-sale link: skiddle.com/e/13246578


✫ Last entry: 4am
✫ Free entry for B-Day Girls & Boys!
(Please show your photo ID for your free entry b-day gift)
Added

4y 9m

· Update

4y 5m

·