FREAK CAN SEE CONNECTIONS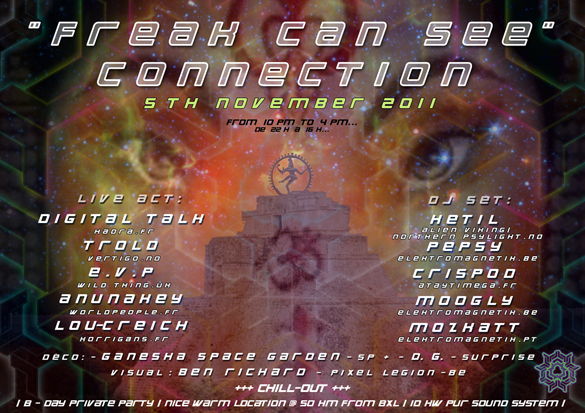 Live
Line Up
Digital Talk / Hadra. Fr
Trold / Vertigo. Nor
E.V.P. / Wild Thing. Uk
Lou-Crech / Korrigans. Fr
Anunakey / World People. Fr
DJs
Ketil / Northern Psylight. Nor
Pepsy / Elektro Magnetik. Be
Crispod / Ataytimega. Fr
Moogly / Elektro Magnetik. Be
Mozkatt / Elektro Magnetik. Pt
Chill
Microbe / Tribe Of Frog. Arg
Deco
Deco
Deco :

Paint: David Garcia : 360°. Fr

Lycras: Ganesha Space Garden. Sp

Visual :

Ben Richard / Pixel Legion. Be
Info
Info
It's a Birthday Party!
About the 40's of Manu & the 10 Years in Belgium of Ryko!!!
We took care to give you a pur Sound !!! D&B Audio system...
Very nice & confortable place + ChillOut!!! @ 50 Km of Brussel.
Bom Bolenath!
Location
Location
The Party is @ 50 Km from Brussel, (Direction: Mons / Bergen).
Send your e-mail to:
elektromagnetik69@hotmail.com
; ) to get: your Invitation + the road access...
Bom
Entry fee
Entry fee
It's a Private & B-Day Party - P.A.F. : 15 Euros with Invitation.
Organizer
Organizer
Elektro Magnetik & Friends...
Added

8y 10m

· Update

8y 10m

· 1 ·