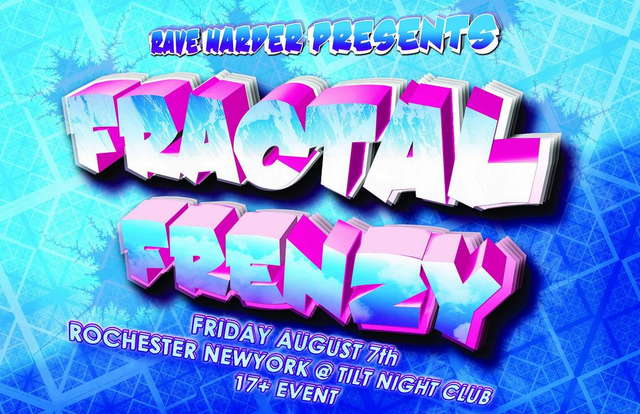 Room 1:
Unwashed Tomato (Philadelphia) [Unwashed Records, 2 to 6 Records, D-A-R-K Records] - Unwashed Tomato is a collaborative psytrance production initiative started by Andy Ayrd and David Mostoller in late 2006. Our main focus is creating an intensely psychedelic, groovy experience which is at once quirky and powerful, containing motifs from many musical traditions. We enjoy nuanced composition, funky rhythms, and slamming grooves, composed of hard-hitting deep kicks, heavy leads, intricate atmospheres, and ripping basslines. Close attention is given to producing a complex yet cohesive sound while maintaining a clean and dynamic mix. Since the summer of 2008, the project has expanded to include frequent appearances by Rod O'Connor, whose unique sensibilities have contributed new elements to the project.
The Oracle (Buffalo) [Dharma Lab] - "Two crusty-ass belt driven Gemini's and some tech & trance records, all from my brother. That's how it started back in 1998 in my basement in Buffalo, NY. I've always been an avid listener of music, and was the guy handing out mix tapes to folks in school, cause they needed to hear it. Just last week a friend told me they found a CD I gave them almost 10 years ago, and the music on it is still great. It's that connection with music that ultimately led to many connections with people.
I've played with, and opened up for, all sorts of talent over the last 10 years- local, regional, and international. But rather than the big names on the flyer as a sign of success, I believe the moments I've shared, and the connections made with other people are what I take the most pride in. What good does playing the same stage with Hipp-E & Halo, Atomic Babies, or Analog Pussy do if I'm not immersing myself with the atmosphere and feeling of the crowd; what everyone else is hearing and feeling. When I perform, sometimes I find myself guiding the room, and sometimes I find myself merely reflecting what the room has created itself. It's the people that make it special.
Things definitely took an unexpected turn when I started playing together with a keyboard player named Chris Battaglia. Since 2002, we've been playing together as 'Dharma Lab', and it's been one of the most important and fulfilling experiments of my life. After playing all sorts of house music together, I think we really tapped into something really unique when we started playing PsyTrance. It pulled a new side out of each of us, and continues to do so to this day!"
The Amazing Baz (Boston) [Release Your Beats] - The Amazing Baz is a multitalented entertainer, who specializes in mesperizing audio-visual performances in both his capacaties as an internationally known fire dancer and as an up and coming DJ. As DJ Baz (Release Your Beats), The Amazing Baz has performed with the art and production organizations Sonic Beating, Circle, and the Gnomephattykolectiv, as well as having produced remixes that have been played at Diva's Nightclub in Northampton, and An Tua Nua in Boston. The Amazing Baz has also produced custom remixes for the dance troupe Boston Hoop Troup. The Amazing Baz has DJed at the Drunken Monkey Lounge in San Francisco, at The Western Front in Cambridge, the Firefly Arts Festival in Vermont, and at the Burning Man festival in Nevada. Until very recently, The Amazing Baz maintained a weekly residency at Pi Pizza Bistro in Falmouth, MA, where he performed on Friday nights. The Amazing Baz spins dance music that is characterized by a mixture of funky breaks and electro, a smattering of goa and world beat samples, and live remixes of everything from Men at Work to Frank Sinatra. You can access some of The Amazing Baz's demo sets from
[theamazingbaz.com]
, or by going directly to his storage space with
[box.net]
As a fire performer, The Amazing Baz has performed all over the USA and in the Caribbean. While skilled in fire breathing, fire fans, fire staff, fire double-staff and fire double-torches, he is primarily known for his poi spinning. His innovative style, blending large dance movements with complex geometric spinning technique, has revolutionized the world of poi spinning - which he teaches in his hometown of Boston and at the Wildfire Fire Performance Retreat (www.wildfireretreat.com) to beginners and seasoned professionals alike. He is currently a member of the fire performance troupe Draconik (www.draconik.com), where he performs alongside such local talent as Dominique Immora (www.dominiqueimmora.com) and Mike Farrell (www.poispinner.com).
DJ Dynamic (Rochester) [Nocturnal Commissions, Embedded Entertainment, Double Drop Records] - One of North America's favourite Happy Hardcore performers, DJ Dynamic is known for high energy sets that leave the dancefloor gasping for air and begging for more! Now, he's bringing his trademark intensity and his technical expertise to a whole new level. Is it Club Trance? Is it Electro? Is it UK Hard House? All that and more - It's one-of-a-kind Happy Softcore! Who says you can't have a happy rave at 140 bpm?
Chucks (Buffalo) [Nocturnal Commissions, Braincell] - Originating out of Buffalo Chucks has been seen all around the immediate north east supporting and spinning hardcore for almost 5 years!!! Known for his multi genre talents and crisp style, he has caught the eye of promoters from his home town to Toronto, Ottawa, and Rochester.Taking a break from hardcore for this party he is whipping up a special bangin electro set for your listening pleasure.
Gio D (Rochester) - Gio D started DJ'ing out of a passion for turntablism but today he'll be bringing you the best of that whompified, glitch-hop!
Room 2: featuring happy hardcore all night long!
Lou Cabrasi (Maine) [Glowin Turtle Productions] - Coming all the way from Maine, Lou Cabrasi has been bringing you slammin tunes for years and will be sure to get your feet moving.
Mark5 (Massachusetts) [Hard Hitters] - mark5 is a hard beat technician based out of central Massachusetts; serving up UK hardcore all around New England. He founded the Hard Hitters crew and established Hard Hits, New England's hardcore monthly, with the intent of bringing more awareness of UK hardcore to the New England underground scene. His style ranges from cheddartastic to naughty to badass and he always brings along his bag of tricks to spice up the mixing. All of this adds up to a heaping dish full of banging hardcore helpings! You can also get a weekly serving of him on his weekly radio show on kraftyradio.com, Mondays from 7-8PM EST.
DJ Bliss (Rochester) [Just 4 You Productions, Nocturnal Commissions] - Do you like anthems? You know you do! Bliss is Rochester's own anthem master - get ready to raise your hands and sing along!
DJ Kix (Rochester) [Just 4 You Productions, Nocturnal Commissions] - Making smooth transitions between DnB, Dubstep, Hardcore and more, Kix seamlessly blends great tracks from every genre for top notch entertainment every time he plays!
DJ Skye (Rochester) [Just 4 You Productions, Nocturnal Commissions] - Known for an unmistakable brand of dark and bouncy UK Hardcore, DJ Skye's energetic style always keeps the party rocking! His music has caught the attention of British promoters Hardcore Breakdown and High Velocity, and earned him residencies with Canada's number one rave promoter: Nocturnal Commissions, as well as Bitchass Productions and De'ranged Entertainment. Get ready to rave harder!
DJ Suprnova (Buffalo) [Buffalo Ravers] - Keeping it rocking in Buffalo, DJ Suprnova is coming to Rochester to bring you slammin happy hardcore!
Location
Location
Tilt Night Club, 444 Central Ave - Rochester NY 14605
Entry
Entry
$15 pre-sale, $20 at the door