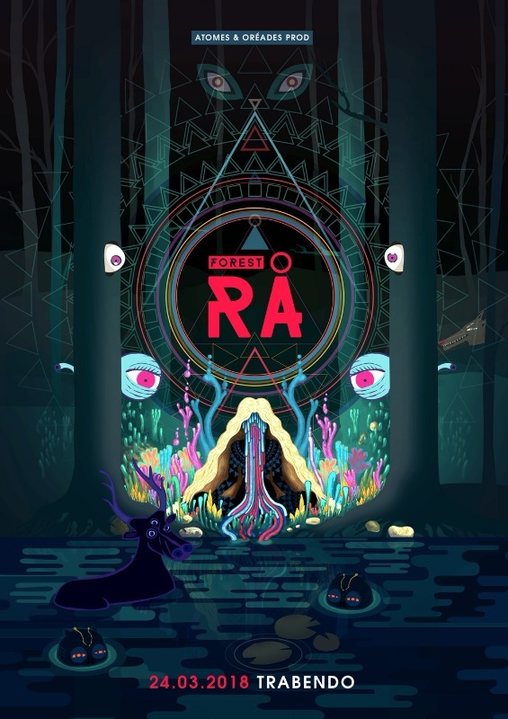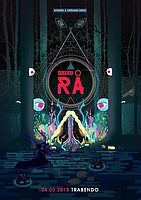 Line Up
Bonjour à toutes et à tous!
Atomes et Oréades sont fiers de vous présenter leur nouvelle collaboration :
►►►► Forest Rå ◄◄◄◄
Cette soirée aura comme thématique les pays nordiques et leur mythologie!
Après avoir retourné le Cabaret Sauvage et la Plage du Glazart, les deux équipes parisiennes ont le plaisir d'investir cette fois-ci et pour la première fois le Trabendo!
Nous aurons le plaisir d'accueillir deux grands artistes psychédéliques, fers de lance de la scène de cette région, le Suédois Procs (première fois en France!) et le Norvégien Hutti Heita.
Ils joueront sur le main floor aux côtés du Suisse Yaminahua (première fois en France aussi!) ainsi que du Picardo-Parisien ipotocaticac complétant ainsi un line up original et progressif allant de la forest à la hi-tech, en passant par la dark.
Nous aurons aussi le plaisir de vous proposer un floor alternatif qui vous permettra de danser sur de la techno ou encore de la DarkProg, avec les fameux Ylem, DJ Kimotei, Neuronod et Pat le Mandragore!
Dans le folklore scandinave, un Rå est un être surnaturel gardien ou protecteur d'un lieu particulier. On trouve ainsi parmi les Rå des gardiens des montagnes, des cours d'eau, mais aussi des forêts : les Skogsrået, en Français les Huldres.
Les hommes et femmes Huldres ont de grands pouvoirs, ils peuvent se rendre invisible, changer les humains en pierre ou encore les égarer... Leur souveraine, la magicienne Huld, peut quand à elle ressusciter les morts...
Amateurs d'ambiances pointues et léchées, nous vous attendons de pied ferme pour ce qui s'annonce une fois de plus comme une belle expérience sonore et visuelle.
Rendez-vous le 24 mars 2018 au Trabendo!
[EN]
Atomes & Oréades are proud to present their new collaboration :
Forest Rå!
This event will have for theme the Scandinavian countries and their mythology and will take place at the mighty Trabendo in Paris!
To represent those countries we have the pleasure to bring some of the best artists of the scene, the swedish Procs and the Norwegian Hutti Heita!
They'll perform on the main floor aside the one and only Yaminahua from Switzerland and the Picardo-parisian Ipotocaticac, all this wrapped into a progressive line-up starting from Forest to Darkpsy to Hitech.
We'll also have an alternative floor where you'll be able to dance on some great Techno and DarkProg with the famous : Ylem, Kimotei, Pat le Mandragore and Neuronod!
We can't wait to let you dive into it so stay tuned for more info and see you the 24 march 2018 at the Trabendo!
Asso Atomes & Oreades Prod
/// PROGRAMMATION ///
► ► ► ► MAIN FLOOR
■ Hutti Heita // Yggdrasil // Norvège
FOREST
soundcloud
■ Procs // Lost Theory Records // Suède
FOREST
soundcloud
■ ipotocaticac // Atomes Music // France
ETHNO DARKPSY
soundcloud
■ Yaminahua // Osom Music // Suisse
HI-TECH
soundcloud
► ► ► ► ALTERNATIVE FLOOR
■ Ylem (Remo) -
MINIMAL TECHNO
■ DJ Kimotei
MINIMAL TECHNO
soundcloud
■ Pat le Mandragore // Atomes Music // Allemagne
soundcloud
PSYCHEDELIC TECHNO
■ Neuronod // Glitchy.Tonic.Records / Atomes Music // France
soundcloud
DARKPROG
/// SCENOGRAPHIE ///
TBA...
Le Trabendo
211 Avenue Jean Jaurès, 75019 Paris (au cœur du parc de la Villette)
75019 Paris
Métro : Porte de la Villette (Ligne 7) - Porte de Pantin (Ligne 5)
[letrabendo.net]
/// BILLETTERIE ///
préventes : 18€ (bientôt disponibles!)
sur place : 22€
Interdit aux mineurs
211 Avenue Jean Jaurès, 75019 Paris (au cœur du parc de la Villette)
75019 Paris
Métro : Porte de la Villette (Ligne 7) - Porte de Pantin (Ligne 5)
[letrabendo.net]
/// DESIGN ///
Mat Malinard
[matmar.net]
/// LIEN EVENT ///
[facebook.com]
Location
Location
Trabendo
211 avenue Jean Jaurès
75019 Paris
Organizer
Organizer
Asso Atomes & Oréades Prod