Festival One_O_Eight Maha Shivaratri showcase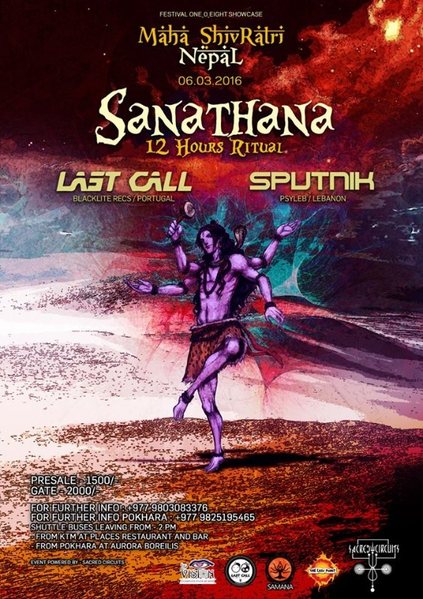 Line Up
Line Up
SANATHANA ( Samana Recs ) Dubai / India
✿Ψ Special Live Act 12 Hours Ψ✿

LAST CALL ( Blacklite Recs ) Portugal

SPUTNIK ( PsyLeb ) Lebanon
Deco
Deco
Deco - Invision ( A state of mind )
Visuals - C4
Info
ॐ Open Air Psychedelic Gathering ॐ
Sacred Circuits proudly presents, first time in Nepal.
❄SANATHANA❄
Sanathana / Sanhata (Swaroop Guhathakurta), is a digital graphics artist and music producer, born in India, lived in the UK for many years before settling down in Dubai (UAE). His style of music production is unique and versatile with a lot of LIVE improvisation and on-the-fly sounds. He portrays his skills by producing:
Deep Psychedelia
Darkpsy
Night time Psychedelia
IDM
Chillout
Fusion / Jazz Psy
Downtempo
The above mentioned styles are only to categorize the music that is understood by the masses. However, Sanathana / Sanhata doesnt like to categorize and sub categorize music which he believes is a form of art and expressionism and needs to flow without having them put in a box.
Already linked with many major labels such as Nabi Records / Active Meditation Music / Samana Records / Geomegnetic Records and more, Sanathana / Sanhata is surely here to stay and share his music with like minded people across the globe. The way he describes his music is a mixture of emotions in the various styles he produces.
For those who have been following his music will clearly see and feel the shift of emotions and style from the time that he started producing till date. Quote "We as humans evolve physically and mentally eventually seeking the self till a realization of who we are gets clear and this process will continue till our physical self perishes. The same way music and art will evolve with the evolution of self. Share what you have now without fear or expectation.A HUGE Thank You to Respected Sri Mangalanand Puri Ji (Better Known as Goa Gil) who has featured track, Album and EP of both Sanathana and Sanhata project in his divine dozen (Since 2011):
[goagil.com]
Discography (Includes only EP and Albums): Sanathana - Puppets(Old Album) / Sanathana - Transition (EP) / Sanathana - Saraswati (Downtempo Album) / Sanathana - Spiritual Awakening (EP) / Sanathana - Pendulum (EP) / Sanathana & Khaos Sektor - Thetawave Stimulation (Split Album) / Sanhata - Siddhartha (EP) / Sanathana - Patanjali (New Solo Album)
SANHATA is a side project of SANATHANA
Facebook (MUSIC) :
[facebook.com]
Soundcloud :
soundcloud
Sanathana - Featured as 'Artist of The Month' on
[goatrance.pl]
Feature Page:
[goatrance.pl]
Entry fee
Entry fee
Presales - Npr 1500/-
Door - Npr 2000/-
Organizer
Organizer
Sacred Circuits