Backend
FANTASIA FESTIVAL - International Psychedelic Gathering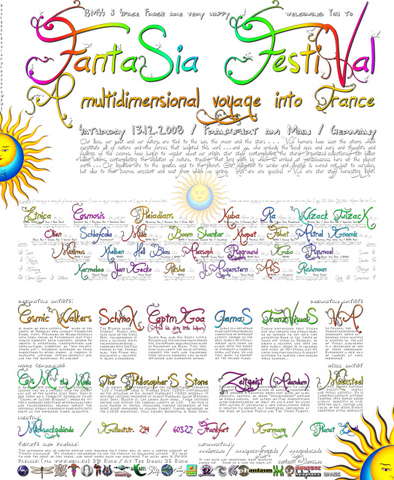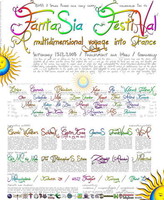 Line Up
COSMOSIS (Transient Rec. / Phantasm Rec. / Holophonic Rec.) UK / SWITZERLAND
Info on Web:
[myspace.com]
Video:
youtube
Cosmosis are one of the few artists on the Psy-Trance scene with an distinctive sound, being also one of the original artists that, along with Total Eclipse, Hallucinogen, Man With No Name and Astral Projection, pioneered the Goa and Psy-trance sound in the early nineties. Cosmosis' first album - the seminal Cosmology - was one of the first Goa or Psy-Trance artist albums. Released in 1996 it is widely regarded as one of the few classic Goa albums. Followed by 6 other albums, you can be sure to have one of te true psychedelic masters on stage! We are very happy to welcome Billy together with his guitar....
PLEIADIANS (Dragonfly Rec. / Harmonia Rec. / Etnica Net) ITALY / IBIZA
Info on Web:
[myspace.com]
Video:
youtube
A universal phenomenon landed on planet Earth 10 years ago and left a deep mark in the history of psychedelic trance. The journey began in 1996 when the Pleiadians released their debut album 'Identified Flying Object - IFO' (Dragonfly Records, 1996) which is hailed as a classic among classics; a milestone in early 'Goa' and Psychedelic Trance rarely equaled in production clarity and compositional complexity. Their second album 'Family of Light' was also a worldwide hit featuring the 14-minute symphonic monster 'Modulation' - an epic track that was specifically produced for the Venezuelan Total Eclipse party in 1997. Their last album Seven Sisters (Harmonia Rec. 2006) was again a massive success worldwide and demonstrated that the spirit is still alive. Explosive and emotional interstellar psy-trance simmered in sci-fi flavour for the dancefloor and the mind.
RA (Suntrip Rec. / Blue Moon Productions / Global Trance Network) NORWAY/ THAILAND
Info on Web:
[myspace.com]
Video:
youtube
RA was first founded in 1994 by Christer Borge-Lunde and Lars W. Lind. In 1998 Chris and Lars went their separate ways and Christer continued RA primarily as a solo project, while Lars continued working on other projects like Dimension 5 or Electron Wave. In 1998 RA was signed with Blue Moon Productions UK and the first single Azure Child was released. In 1999 and 2000 RA was working with Blue Moon Thailand and collaborated with Charlie Clarke which contributed on the album "To Sirius". The album was first released in Thailand in 2000 and later re-released world wide in 2001 by the German label Velvet/GTN. RA remained primarily a solo project by Christer until late 2006 when Lars and Christer decided to continue working with RA together. RA was finally back to the way it was intended from the very beginning, both musically and spiritually. Best heard on their latest release on Suntrip Records: "9th" (The ultimate proof that Goa Trance is still alive and kickin)
ETNICA (Etnica Net Rec. / Solstice Rec. / Spirit Zone / Blue Room) ITALY / SPAIN
Info on Web:
[myspace.com]
Video:
youtube
With over a decade's experience in the production of contemporary dance electronica, Etnica's works are permeated by a unique, elegant versatility and powerful musical charisma. Recognized for their state-of-the-art live performances and remembered for their singles ('Plastic', 'The Dominator EP', 'The Andromeda EP'), their classic albums ('The Juggling Alchemist Under the Blacklight' (High Society 1995), 'Alien Protein' (Blue Room 1996) , and 'Equator' (1999 Spirit Zone)) as well as unforgettable masterpieces like 'Starship 101', 'Triptonite', 'Vimana', 'The Dominator', 'History', 'Robot Rebellion', 'Nitrox', 'Black Lava' and 'Solaris', Etnica necessantly renovate their sound revealing a 360-degree perspective on the possible paths to irreversible blast experiences and terminal dancefloor madness.
WIZACK TWIZACK (Namaha Rec. / Stone Age Rec. / Hypnotica Rec.) SWEDEN
Info on Web:
[myspace.com]
Video:
youtube
Wizack Twizack is the wild sonic excursion of Tommy Axelsson, born in 1981 and residing in Sweden. After finding himself scrambling his head to psytrance in the late 90s, Tommy found an output source to his creative mental madness through the tools of knobs and sequencers. Through his journeys, Tommy has further developed his style and defined his sounds, the result of which is fresh and cutting edge psytrance, drenched with powerful acid melodies. Wizack's twisted new style features classic Goa influenced sounds fused with his unique and heavy forest groove. His Live Act will have you adventuring through an audial galaxy, a vast tapestry which has been knitted together by none other than yours truly and taking you onto trips in the darkest hour reflecting the wicked tribal gatherings what has been going on in the swedish forests throughout the years!
KHOPAT (Spectral Rec. / Noize Conspiracy Rec.) PORTUGAL
Info on Web:
[myspace.com]
Video:
youtube
Khopat is Vasco Pedrosa from Portugal. Vasco discovered Psytrance music in 1999 during his quest through electronic music. Since then and based on a previous musical education background he decided to create his own psytrance project. Khopat's music concept relies on a very strong rhythm base mixed with all kind of psychedelic sounds. His music tries to lead the listeners to diverse cosmic environments,always allied with strong dance concept ... in other words , music for mind and body. Khopat is part of spectral records and Noize Conspiracy, his debut album "Bio Chip" wil be released in the end of 2008 by the portuguese Label Spectral Records. Look forward for an exclusive preview / prelisten...
OLIEN (Ajana Rec. / Trishula Rec. / Suntrip Rec.) GERMANY
Info on Web:
[myspace.com]
Video:
youtube
Olien, famous for his nighttime Psytrance with releases on Trishula and Triplag Records is still an insider's tip when it comes to an already long-forgotten musical term, once called Goa Trance. Trip back in time with analogue soundwaves, deep harmonic atmospheres and a lack of digitalism resulting in a very special old school Live Act Olien will provide for the ones willing to listen…
ASTRAL GNOMIX (BMSS Rec.) SWITZERLAND (with Live Druming of Ismaele Gonzato / CH)
Info on Web:
[myspace.com]
Info on Web:
[bmss.eu]
Astral Gnomix does not play common-style music, he has his own groove, born from a mixture of various electronic genres and goa, ranging from old-style to modern, inspired by acts like Hallucinogen, Oziric Tentacles, Cosmosis, Pink Floyd and more... He presents a new style at each Live Act, and often brings along many of his original instruments, making each act impressingly particular. Now he spends as much time as possible playing his instruments and composing new groovy stuff. Astral Gnomix is certainly not a common artist he loves psychedelic tunes, and does not follow the common wave... For him psychedelia has no limits.
MIDA (BMSS Rec. / Spontaneous Aerobics Rec.) GERMANY
Info on Web:
[mida-factory.eu]
Info on Web:
[bmss.eu]
Having his first experiences with Goa in the Mondmilchbar in Zuerich, Mida settled down in Munich in 2001. There he connected immediately with the local scene, resulting in his first records on the Munich based Spontaneous Aerobics Records. His art studies at the University of Zuerich led to a deep understanding of dynamic which you will experience in his live sets: And they are really live: not a simple line of tracks, but a storrytelling live act woven for hours and arranged in realtime! During this Sonic adventures which are unique (you will not hear a set of him for a second time) Mida is not stuck on a certain style, he spins his musicial thoughts from Morning progressive based sound to more powerful Full on like night music full of melodies and magic...
.
Info
HOTEL:
If you come from abroad and need a cheap and good hotel
which is as well just 50 meters from the location, we recomend
you the following one:
In English:
[ichotelsgroup.com]
Auf Deutsch:
[ichotelsgroup.com]
BASIC INFOS:
We will provide 3 floors focussing on the following styles:
MAIN FLOOR (Goa Trance, Old School and Psychedelic Trance)
PARALLEL UNIVERSE (Down to earth Progressive and Alternative Trance)
REGENERATION SPACE (Ambient, Dub, Chill Out and Live Suprises)
EXTRAS:
The will be a psychedelic art exibition featuring the works of:
WOLFGANG MARIA OLHÄUSER
Info on Web:
[wolfgang-ohlhaeuser.de]
Wolfgang Maria Ohlhäuser is an exotic educated graphic artist, living & working at the castle of Langenzell near Heidelberg. His paintings contain several facets, and the, at first seemingly realistic landscapes are artistically interwoven with fantastic to utopian elements. Wolfgang Maria Ohlhäuser exhibits his artwork not only in Europe, but also in south-east Asia. In 1975 his artistic career has begun, and since 1993 he performs lectureships in Thailand & Nepal. We are very happy the Wolfgang will exhibit and explain some of his artwork at the Fantasia Festival.
We will provide screenings of 3 very interesting movies dealing about all aspects of
Psychedelic Culture. The movies will be presented by the directors or producers:
FILM # 1:
COSM - The Movie
Info on Web:
[cosm.org]
Info on Web:
[cosmthemovie.com]
CoSM The Movie is a magical new kind of documentary experience, leading audiences on an enriching and sense-heightening journey into the visionary art cosmos of world-renowned painter Alex Grey. Grey is our guide on a cinematic pilgrimage through the Chapel of Sacred Mirrors gallery in New York City, where his vividly rendered depictions of human anatomy and transcendental imagery reflect the universal human experience with birth, death, family, love, and enlightenment as the unfolding iconic narrative. Fusing the power of music with stunning cinematography, director Nick Krasnic channels the raw power of Grey's art into a potent film odyssey that captures the essence of this unique sacred space, and offers rare, personal insight from one of the most significant artists of our time
FILM # 2:
THE PHILOSOPHER'S STONE
Info on Web:
[lightriders.de]
Info on Web:
[lsd.info]
"The Philosopher's Stone" is a unique doumentary of the international symposium "LSD - Problem child and Wonder Drug" (January 2006 / Basel, Switzerland) on the occasion of Dr. Albert Hofmann's 100th birthday. This documentary in German / English includes lectures presented by Albert Hofmann, Ralph Metzner, Alex Grey, Martin A. Lee and many more. These lectures decribe and discuss the complex aspects of LSD. This film is also framed by special visualized concert recordings of the Saturday's night symposium event performed by Akasha Project (sound recording of the LSD25 molecule), Star Sounds Orchestra and Guru Guru. Additional highlights exhibit exclusive interviews with two german artists: Thomas D. (musician) and Wolfgang Maria Ohlhäuser (painter)
FILM # 3:
ZEITGEIST: ADENDUM
Info on Web:
[thezeitgeistmovement.com]
Zeitgeist: Addendum, attempts to locate the root causes of the pervasive social corruption which was lectured in the first part of Zeitgeist, while offering a solution. This solution is not based on politics, morality, laws, or any other "establishment" notions of human affairs, but rather on a modern, non-superstitious based understanding of what we are and how we align with nature, to which we are a part. The work advocates a new social system which is updated to present day knowledge, highly influenced by the life long work of Jacque Fresco and The Venus Project.
There will be a large variety of stalls providing information and knowledge about all relevant psychedelic topics:
ALICE-PROJECT
Info on Web:
[alice-project.de]
On the traces of 'Alice in Wonderland' the nonprofit grassroots Alice-Project looks behind the facades of daily realities and creates free spaces. The activities of Alice and the friendly project Connecta are all about 'Music, Mind and Politics' in the sense of creative forms of expression, critical activism for social change, and last but not least, fun and personal development. One focus of Alice is the circulation of objective information on drugs, especially at parties and in schools. The project tries to establish a conscious relationship towards psychoactive substances, and helps drug-users with problems. Beside other events Alice and Connecta co-organize the international festival 'Gathering of the Tribes'.
'The stars are within reach,' Alice calls dancing, 'but only if we really want.'
Location
Milchsackgelaende
Gutleutstr. 294
60327 Frankfurt am Main
Entry
Entry
The gathering will be limited-edition like: meaning that there will be only a limited amount of Tickets available! We want to keep the spirit of this venue, and spirit needs space for breathing! So we recommend to come early to get access...

PRESALE: Presale has ended. Your ticket will wait for you at the entrance :)

.
Organizer
Organizer
BMSS / Bruder Mond Schwester Sonne + Space Frogz
Added

13y 11m

· Update

11y 9m

· 31 Parties ·

/ 166