Fairytales .......Mahodin´s book of fairytales & illusions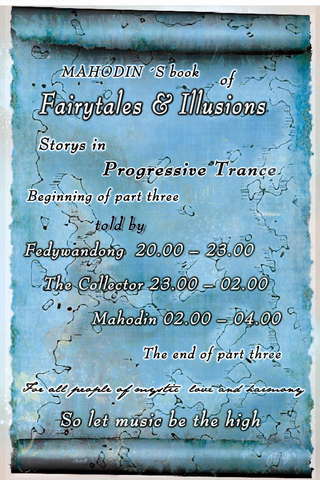 DJs
3 Dj´s der Tafelrunde

Fedywandong 20.00 - 23.00
Collector 23.00 - 02.00
Mahodin 02.00 - 04.00
Info
Fairytales


Alles über das alte Gedankengut der Veranstaltungsreihe Fairytales

Das Projekt Fairytales existiert seit Herbst 2002 und wurde von Motsognir - Beetle (Psyconjurer) & Mahodin gegründet und beruht auf dem Namen 'Mahodin's Book of Fairytales & Illusions', wurde aber dann zu Fairytales gekürzt.

Seit Jänner 2003 veranstalteten nunmehr Motsognir & Psyconjurer Donnerstags (alle 2 Wochen) im Weberknecht (Lerchenfeldergürtel 49, 1160 Wien) erfolgreiche Parties, die im Laufe der Zeit immer mehr Anklang gefunden haben. Eine bunte Mischung aus allen Stilrichtungen des Goa & Psytrance wurde von DJ-Newcomern und Profi-Acts geboten.

Vor allem der Nice Price Gedanke ergab fürs Fairytales Team die Idee für Newcomer DJs eine Plattform zu bilden und mit gutem Beispiel voran zu gehen, daß es mit niedrigem Eintritt zur Kostendeckung auch geht um den Besuchern super Partys mit fettem Sound zu bieten.



Neu Überarbeitete Fairytales:

Die Fairytales werden nunmehr von mir, (Dj Mahodin) selbst geplant & veranstaltet!
Die Plattform ist erweitert und bietet auch newcomer Künstlern aus vielen Bereichen der mystischen Welten Platz für ihre Kreativität,( Dekorationskünstler, Visualkünstler, Schmuckdesigner, Modedesigner, Maler,etc..) welche sie im Rahmen der Fairytales Tanzveranstaltung präsentieren um sie der Öffentlichkeit zugänglich zu machen.

Die Musikrichtung bezieht sich auf Chillout, Lounge, - Ambient,- Progressivetrance, Psytrance-full on

Ebenfalls wird tiefer auf die europäischen Wurzeln und deren Mythologie eingegangen, in Form von kleinen kulinarischen Köstlichkeiten

Die Fairytales kehren zu ihrem vollständigen Namen: Mahodin´s book of fairytales and illusions... For all people of mystic love & harmony zurück um das ursprüngliche Gedankengut zu repräsentieren!

Wenn die Möglichkeit besteht die Veranstaltungsräumlichkeiten kostenlos zu benutzen, und die Inhaber der Räumlichkeiten mit den Einnahmen der Bar zufrieden, sind kann man den alten Lowbudget Traditionen treu bleiben um dem Publikum den Besuch zu erleichtern.
was mir in diesem Fall gelungen ist.... Allso der Eintritt beträgt 7 Euro
Und die Veranstaltung gibt es wieder jeden zweiten Donnerstag!

DER VERANSTALTUNGSBEGINN IST AUF 20.00 UHR GESETZT, AUS DEM GRUND, DAS IHR EUCH SCHON FRÜHER AUSER HAUS TRAUT UND MEHR VOM ABEND HABT!

Auf bitte der Clubbesitzerin, sollte die Veranstalltung wöchentlich durchgeführt werden!
SOMIT BITTE ICH EUCH MIR EURE MEINUNG DARÜBER MITZUTEILEN!



Kreative Köpfe, Dj´s, Visualnauten,....... zur Darstellung ihrer Kunst immer willkommen um das Buch noch mehr zu illustrieren & somit die Veranstaltung zu bereichern.

Also meldet euch!
Location
Location
Club Utopia
Ruckergasse 30-32
1120 Wien
Entry
Entry
Freier Eintritt von 20.00 - 21.00 & ab 21.00 - 02.00 7€