Backend
Experience of Goa & Steelocean meets " Airport "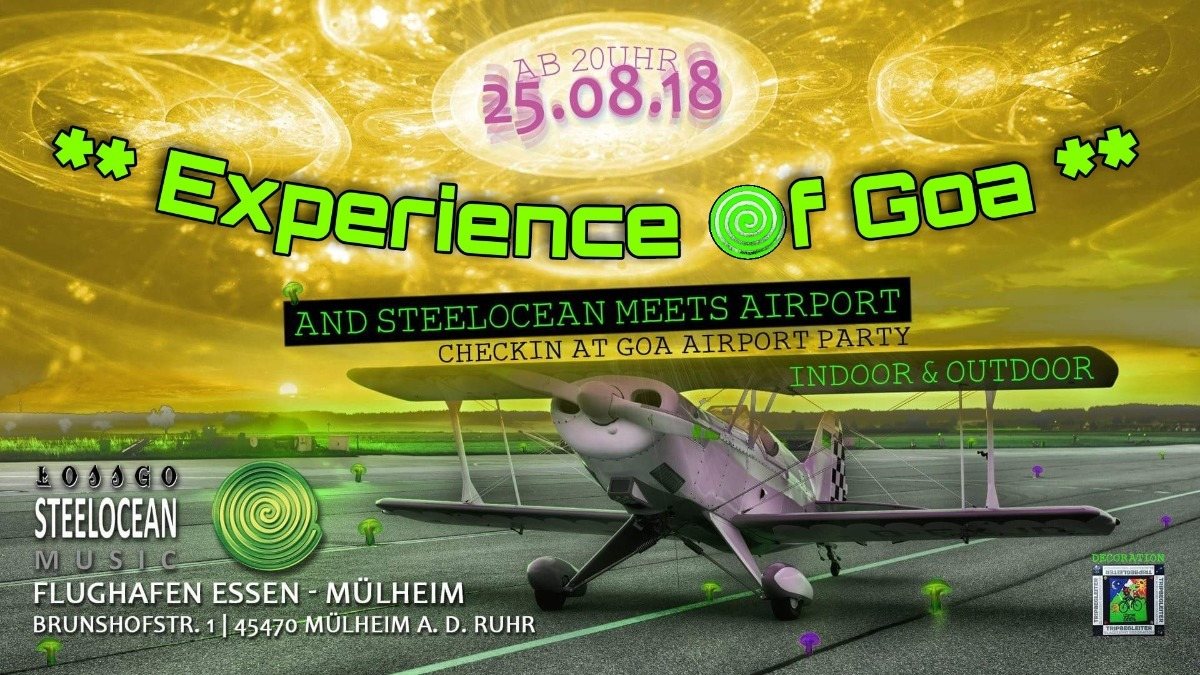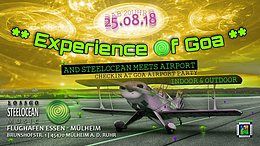 Info
* * * * * * Experience of Goa * * * * * *
&
* * * Steelocean * * *
meets
" AIRPORT "

Viel zu lange ist sie schon her - die letzte * *Experience of Goa * *!
Um so mehr freuen wir uns, dass das lange Warten nun endlich ein Ende hat.

Zu verdanken haben wir das mitunter Lossgo von Steelocean-Music, denn wir haben uns einfach mal mit ihm in den Flieger gesetzt und sind auf einem kleinen Flughafen in NRW gelandet. Genau dorthin möchten wir euch nun herzlich einladen.

Nennen wir es mal unser Flugfeld 9-34: Ein kleiner Flugplatz am Rande von Mühlheim an der Ruhr. Von diesem Airport aus schicken wir euch am 25.8.18 ohne lästiges Checkin und zeitraubenden Zollkontrollen mit soviel Gepäck wie ihr wollt, an jedem nur erdenklichen Ort, den ihrr euch vorstellen könnt. Der Fantasie sind keine Grenzen gesetzt!

Für alle die schon aus dem Urlaub zurück sind und gerne in Erinnerungen schwelgen haben wir unseren Outdoor Bereich mit chillig treibendem Sound und reichlich Sand versehen. Im Indoor Bereich gibt's die ganze Nacht Krawall und Remmidemmi mit viel Druck, denn Bass macht Spaß!

Selbstverständlich sorgen wir auch diesmal für jede Menge buntes Treiben in Form von UV-Deko, einem Stand für Körpermalfarben, Knicklichter, Fresh Fruits, Wassereis und, und, und... Also freut euch drauf wenn * * Experience of Goa * * und Steelocean-Music gemeinsam das Sommerloch mit ordentlich Druck stopfen.
Location
Vorab, das wird Die mega Airport Party aber bald gibt's mehr infos
Organizer
Organizer
Experience of Goa & Steelocean-Musik