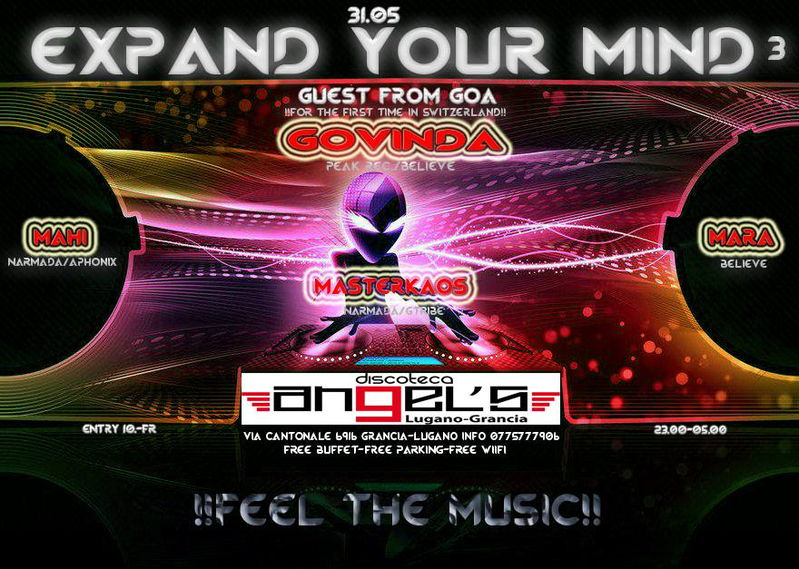 ·٠•●ૐ●•٠°GUEST FROM GOA·٠•●ૐ●•٠° : ( for the first time in switzerland)
·٠•●ૐ●•٠° GOVINDA °·٠•●ૐ●•٠ (Peakrec./Believe)
[peakrec.com]
[facebook.com]
soundcloud
Govinda is an Italian dj and psytrance party organizer. Born in 1986 to parents who had been traveling for many years, he grew up living in Goa, India six months a year and experiencing its magic and freaky context from an early age.
His first party in 1999 brought a full understanding of the Goa reality with its emphasis on freedom, and manifested his attraction to trance music. He started collecting music and playing it, at first with a Minidisc player and later with CDJs.
In 2002, Govinda played his first dj set in the well-known Ninebar in Goa, thus marking the beginning of his dj career. He instantaneously loved the feeling of enjoyment he could provide through music and the palpable interconnection that forms on a dancefloor. After a practice season, he was soon playing in the main party spots in Goa: Discovalley, Paradiso, Primrose, Monkey Valley, Hilltop and many more.
In 2005, he was signed to Spun records (the GMS label). Two years later, he went on his first international tour where he played along artists such as GMS, Pixel, Alien Project, Spacecat, Domestic, Perplex and Psysex, in Thailand, Nepal, Goa as well as several European countries.
During the Goa season of 2007/2008, Govinda started following a different vibe and looking for a more psychedelic sound that would best fit his personality. At the time, Phatmatix, Digital Talk and Concept were his favorite artists. At the Mountain Madness Festival in Nepal, he played a set right before Ajja and fell in love with his sound. The meeting also started a connection with Peak Records, which later led to Govinda being signed on as a label dj.
While frequently performing at Goan hotspots such as Club Westend, Hilltop, Ninebar and Shivavalley, he created with a group of friends the NightRainbow Project, a Goa-based party organization responsible for more than ten parties in the first season of its existence.
To this day, Govinda splits his life between Europe and India and organizes a number of events in both Goa and Italy. He has played at numerous international events (Sonica, Full Moon and Antaris to name but a few) and continues to rock the dancefloors around the globe. His dj sets are widely appreciated for their colorful, positive and twisted sounds, artfully blended to form a harmonic sequence.
Let the adventure begin!
·٠•●ૐ●•٠°·٠•●ૐ●•٠°·٠•●ૐ●•٠°
DJ set :
·٠•●ૐ●•٠° MAHI °·٠•●ૐ●•٠ (Aphonix rec/Narmada)
[facebook.com]
soundcloud
·٠•●ૐ●•٠° MARA°·٠•●ૐ●•٠ (Believe)
[facebook.com]
soundcloud
·٠•●ૐ●•٠° MASTERKAOS°·٠•●ૐ●•٠ ( Narmada Music/ GTribe)
[facebook.com]
soundcloud
·٠•●ૐ●•٠°·٠•●ૐ●•٠°·٠•●ૐ●•٠°
Info
-A vostra disposizione un ricco e gratuito buffet che sarà offerto durante la serata.
- Wifi libero
-Spazioso parcheggio gratuito
·٠•●ૐ●•٠°·٠•●ૐ●•٠°·٠•●ૐ●•٠°
Durante la serata vi sarà anche la possibilità di acquistare i biglietti del Blackmoon Festival 2013 ....;)
[facebook.com]
·٠•●ૐ●•٠°·٠•●ૐ●•٠°·٠•●ૐ●•٠°
Location
Location
▌▌Discoteca ANGEL'S electro club
Via Cantonale 6916 Grancia-Lugano (CH)
0765777906

·٠•●ૐ●•٠° ·٠•●ૐ●•٠° ·٠•●ૐ●•٠°
Entry fee
Entry fee
·٠•●ૐ●•٠° ·٠•●ૐ●•٠° ·٠•●ૐ●•٠°

▌▌ 10.- fr. senza bibita

▌▌ 20.- fr. bibita inclusa

·٠•●ૐ●•٠° ·٠•●ૐ●•٠° ·٠•●ૐ●•٠°