e:volved | instinctive travels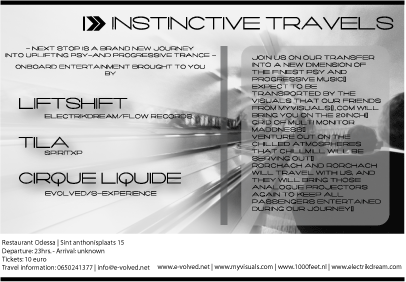 Live
Line Up
Liftshift (Electrikdream/flow records) LIVE +Dj-set

Tila (Spiritxp) Dj-set
Cirque liquide (E:volved) Dj-set
Onboard entertainment brought to you by:
Liftshift (Electrikdream/flow records) LIVE +Dj-set
Tila (Spiritxp) Dj-set
Cirque liquide (E:volved) Dj-set
Join us on our transfer to a new dimension of the finest psy and progressive music.
Expect to be transported by the visuals that our friends from myvisuals.com will bring you on the 20inch grid of multi monitor maddness.
Venture out on the chilled atmospheres that Chillmill will be serving out in a special environment this time.
Rorchach and Rorchach will travel with us, and they will bring those analogue projectors again to keep all passengers entertained during our journey.
The invisible man is here to add a drop of fragrant entertainment.
Furthermore look out for those refreshing snacks that will circulate the dancefloor during flight.
Restaurant Odessa | Sint anthonisplaats 15
Departure: 23hrs. - Arrival: unknown
Tickets: 10 euro
Travel information: 0650241377 |
info@e-volved.net
Deco
Deco
Chillmill
Rorchach and Rorchach
yourvisuals.com
Location
Location
Restaurant Odessa | Sint anthonisplaats 15
Organizer
Organizer
e:volved | progressive art and music