Backend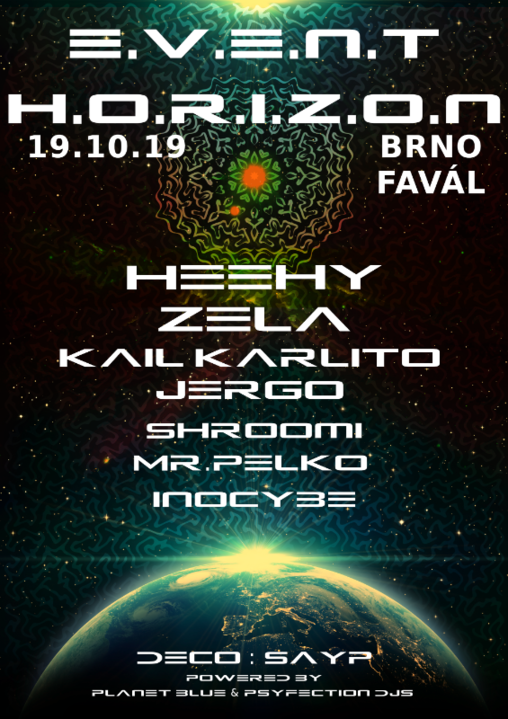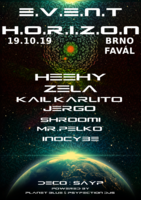 Line Up
Line Up
HEEHY /CZ/ <Fenix Festival>
ZELA /CZ/ <Hedonix>
KAIL KARLITO /CZ/ <Psyfection>
JERGO /SK/ <Psyfection>
SHROOMI /FIN/ <Psyfection>
MR.PELKO /SK/ <Independent>
INOCYBE /SK/ <Psyfection>
Info
Gratulujeme! Právě jste překročili bezpečnou vzdálenost od speciální edice klasických faválských psytrance seancí s názvem Event Horizon, kterou vám přináší Psyfection djs pod záštitou Planet Blue night
*******************
Event Horizon - termín z astrofyziky, který označuje bezpečnou hranici od významného a často ničivého jevu (nejčastěji černé díry). Při překročení oné hranice události již pozorovatel nemůže uniknout jejím vlivům.
*******************
Myšlenkou je tedy právě překročení zažitých hranic a otevření se novému, často i zdánlivě hrozivému. V tomto případě temnějším, ale hlavně svižnějším stylům psychedelické taneční hudby, které měly v Brně do dnešních dnů jen velmi mizivé zastoupení.
Dočkáte se tak temnosladké klasiky jako twilight Full-on, Forest a Dark psytrance s postupně se vyvíjející kadencí od 145 až do 160bpm.
Tímto ovšem teprve začíná. Čím více se noc blíží ránu, tím víc a víc se temný psytrance začne postupně měnit v námi, a to s potměšilým úsměvem všech znalců, milovaný a v Brně zatím tak málo známý a doceněný HiTech. Tento neúprosným žánr spadající na pomezí psytrance a freetech si pro sebe rezervuje širší frekvenční pásmo a povětšinou celkové funky ladění. Pokud se otevřete tomuto stylu a necháte se ovlivnit výše postavenou basou i beaty, tak nejspíš zjistíte, že vám tělo tancuje úplně ale úplně samo a máte na tváři úsměv od ucha k uchu. HiTech svou neúprosnou a celou bytostí pronikající energie si pro sebe rezervuje kadenci od 170 do 190 a kolikrát mnohem více... ale nebojte, budeme vás tentokrát šetřit ;)
-------------------------------------------------------------------
Congratulations! You have just crossed the safe distance from the special edition of the classic faval psytrance session called Event Horizon brought to you by Psyfection djs under the patronage of Planet Blue night
*******************
Event Horizon - a term in astrophysics that denotes a safe boundary from a significant and often devastating phenomenon (most often black holes). If the boundary of the event is exceeded, the observer can no longer escape its effects.
*******************
The idea is therefore to cross the boundaries and open to a new, often seemingly menacing. In this case, darker, but mainly brisker styles of psychedelic dance music, which in Brno to date have only very little representation.
You will see dark-dark classics like twilight Full-on, Forest and Dark psytrance with progressive cadence from 145 to 160bpm.
But this is just the beginning. The more the night approaches, the more and more the dark psytrance will gradually change into us, with a meager smile of all connoisseurs, a beloved and so far less well known and appreciated HiTech in Brno. This relentless genre on the border of psytrance and freetech reserves for itself a wider frequency band and mostly overall funky tuning. If you open yourself to this style and let yourself be influenced by the higher bass and beats, you will probably find that your body is dancing entirely but completely and you have a smile from ear to ear on your face. HiTech, with his relentless and energy-pervasive creature, reserves a cadence of 170 to 190 bpm and many times many more ... but don't worry, we'll save you this time;)
FB event :
[facebook.com]
Travel distances :
>>>Vienna - BRNO >>> +/-130KM
>>>Bratislava - BRNO >>> +/-140KM
>>>Praha - BRNO >>> +/-200 KM
Location
Křížkovského 416/22, 603 00 Brno-střed-Pisárky

faval.cz
Entry
Entry
100CZK<<00:00>>150CZK
Organizer
Organizer
Planet Blue / Psyfection Djs