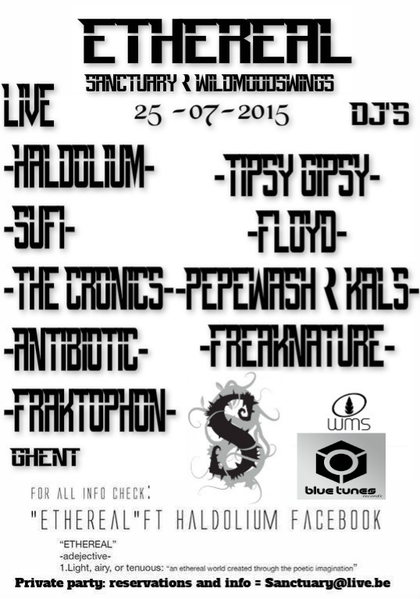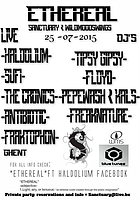 Line Up
-ETHEREAL-
""""""""""""""""""
"""""""""""""""""""""""""""""""LIVE""""""""""""""""""""""""""""""""
############################################
= HALDOLIUM = (Bluetunes Records- Germany)
soundcloud
= SUFI = (independent (WMS)- be)
soundcloud
= FRAKTOPHON = (Naturall prod)
soundcloud
= ANTIBIOTIC = (UNIO MYSTICA-PORTUGAL)
soundcloud
= THE CRONICS =
soundcloud
[thecronics.com]
####################Dj's#####################
-------------------------------------------------------------------------
-KALS & PEPEWASH-- (OMETEOTL FESTIVAL-ALTAR RECORDS-MEXICO)
soundcloud
soundcloud
-FLOYD -(WMS)
soundcloud
-TIPSYGIPSY-(WMS)
[click here]
-FREAKNATURE-(PORTUGAL)(WMS)
soundcloud
A SANCTUARY- WILDMOODSWINGS PRODUCTION
xxxxxxxxxxxxxxxxxxxxxxxxxxxxxxxxxxxxxxxxxxxxxxxxx
For the very very second time in the History of the universe the well known Sanctuarycrew and the very freshly concieved WildMoodSwingsPosse will join there extremely powerfull forces to provide you with a decent excuse for collaborating with like minded freggles in a 4/4 pumping marathon exercise .
Fun included ...
For this event they are teaming up to create an ETHEREAL world for you to get lost in ....
BUY THE TICKET !!!
BREAK THE RIDE !!!!
"ETHEREAL-adjective
1.light, airy, or tenuous:
an ethereal world created through the poetic imagination."
Translation: Hemels ;)
Location: VICINITY GHENT
PRIVATE PARTY- MAKE YOUR RESERVATIONS @
sanctuary@live.be
Organizer
Organizer
Sanctuary & WildMoodSwings