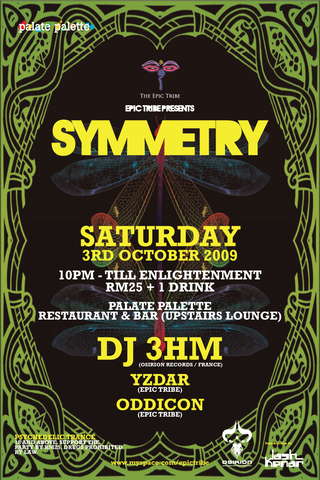 DJs
DJ 3hm (Osirion Records / France)
Yzdar (EPIC Tribe)
Oddicion (EPIC Tribe)
Info
The EPIC TRIBE, Malaysia's only psychedelic trance collective, and PALATE PALETTE, Kuala Lumpur's shining beacon of arts and culture, join forces in an explosive evolution of music, art, and mind-expansion.
The Epic Tribe pres.
----==== SYMMETRY ====----
Happening:
Sat. 03.10.2009
10pm till Enlightenment.
Featuring
DJ3hm (Osirion Records - France)
Yzdar (EPIC Tribe)
Oddicon (EPIC Tribe/Boiler)
Bio:
Dj3hm (pronounced as 'EHM')
Born in 1970, Manu aka 3hm is a DJ, producer, and label-owner of
Osiron Records.
3hm started his illustrious career as an experimental Hardcore, Hard-Acid DJ during the early 90's French rave movement. He would officially start playing psytrance in 1994, performing at major Parisian events with prolific electronic proponents Mike MacGuire (JunoReactor / Qube) Jens Waldenback (JunoReactor / Cwithe) and Xavier Morel (JunoReactor).
Alarmed by the increasing commercialization of the psytrance genre, 3hm was forced to disregard the French mainstream in order to relocate where in the world the untainted psychedelic spirit had gone to. His extensive travels and performance record testifying to his quest; having played in Ozora Festival 2006 in Hungary, Venezuela, Switzerland, Singapore, Malaysia, Greece, Italy, and beyond.
He has co-released 2 tracks, with long-time collaborator DataKult, on Nabi Records (Psytrance Is Dead) and Pleiadian Records (VA Danza Del Venado).
Recently, 3hm has compiled V/A AEON, Osiron Records' 2008 debut release, featuring an intense collection of heavy-hitters from Ocelot, Trippy Hippies, Xabbu, and many more.
[osirionrecords.com]
-----------------------------------------------
Power Your Party For Only RM25 (inclusive of 1 drink)
The Epic Tribe prides itself by throwing legendary NON-PROFIT parties with ZERO CORPORATE SPONSORSHIP.
Your support goes directly towards booking our acts, sound system, deco, as well as operating costs of our location.
YOUR CONTRIBUTIONS POWER YOUR PARTY.
Join us as we continue to inject much needed positivity into Malaysian music scene. Your help makes a BIG difference.
And you get a 1st drink too!
Happening:
SATURDAY 3rd October 2009
10pm till Enlightenment.
Location:
Palate Palette Restaurant and Bar, Upstairs,
21 Jalan Mesui, Off Jalan Nagasari,
50200 Kuala Lumpur Malaysia
For further enquiries email
enquiry@epictribe.com
killer Sound Sytems provided by "LASH KENAR"
Osirion Records debut release , VA AEON , will be available at the party for only RM30/cd!
Location
Location
Palate Palette Restaurant & Bar (upstairs lounge)

21 Jalan Mesui, Off Jalan Nagasari (behind Istana Hotel)
Kuala Lumpur, Malaysia, 50200
Organizer
Organizer
EPIC Tribe (Malaysia)