Ephedrix release party... with Talamasca !!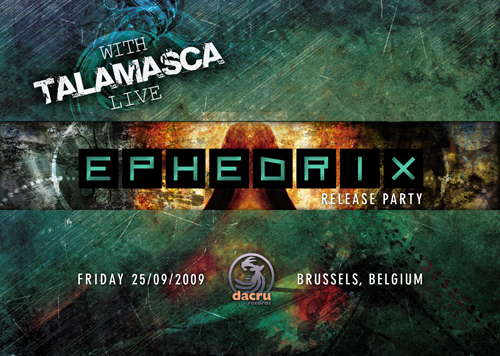 Live
Line Up
TALAMASCA (Mind Control recs - France)
EPHEDRIX (Dacru recs)
AQUILA (Dacru recs)
SUFI (Dacru recs)
DJs
OONAH (Dacru recs)
INSULA vs SUNSTRA (Escape recs)
RAMSES (Milk Effect)
Deco
Deco
visuals by
CampAttack (NL)
Ephedrix (special visuals set with their live act - first time at a Dacru event!)

decorations by
Unio Mystica
Info
Info
This will be the release party for the second Ephedrix full album 'Expander'.
The album will be a special remix album including artists as Silicon Sound, Electro Sun, Lamat, Chronos, Protoculture, Aquila, XSI, DNA and Talamasca!
Location
Location
KultuurKaffee VUB
Pleinlaan 2
1050 Brussels - Elsene
(by car direct access at Triomflaan)
Entry
Entry
12 euro
(just 15 euro with Ephedrix album included)