Backend
Entropy 0.5 // The Psychedelic Ritual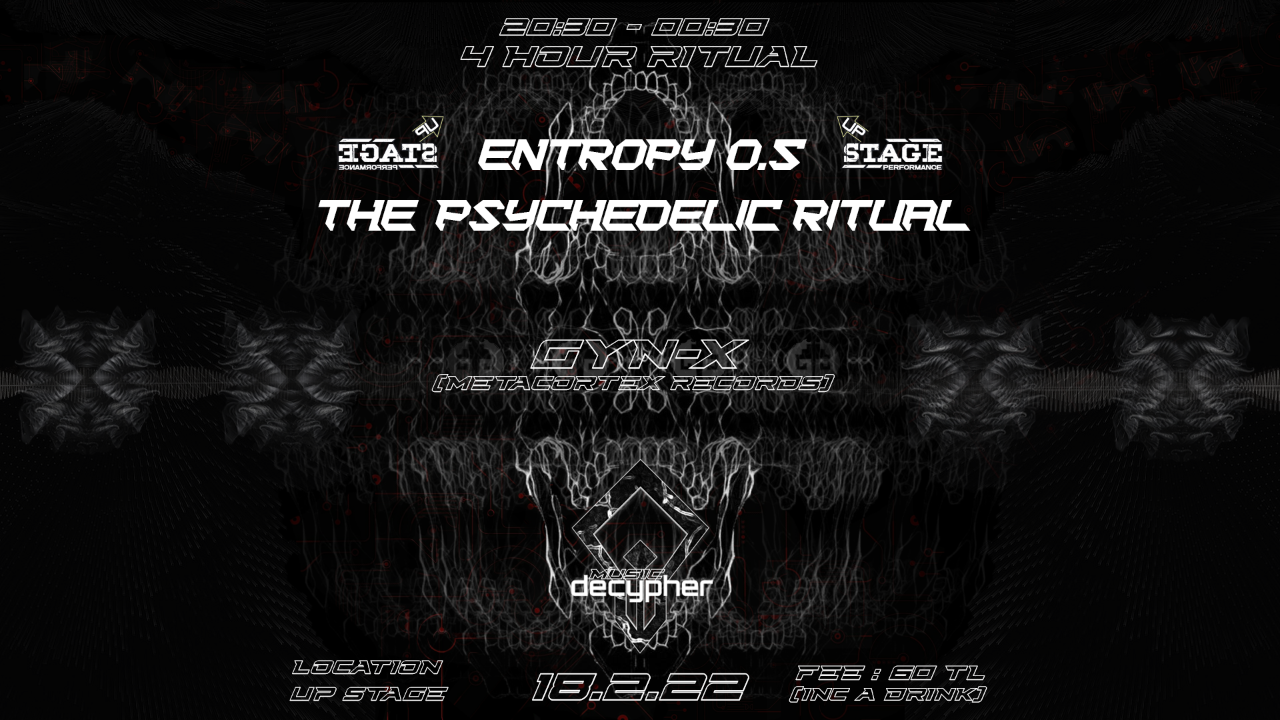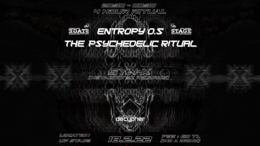 Line Up
Line Up
(っ◔◡◔)っ 🖤 Ꮆㄚ几-乂
Metacortex Records
Katava Records
soundcloud
Info
♫ ♪ ♫ ᕲᘿᑢᖻᕵᕼᘿᖇ ᘻᑘSİᑢ ♫ ♪ ♫
☠️ lɐnʇıᴚ ɔılǝpǝɥɔʎsԀ ǝɥ⊥ // 5˙0 ʎdoɹʇuƎ ☠️
★ 𝕯𝖆𝖗𝖐𝖕𝖘𝖞 ★
☠️ ღ(¯`◕‿◕´¯)(¯`◕‿◕´¯)(¯`◕‿◕´¯)(¯`◕‿◕´¯)ღ☠️
*"Entropy" is a series of psychedelic rituals. Each iteration will manifest as a solo ritual, and to keep it alive, we'd like to introduce unique artists who will bring their own energy and vision to their performances. With each installment, artists will magnify the entropy with their own unique spellcasting techniques, which we like to call "soundbending".
With that, every iteration of the ritual will be one of a kind, and the participants will be able to experience the specific soundscapes that each "soundbender" brings to the table.
This iteration of the ritual will meld a unison of dark patterns pulled from psychedelic music (Forest / Darkpsy / Hi-Tech / Psycore).
Thus, we welcome you to Entropy.
Each person is unique and one of a kind, as such we need your energy and willpower to continue our rituals.
Let's keep the psychedelic culture alive in the land of Anatolia, with dark magical rituals.
☠️ ღ(¯`◕‿◕´¯)(¯`◕‿◕´¯)(¯`◕‿◕´¯)(¯`◕‿◕´¯)ღ☠️
↓↓TR BELOW ↓↓
We welcome all of you to the next ritual of Decypher Music!
In this ritual, we continue to magnify the entropy as chaoslings, ''Gyn-X'' will bend the Darkpsy elements as our "soundbender" for the ritual.
☠️ ღ(¯`◕‿◕´¯)(¯`◕‿◕´¯)(¯`◕‿◕´¯)(¯`◕‿◕´¯)ღ☠️
To our young chaoslings out there who are younger than 18 years old; unfortunately we will not be able to allow you to participate in the ritual itself, but we appreciate you for following our path, and we hope to see you in future rituals.
ヽ༼ ಠ益ಠ ༽ノ ヽ༼ ಠ益ಠ ༽ノ ヽ༼ ಠ益ಠ ༽ノ
(っ◔◡◔)っ 🖤 Ꮆㄚ几-乂
Metacortex Records
Katava Records
soundcloud
ヽ༼ ಠ益ಠ ༽ノ ヽ༼ ಠ益ಠ ༽ノ ヽ༼ ಠ益ಠ ༽ノ
ᕕ( ಠ‿ಠ)ᕗ ✘ Location : Up Stage / Alsancak - İZMİR
✘ 20:30 - 00:30
✘ 18.2.22
💀 Damage : 60tl 💀
(Drink inc.)
(ಥ‿ಥ)
٩(˘◡˘)۶#fridaytripday٩(˘◡˘)۶
Deco by: elfo
🅓🅔🅒🅨🅟🅗🅔🅡 🅜🅤🅢🅘🅒
Hepinizi Decypher Music'in bir sonraki ritüeline bekliyoruz!
Bu ritüelde, ''Gyn-X'' Darkpsy elementlerini ritüel için "ses bükücümüz" olarak bükecek, entropiyi kaosgiller olarak büyütmeye devam ediyoruz.
☠️ ღ(¯`◕‿◕´¯)(¯`◕‿◕´¯)(¯`◕‿◕´¯)(¯`◕‿◕´¯)ღ☠️
18 yaşından genç kaosgillerimize (kaoscuk🖤 🥲); üzülerek ritüelin kendisine katılmanıza izin veremeyeceğimizi söylemek durumundayız.. ancak yolumuzu takip ettiğiniz için sizlere teşekkür ediyor ve sonraki ritüellerde görüşebilmeyi diliyoruz.
ヽ༼ ಠ益ಠ ༽ノ ヽ༼ ಠ益ಠ ༽ノ ヽ༼ ಠ益ಠ ༽ノ
(っ◔◡◔)っ 🖤 Ꮆㄚ几-乂
Metacortex Records
Katava Records
[click here]
ヽ༼ ಠ益ಠ ༽ノ ヽ༼ ಠ益ಠ ༽ノ ヽ༼ ಠ益ಠ ༽ノ
ᕕ( ಠ‿ಠ)ᕗ ✘ Konum : Up Stage / Alsancak - İZMİR
✘ 20:30 - 00:30
✘ 18.2.22
💀 Hasar : 60tl 💀
(Bir içki dahil)
(ಥ‿ಥ)
٩(˘◡˘)۶# fridaytripday٩(˘◡˘)۶
Deko artist : elfo
🅓🅔🅒🅨🅟🅗🅔🅡 🅜🅤🅢🅘🅒
Location
Location
Up Stage
Alsancak, Muzaffer İzgü Sk., 35220 Konak/İzmir