Backend
ENTROPIA - ACT 1 // SUPPORT to ELEMENTRA & BACK TO NATURE FESTIVALS 2019 (Paris)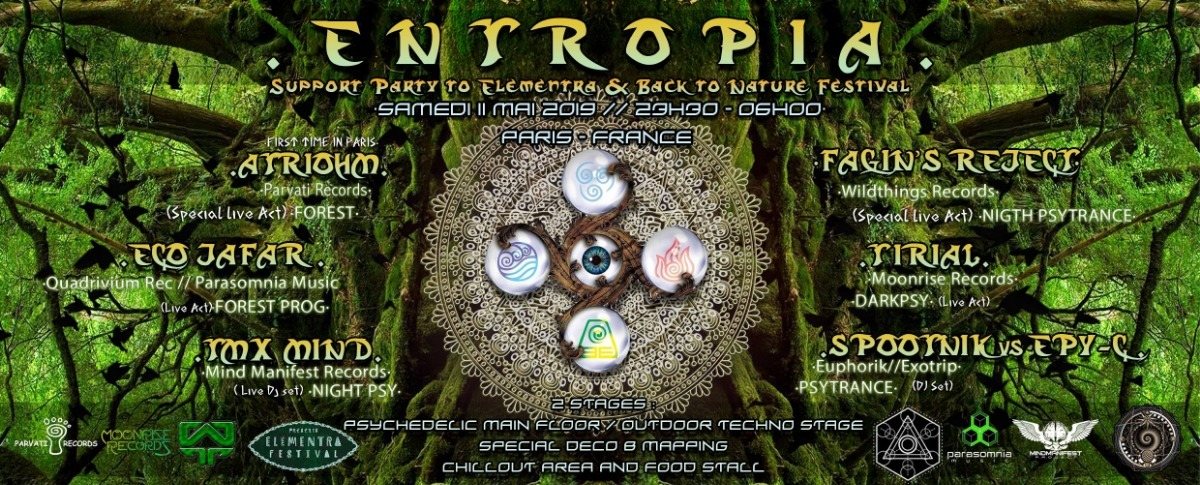 Info
ENTROPIA - ACT 1 // SUPPORT to ELEMENTRA & BACK TO NATURE FESTIVALS 2019

Après une année riche en émotions, Exotrip à le plaisir de vous annoncer sa premiere coalition 2019 avec l'équipe Suisse de Moonrise Records en partenariat avec Euphorik Sound System !

Pour l'occasion nous mettons les petits plats dans les grands pour vous proposer une soirée exceptionnelle,en soutiens à deux festivals qui nous tiennent tout particulièrement à coeur, l'Elémentra Festvial (Suisse) & Back to Nature Festival 2019 (Turquie).

Pour ce premier Acte, nous avons décidés de vous offrir la crème de la crème en matière de Live, bien plus qu'une soirée nous vous proposons une réelle expérience sonore !

ATRIOHM (Parvati Records) est sans doute l'un des pionnier de la scène, une performance live unique en son genre qui allie design sonore hors du commun et une Magie que seul lui détient.

Nous aurons le plaisir d'accueillir un des plus gros live de la scène psytrance qui nous vient d'Angleterre, ce n'est autre que FAGIN'S REJECT, il a joué dans tous les plus gros festival de la planète ! D'autre artistes internationaux seront également de la partie; notamment Tmx Mind manager du Label Mind Manifest (Turquie) et Tirial, fondateur du Label Moonrise records qui fait partie de l'Elementra Family.
Sans oublier notre tête d'affiche local Eco Jafar signé chez Quadrivium Rec et Parasomnia Music, un des plus ancien label de la scène.

Pour ce que est de la scène alternative, nous avons laissé carte blanche à EUPHORIK SOUND SYSTEM, grosse programmation purement et simplement TECHNO. Le groove sera de rigueur !

Que représente réellement l'entropie pour nous ?

Petit cours de rattrapage pour ceux que cela intéressent !

"L'entropie est le nom donné par Rudolf Clausius en 1865 pour caractériser l'état de "désordre" d'un system, il caractérise le degré de désorganisation, ou d'imprédictibilité du contenu en information d'un système.

L'entropie est caractérisée également par le désordre microscopique d'un système, son degré de désorganisation. L'entropie d'un système rend donc compte du degré de dispersion de l'énergie au sein même d'un système.

Un principe stipule que toute transformation réelle s'effectue avec l'augmentation du désordre global (système + milieu extérieur) ; le désordre étant mesuré par l'entropie. On dit encore qu'il y a création d'entropie. Il est ainsi courant de dire que l'entropie est une mesure du désordre."

On est plutôt dans le thème me direz vous ?!
Location
LE TRABENDO
Parc de la villette
211 avenue Jean Jaurès 75019 Paris

MÉTRO : Ligne 7 Porte de la Villette. Ligne 5 Porte de Pantin TRAMWAY : T3b, station Ella Fitzgerald ou Porte de la Villette
BUS : lignes 75, 151, PC2, PC3
Entry
Entry
■■■■■■■ ▄▀▄▀▄▀▄ INFOS PRATIQUES ▄▀▄▀▄▀▄ ■■■■■■■
Préventes:
Phase 1 : 15€ (+ frais de loc ) limité à 100 places
Phase 2 : 18€ (+ frais de loc ) limité à 200 places
Phase 3 : 20€ (+ frais de loc )
Presales :
[shotgun.live]