Encens / Ominus / Aeternum (UK) Live 1st time in Serbia!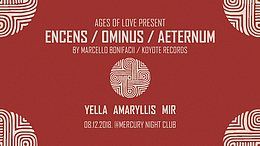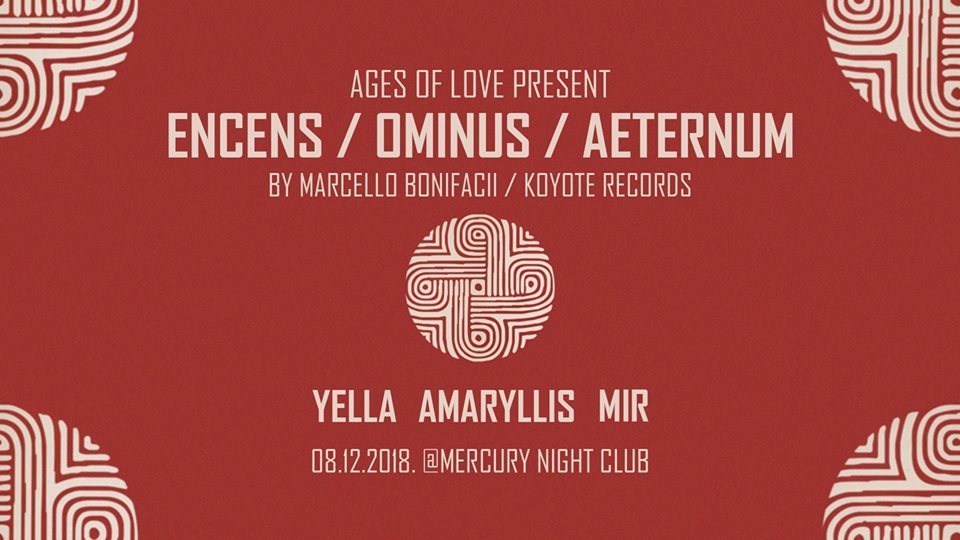 Line Up
-Yella
-Mir
-Amaryllis
-Marcello Bonifacii AKA Encens/Ominus/Aeternum (Koyote Records) LIVE
Welcome!
As a treat to keep you warm this winter, we have prepared a musical delicacy for all fans of old school goa and psychedelic trance.
For the first time in Serbia, producer Marcello Bonifacii from England will be performing a live set, playing tracks from 3 of his musical projects - Encens, Ominus and Aeternum.
Since emerging from the Brighton party scene in the mid-90's, Marcello has become a leading figure in the international underground goa & psychedelic trance scene.
⊷ His first goa project Encens was a collaboration with DJ Dara Lee, who was also the label manager and founder of Koyote Records. Between 1995 to 1998, they released numerous tracks on 12" vinyl including legendary compositions such as 'Spiritual Transgression', 'Psychedelic Sun' and the very first release on Koyote records 'Venus Zen'.
⊷ In 1996 Dara Lee introduced Marcello to Miranda Silvergren who was also releasing material on Koyote at the time. The three of them went on to produce their debut (and perhaps best known) single 'Acid Tester' in 1996 and followed up with the eponymously titled album 'Ominus' in 1997.
⊷Aeternum is Marcello's solo project with several vinyl releases including the classic track Ensanity (1997). Aeternum also appeared on various CD compilations including tracks such as 'Sunstorm' & 'Highways of Light' on the well known Destination Goa series.
In the last few years, Marcello has been remastering & remixing many of his classic tracks and has emerged from the studio for one or two rare live appearances, most recently in Romania at Apsara Festival.
After attending his live sets at Apsara Festival and enthused by the music and energy that we felt, we decided that it was the right time for us to experience an Encens/Ominus/Aeternum live set for the first time in Serbia.
And we can promise you a special and unique performance, which will take you on a journey through Marcello Bonifacii's musical opus.
Presale ticket price: 500 rsd
Price at the entrance: 700 rsd
Beograd:
ŽILA SHOP Čumićevo sokače art district, I Floor, mon-sat 12:14 to 20:07
For more information, just write a message to Ages Of Love page! (
[facebook.com]
Cya*~
Location
Mercury Club
Usce BB
Belgrade
Serbia
Entry fee
Entry fee
presale: 500 rsd (5e)
at entrance: 700 rsd (7e)
Organizer
Organizer
Ages of Love
facebook.com/agesoflove
mixcloud.com/agesoflove
Added

4y 4m

· Update

4y 4m

·