Backend
Enantion meets Jam El Mar (Jam & Spoon)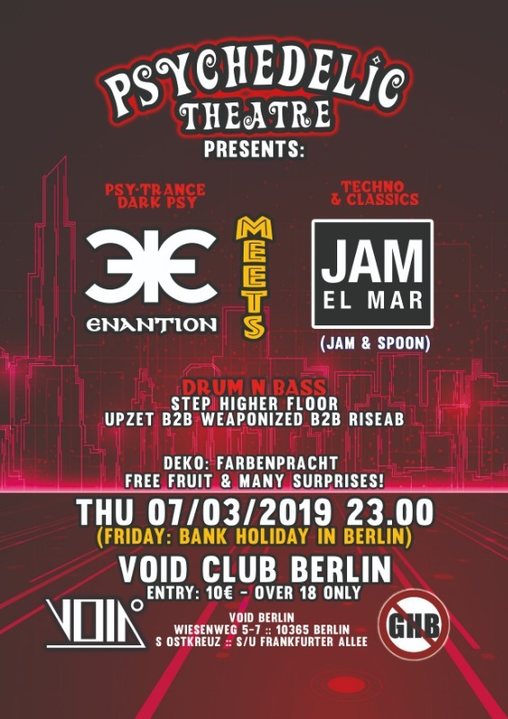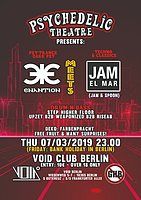 Line Up
Line Up
JAM EL MAR (Jam & Spoon)
ENANTION
UPZET b2b WEAPONIZED b2b RISEAB
Deco
Farbenpracht Decoration, Dark-Edelic
Info
3 Artists - 3 Floors - All night long!
Psychedelic Trance vs .Techno / Dazu ein extra Drum & Bass Floor!
7. März 2019 :: 23 Uhr :: im Void Club Berlin
Liebe Freunde,
An diesem Tag heißt es wieder mal Enantion meets. Wir freuen uns dieses Mal auf einen besonderen Gast: Jam El Mar, der zusammen mit Mark Spoon als JAM & SPOON bekannt wurde, wird uns die Ehre erweisen. Wir hoffen dass alle unsere Fans und Freunde vorbeikommen ♥ Der Folgetag, der 8. März, ist in Berlin ein gesetzlicher Feiertag: der Weltfrauentag wird dieses Jahr zum ersten Mal als Feiertag begangen.
Da die Veranstaltung an einem Donnerstag stattfindet, und Donnerstag im Void der Step higher Tag ist, ist natürlich auch Drum & Bass mit einem Floor vertreten. Die Party hat also insgesamt 3 Floors :-)
Line-Up:
JAM EL MAR
ENANTION
UPZET b2b WEAPONIZED b2b RISEAB
Alle weiteren Details in Kürze!
Eintritt: 10 Euro
Zum Konzept:
Bei der "Enantion meets" gehen wir nicht in die Breite, sondern in die Tiefe. Die Idee: Ein DJ pro Floor, all night long.
Auf den ersten Blick mag es befremdlich klingen, nur ein DJ pro Floor, die ganze Nacht. Doch jeder, der musikalisch begeistert ist, wird die Chance erkennen, in dieser Nacht "seine" Musik neu kennenzulernen. Viele von euch haben ihre ganz eigene Entwicklung hinter sich, bevor sie angekommen sind bei dem Stil, den sie aktuell besonders feiern. Im Goa-Bereich beispielsweise habe ich selbst als erstes zu Neelix gefeiert und war von seiner Musik begeistert, bevor ich langsam die Unterschiede zwischen Prog, Psy und Full-on begriff. Am 7.3. werdet ihr also unter anderem auch den Sound hören, mit dem alles begann bei mir. Aber auch viele besondere, spezielle Tracks, die ich sonst nicht spiele. Und ich denke mal, Rolf aka Jam El Mar wird ebenso viele für ihn nostalgische Tracks im Gepäck haben. Gespielt wird auf beiden Floors mit allen Technologien die uns zur Verfügung stehen - ich, Enantion, werde zum Beispiel digital mit USB-Playern, hardware und software synthesizer (ipad) und Traktor mit analog (Vinyl) kombinieren. Vielleicht packe ich sogar die Bongos aus :p
Freut euch auf leidenschaftliche DJs, Musiker und Künstler, die euch in dieser Nacht jeder auf eine unvergleichliche Reise in sein Musikgenre nehmen werden.
Die Künstler:
Jam El Mar
(Deutsche Übersetzung folgt)
In the early nineties, as rave music exploded and started to dominate the international charts, many acts made music that became instantly forgettable, however one act has stood the test of time and contributed greatly to the electronic music scene, producing many an anthem, and DJing some of the biggest electronic music gigs worldwide. That act is Jam El Mar!
Jam El Mar has been at the forefront of electronic music. One half of the renowned duo 'Jam & Spoon', which had a pioneering influence on the trance and techno music that dominated clubs at the same time, Jam has since recorded under a multitude of well-known aliases such as Storm, Tokyo Ghetto Pussy and Dance 2 Trance to name but a few.
The worldwide success of these aliases led to Jam receiving golden and platinum awards, and the DJ gigs followed. Jam often featured at the Love Parade, and when his production partner Mark Spoon passed away in 2006, he continued playing to honour and remember him.
Since 2012, he is actively involved in both studio work and DJing (which also includes playing live sets). Prestigious events such as Tomorrowland, Mayday, Nature One, Parookaville and many more, frequently ask him to perform a mixture of retro-sets featuring tracks of yesteryear, or current techno sets!
Recently Jam has provided a rework of the prestigious classic 'The House Of House' by Cherrymoon Trax, Released in February 2017 his first EP-Release on Adam Beyers Truesoul label has taken the Techno-Charts and playlists by storm. More is to come!
Enantion
Der Name Enantion ist seit August 2013 fest mit der Berliner Psy-Trance-Szene verbunden: es handelt sich um Paskal Tzellos, der vor nun 17 Jahren beschloss, DJ zu werden und Techno, Tech House und Funky House aufzulegen: erst in London, dann in Süddeutschland, und seit 2009 dann in Berlin. Insgeheim hatte er schon immer eine Vorliebe für Trance, und nach einem unverhofften Auftritt als Warm-up-DJ für den internationalen Psy-Trance-Act Avalon im Berliner RAW-Tempel, beschloss er 2013, diese Musik in sein DJ-Repertoire aufzunehmen und professionell unter seinem neuen Artist-Namen Enantion zu spielen.
Der Name Enantion leitet sich aus dem chemischen Begriff Enantiomer ab, welcher zwei gleiche, aber spiegelverkehrte Teile einer chiralen Verbindung beschreibt, die ansonsten in sich identisch sind (rechtsdrehend und linksdrehend). Der Name drückt also aus, dass der Künstler, Paskal, mit seinem neuen Künstlernamen zwar musikalisch neue Wege beschreitet nämlich Psychedelic Trance, aber ansonsten immer noch derselbe Mensch dahinter steht wie derjenige, der jahrelang Techno und House gespielt hat - nur halt irgendwie in eine andere Richtung, vergleichbar mit Enantiomeren, also den bereits erörterten zwei Teilen einer chiralen Verbindung in der Chemie.
Mittlerweile ist Enantion nicht nur als DJ gefragt, sondern hat sich auch als Veranstalter der Partyreihe "Psychedelic Theatre" im KitKatClub in Berlin einen Namen gemacht, die im August ihren fünften Geburtstag gefeiert hat und von bekannten internationalen Künstlern unter anderem als "aktuell beste Party in Europa" bezeichnet wurde.
Enantion beschallt den Main Floor und nimmt euch auf eine lange Reise von Progressive Trance über Psy-Prog, Psychedelic Trance, Full-on, Oldskool und Nu-Skool Goa-Trance bis zu Forrest und Dark Psy. Sowohl brandaktuelle Tracks als auch Klassiker werdet ihr zu hören bekommen. Freut euch auf eine Reise durch alle Facetten dessen, was psychedelische Trance-Musik zu bieten hat.
Location:
VOID Club - Wiesenweg 5-9 | 10365 Berlin
S-Ostkreuz | S+U Frankfurter Allee | S-Nöldner Platz
[void-club.de]
|
[facebook.com]
Location
VOID Berlin
Wiesenweg 5 - 9
10365 Berlin
Organizer
Organizer
Psychedelic Theatre Berlin