Backend
☆ELYSIUM☆ Easter Groove Ed /Sesto Sento /Harmonika /Major7 /X-Noise /LSDirty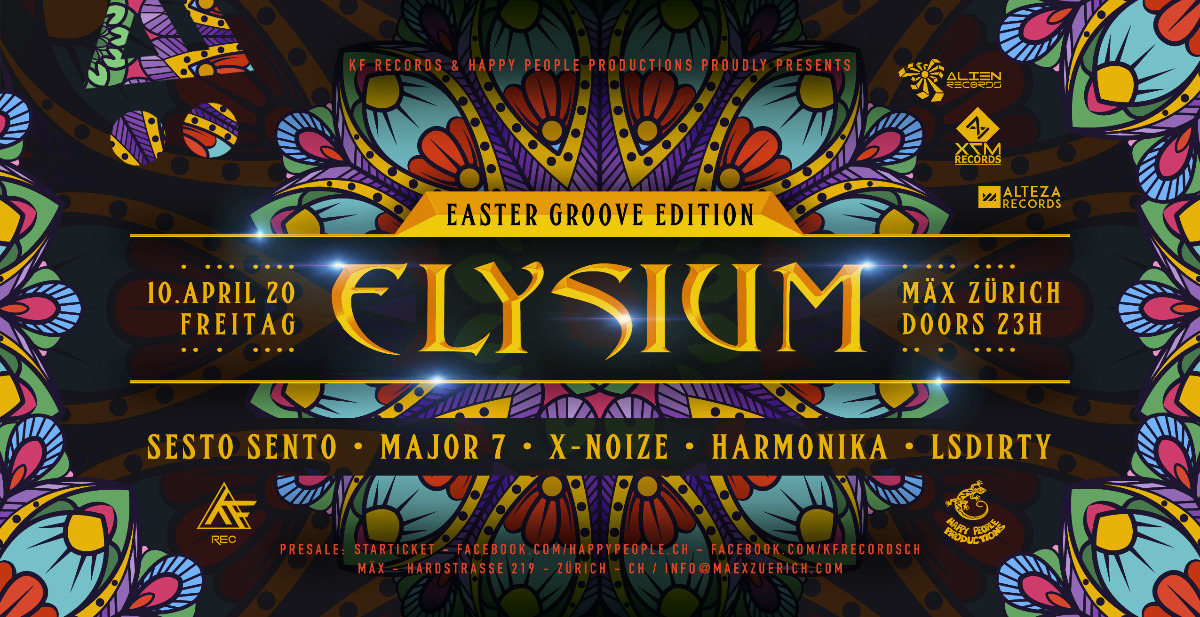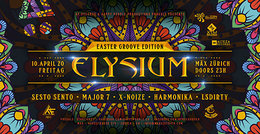 Info
Welcome to ☆ELYSIUM 2020☆
EASTER GROOVE EDITION

Elysium stammt aus dem Alt-Griechischen und bedeutet

"Insel der Seligen".

Auf dieses "Elysische Gefilde" werden jene Helden geschickt die von den Göttern geliebt wurden oder denen sie Unsterblichkeit schenkten.

Für uns an diesem Abend sind die Helden ganz klar; SESTO SENTO , HARMONIKA und LSDIRTY die mit einer geballten Ladung Power aus der Ferne zu uns finden, sie werden begleitet von dem unsterblichen Duo MAJOR7 & X-NOIZE die uns aus dem sonnigen Israel besuchen.

Macht euch bereit füt eine unsterbliche Nacht voller Visionen und Farben❤️

Stay tuned!


Elysium; Selected progressive-psytrance Music for your Soul!

☞ CHAI & FOOD-LOUNGE BY TBA

☞ VISUALS / BIG LED SCREEN

☞ DEKO BY TBA

☞ MAXI (Fluorelysium)
HAPPY PEOPLE & FRIENDS


☞ NEW MASSIVE SOUNDSYSTEM
☞ AMAZING LIGHTSHOW
☞ FAIRE BARPREISE
☞ FREE EASTER GIVE AWAYS ❤️
☞ LED WALL
☞ AMAZING VISUALSHOW
☞ OUTDOOR AREA
☞ BODYPAINTING / UV MAKE UP
☞ FOTOGRAF / PARTYSHOOTER
☞ HOT DOGS AND CHAI TEA

Timetable @ the Gate!


English:
Please invite your friends because facebook has limited the number of invitation per account and event!
THANKS

Deutsch:
Bitte ladet eure Freunde ein, da Facebook die Anzahl zulässiger Einladungen pro Account und Event limitiert hat!
DANKE



| ★ | ★ | ★ | by ▲KF & Happy People Prod.| ★ | ★ | ★ |

•۰•♡•۰• WE LIKE 100 % HARMONY •۰•♡•۰


.

.
Location
MÄX, Hardstr. 219, Zürich, Switzerland

DAS MÄX (Ex Härterei) BEFINDET SICH 1 GEHMINUTE VOM BH HARDBRÜCKE ZÜRICH ENTFERNT
Organizer
Organizer
KF RECORDS & HAPPY PEOPLE PRODUCTIONS

.
From
Jürg Happy People ·
1,049