ELEMENT ALBUM RELEASE PARTY *SOUNDS & BYTES X-MAS SPECIAL*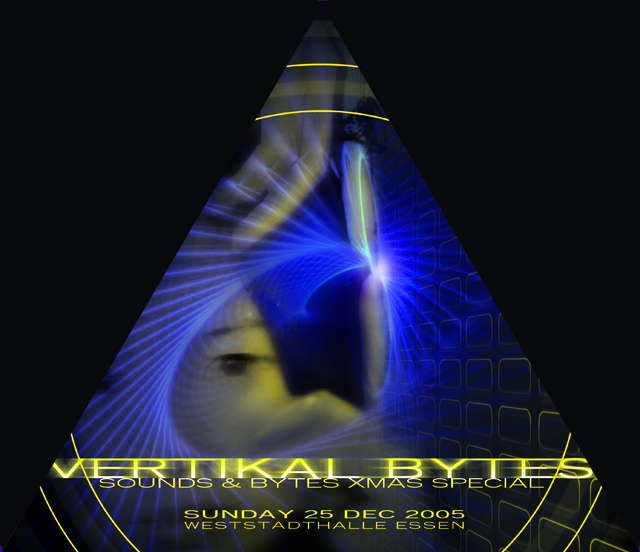 Line Up
E L E M E N T -avalanche rec-
Here it comes ... "Alteration" - the long awaited 3rd album of Element !
Element have become one of the biggest german trance-bands with a
huge fanbase all over the world and played on international festivals
such as Arcadia Mt.Fuji / Japan, as well as the legendary Zoom-festival
in Switzerland. After a creative break and some personal changes,
Element is back with this 10 track killer album. Less vocals and
a bit less guitars than on the last album, "Alteration" is just made to
rock the dancefloors ....
ELEKTROPUNK "live" -tamil-records, Cologne
live-drumming & planetary-gong-intro
by MISTA JENS ZYGAR -star sounds orchestra
[ytmnd.com]
DJs
RYAN HALIFAX -vertikal rec.
GREG -hypnotic arts
ALEGRIA -porn rec.
TOMTRON -vertikal rec.
JUAN CASA -v.o.r.n.
PUSHKIN -sounds & bytes free city festival
Chill
LIESE -mushroom mag.
SILENT BOB -v.o.r.n.
AGLARANA -celtic melody
Deco
Deco
der DEKONAUT
video visuals by POPUPtrash
face- & bodypainting by FRANCO S.
stringlines, backdrop-painting & installations by CELTIC MELODY
mainfloor-lightning-design by SUSI & BERND
Info
Thaifood & Chai by WANPEN & ROGER
Prasadam by the KRISHNA PEOPLE
Body-Massages by COSIMO L.
Räucherschalen: DINGA

SPECIAL FLYING d&b-MAINFLOOR SOUNDSYSTEM



Nachdem wir bereits die letzte Albumpräsentation von
ELEMENT in der Balver Höhle organisieren konnten,
freuen wir uns, auch die aktuelle
Release-Party im Rahmen des SOUNDS BYTES-
Winterspecials am ersten Weihnachtstag
mit illustren Gästen in der legendären Essener
Weststadthalle zu präsentieren.

In memory of YVONNE.
Location
Location
WESTSTADTHALLE, Thea-Leymann-Str., 45127 Essen
( Essen-Zentrum, hinter den Cinemaxx-Kinos, neben dem Colosseum)
Entry fee
Entry fee
15,-€ / mushroom trancecard 50% reduce
Organizer
Organizer
v.o.r.n.
-visions of rhythm nature
Hotline
0201-77 82 77 & 0172-3877107