Ekstatik Alive The Awakening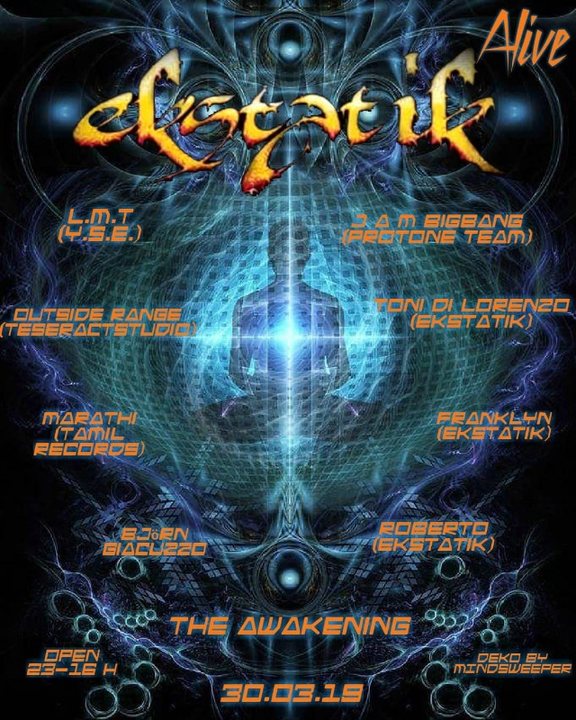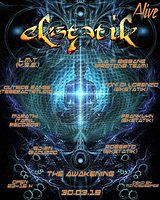 Line Up
Line up :

L.m.T (Y.S.E.)
Outside Range (TesseracTstudio)
Marathi (Tamil Records)
Björn Giacuzzo (Extra Bunt)
Big Bang (pro.tone-team)
Toni di lorenzo (Ekstatik)
Franklyn (Ekstatik)
Roberto (Ekstatik)
Info
Wir freuen uns nach 10 Jahren , endlich wieder offiziell mit euch Feiern zu dürfen .

Es erwartet euch eine Old School Goa, Progressive, und Psy Trance Party im neuem Gewand .

Wir geben 16 Stundend richtig Gas und haben keine Kosten und mühen gescheut um euch eine unvergessliche Nacht, mit schöner Ambiente, cooler Deko und guten, satten Sound zu bescheren.

Die Dj's aus dem ausgewogenem Line-Up , werden alle ihr bestes geben, um euch in Ekstase zu bringen, und euch auf der Musik fliegen zu lassen .

Let The Power Of Musik Free Your Mind

Es wird desweiteren einen Cocktail Stand
und evtl. einen kleinen Stand mit UV Accessoires geben

Folgende Cocktails sind am Start:

Caipirinha , Long Island Ice Tea , Pina Colada , Sex on the Beach , Tornado , Hurricane , usw.
Location
Location
Tanzschule Mangelsdorf
Karl-Arnold-Straße 1,
58644 Iserlohn,
Deutschland
Organizer
Organizer
Presented by Ekstatik Entertainment