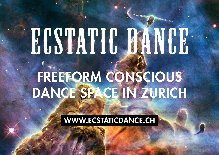 Location
The Ecstatic Dance is an unique dancing experience. Together we create a connected atmosphere where everybody feels safe and free to dance, have fun, explore, be vulnerable, discover and expand your borders.
Program:
7.00 pm Doors are open
7.30 pm Opening ceremony with Johanna Köb
8.00/15 pm Ecstatic Dance with DJ Shiv
10.00pm Closing ceremony with Johanna & Sofie
Inspired by and with kind permission of Ecstatic Dance San Francisco
[ecstaticdance.org]
Ecstatic Dance is happening worldwide:
Hawaii, San Francisco, Berlin, New York, Seattle, London, Ibiza, Lissabon, Amsterdam, Barcelona, Ubud.
See you on the dance floor
Please no Drugs No Alcohol