Backend
Echosphere (B-day Edition)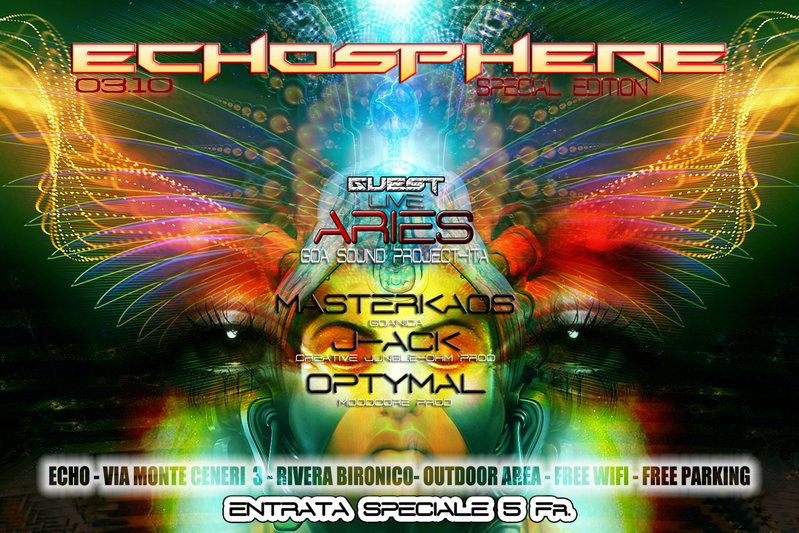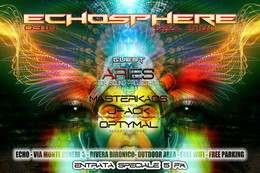 Line Up
LIVE set
ARIES
(Goa Sound Project) Ita
soundcloud
Aries has his first contact with the psytrance music in the summer of 2009 and in 2010 has started to make his first steps into the world of psytrance music.
in the summer of the 2011 Aries has started to produce his music and After 2 years of study and hard work,him has started to playing in parties and festivals.
Aries is a promises for the world of the Psytrance music with his fresh sound and his personally style of music.
when Aries playing has a lot of good vibes and a very powerful energy that involves the people!
[click here]
♫ ♪ ♫ ♪ ♫ ♪ ♫ ♪ ♫ ♪ ♫ ♪ ♫ ♪ ♫ ♪ ♫ ♪ ♫ ♪♫ ♪ ♫ ♪ ♫ ♪ ♫ ♪ ♫ ♪ ♫ ♪ ♫ ♪ ♫ ♪
▀▀▀▀▀▀▀▀▀▀█ OTHER ARTIST █▀▀▀▀▀▀▀▀▀▀
DJ set
MASTERKAOS
(GTribe-Sonica Rec)
soundcloud
J-ACK
(Creative Jungle rec. - Ohm Prod.)
soundcloud
OPTIMAL
(Moodcore prod.)
soundcloud
Info
Info
-Chilling outdoor Area
-Parcheggio Gratuito
-Free WiFi
Location
ECHOS
Via Monte Ceneri 3
6599 Rivera-Bironico
Entry
Entry
Per questa serata speciale :

Entrata prima delle 00.00 : 5.- fr !!!!!!!

DONNE prima delle 00.00 entrata GRATIS!!!

Entrata dopo le 00.00 : 10.-fr