Earthdance Hamburg - Global Festival For Peace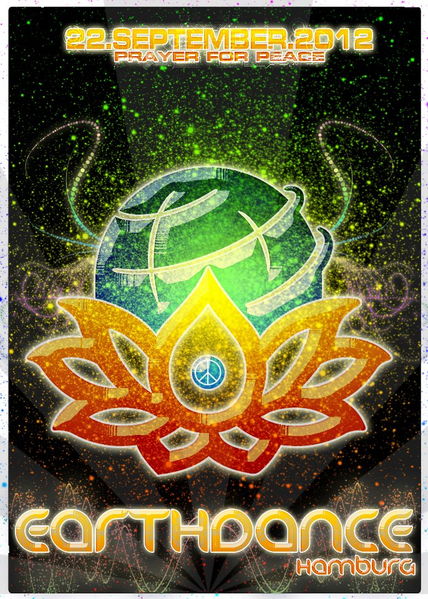 Deco
-------------------------------------------------------
FLUORONAUTEN - Lycra Blacklight Art - String Art
[facebook.com]
FUN PLASTICA - Blacklight Paintings
[funplastica.de]
ARNE - Lycra Art
7 x MULTICOLOR PROFESSIONAL LASERSHOW
SKIPPERELFE - Blacklight Paintings
TOM LIGHTS - Lighteffects
SUSPENDED SOUNDS - Lighteffects
Info
----------------------------------------------------------------------
Earthdance ist das größte Festival für Frieden weltweit.In über 60 Ländern und über 300 Locations finden jedes Jahr im September zeitgleich Earthdance Veranstaltungen statt. Mittlerweile werden diese Veranstaltungen von ca. 1 - 2 Millionen Menschen weltweit besucht. Am 22 September heisst es bereits zum 15 mal "EARTHDANCE GLOBAL FESTIVAL FOR PEACE.

Earthdance ist eine globale Vereinigung internationaler Veranstalter, die sich das Ziel gesetzt haben, die positiven Kräfte der modernen Elektronischen Tanzmusik und der Dancekultur zugunsten humanitärer Zwecke und einem globalen Bewusstsein für Frieden und Freiheit zu vereinen.

Die Vision ist, mit möglichst vielen, weltweiten, simultanen Parties an einem Tag einen vereinten globalen Dancefloor zu kreieren, auf dem die Gäste als "One-World-Community" für den Weltfrieden tanzen.

Eine weltweite Benefiz-Veranstaltung für den Weltfrieden.
Eine Art Live-Aid der elektronischen Tanzmusik.

Das Highlight des jährlichen multi-lokalen Earthdance Festivals ist eine simultane Verbindung, wenn auf jeder Earthdance Veranstaltung in der Welt zur gleichen Zeit für Frieden gebetet wird. Früh am Morgen im australischen Regenwald, Nachmittag in Kalifornien, Mitternacht in London und Sonnenaufgang über dem Himalayagebirge. Das Gebet für Frieden "Prayer for Peace" ist ein tief schürfender und mächtiger Moment, der die Absichten vom Earthdance für Weltfrieden auf allen Ebenen vereinigt.


Diese Idee von Chris Decker aus den USA wurde 1996 zum ersten Mal mit 22 Städten in 18 Ländern durchgeführt.
Mit den Jahren ist die Earthdance sehr rasch zu einem globalen Riesengebilde geworden.
Es haben sich jedes Jahr mehr Orte an dem Projekt beteiligt.
In den letzten Jahren wurde die Earthdance an über 100 Orten, verteilt auf die ganze Welt durchgeführt.
Millionen von Menschen haben sich auf der Website eingeklickt und sich an der globalen Meditation beteiligt.

ONE WORLD - UNITED !!!

Das globale Earthdance Thema für 2012 ist Jahr der Frau (Year of the Woman). Earthdance fördert die Gleichstellung der Frauen und den Frieden und die Harmonie miteinander. Earthdance glaubt dass die Erhöhung des Frauenanteils Zugang zu guter Bildung, sinnvoller Beschäftigung und anderen Ressourcen ist. Für die nachhaltige Entwicklung und Evolution der Menschheit im 21. Jahrhundert und darüber hinaus.

1,4 Millarden Menschen leben derzeit in extremer Armut, 2/3 davon sind Frauen. 774 Millionen Menschen können nicht lesen und schreiben, 64% davon sind Frauen. Weltweit können 87% der Männer lesen und schreiben, aber nur 77% der Frauen. 70% der armen Menschen weltweit sind Frauen, sie verdienen nur 10% der weltweiten Löhne, haben aber 2/3 der weltweiten Arbeit. Im Durchschnitt investieren Frauen 90% ihres Einkommens in die Familie, Männer dagegen nur 30 bis 40%.

Earthdance hat Auswirkungen auf lokale Veränderungen im globalen Maßstab. Jede Earthdance Veranstaltung spendet mindestens 50% ihres Gewinns an die örtliche Wohltätigkeit.
Location
Location
Osterbrooksweg 71 - Hamburg Schenefeld
S Bahn Elbgaustrasse - Bus 186 bis Schenefeld Busbetriebshof
Entry fee
Entry fee
‎20-23 Uhr 10,- dann 12,-
Organizer
Organizer
Freunde Der Sonne & Freiwillige Feierwehr